Cottage Style Renovation – WHEN THE OWNERS OF A TWO-STOREY HOME APPROACHED INTERIOR DESIGNER, CHRISTINE ELLIOTT, THEY REQUESTED A COTTAGE-INSPIRED DESIGN. THEIR PROPERTY INCLUDES A LOFT, FOUR BEDROOMS AND FIVE BATHROOMS.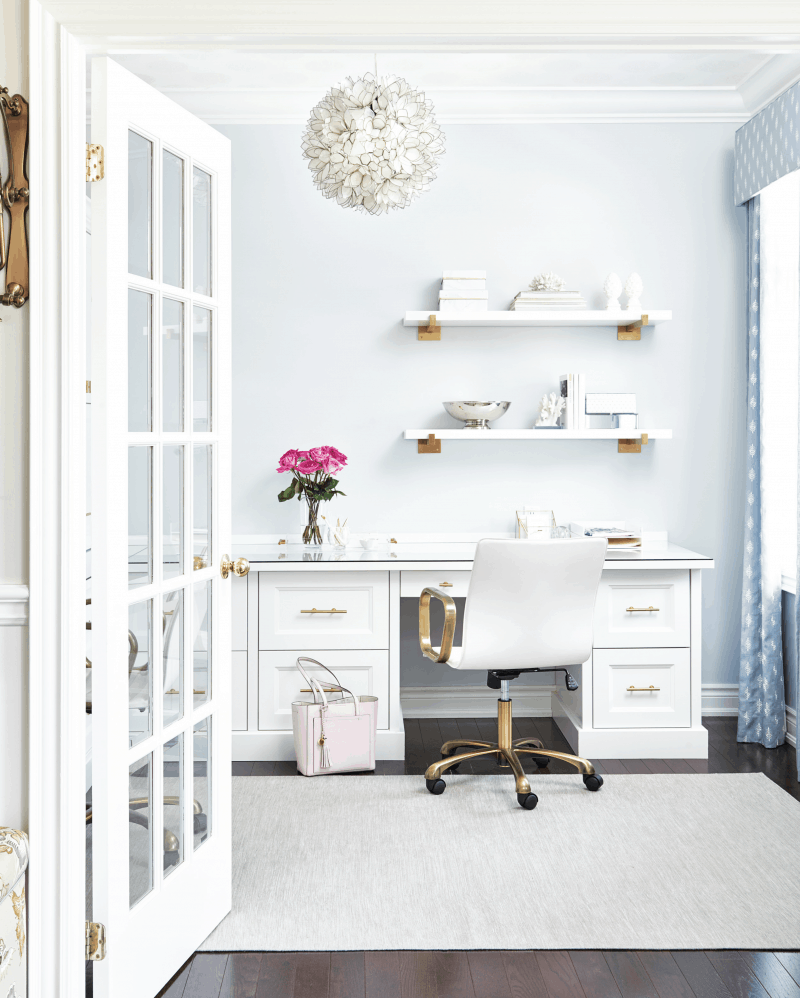 She started working on the home in 2012, shortly after the homeowners moved in. She was initially hired for a painting consultation. "One requirement from the homeowners was to accommodate storage wherever possible," says Elliott. "With three children in the household, it was also important to consider the material that we were using and how it would wear over time."
The home features shades of blue throughout, including a pale gray-blue hue for the home office space and a more saturated shade for the millwork in the laundry room. To complement the blue, Elliott opted for plenty of wood tones and white throughout. "The entire house is based on a painting of their old cottage that had been in the family for years. The idea was to create a lake house vibe in the city," says Elliott. "The painting's color palette inspires the whole house."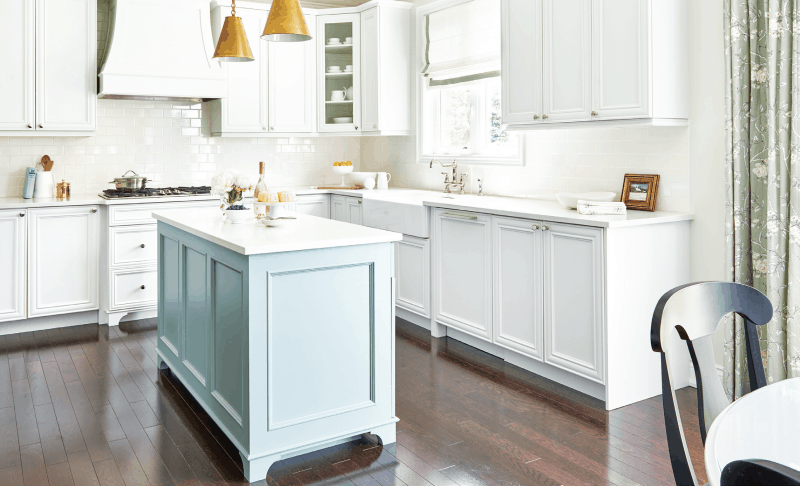 In the kitchen, Elliott opted to continue the theme of blue via the island, which was an upgrade from a smaller version that was original to the home. The new island, complete with ample storage, was one of many updates to the kitchen. "The homeowners wanted to update the builder's kitchen, making it fresher, brighter, and adding more functionality," says Elliott. She cites the hardwood flooring, the wine bar area, quartz countertop, apron sink and hardware, lighting, furniture, window treatments, and hood range as being new constructs. "The backsplash is handmade tiles with a glazed crackle finish to make it look old. I took it right to the ceiling—even above the cabinets," says Elliott. "I wanted that European look where the cabinets are placed right on top of the tile."
Rather than replace the kitchen cabinetry completely, the homeowners opted to update them instead. Says Elliot, "We saved by painting the existing maple cabinets and making slight modifications in their design, like bumping out the sink and cooktop to give them a more custom look. We also used the homeowners' existing appliances."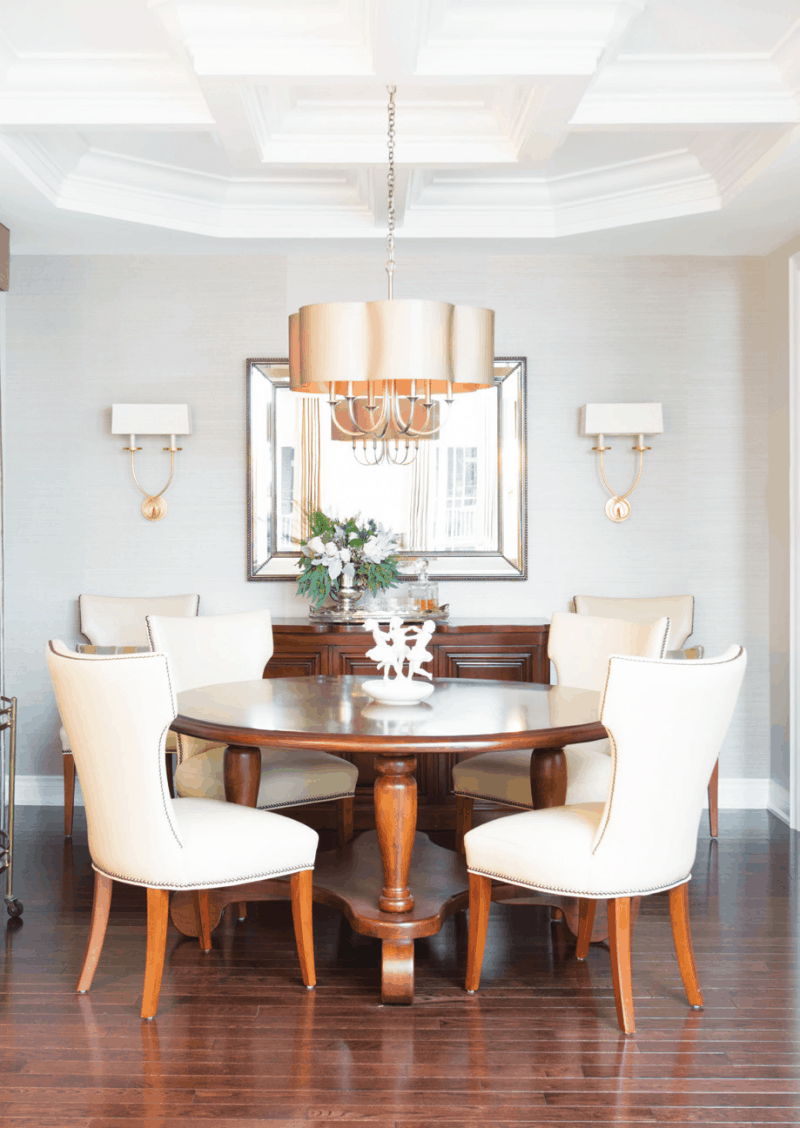 The homeowners also saved by using their existing furniture, including the dining room table, which is a family heirloom made by their grandfather. They splurged on lighting and plumbing fixtures throughout the home.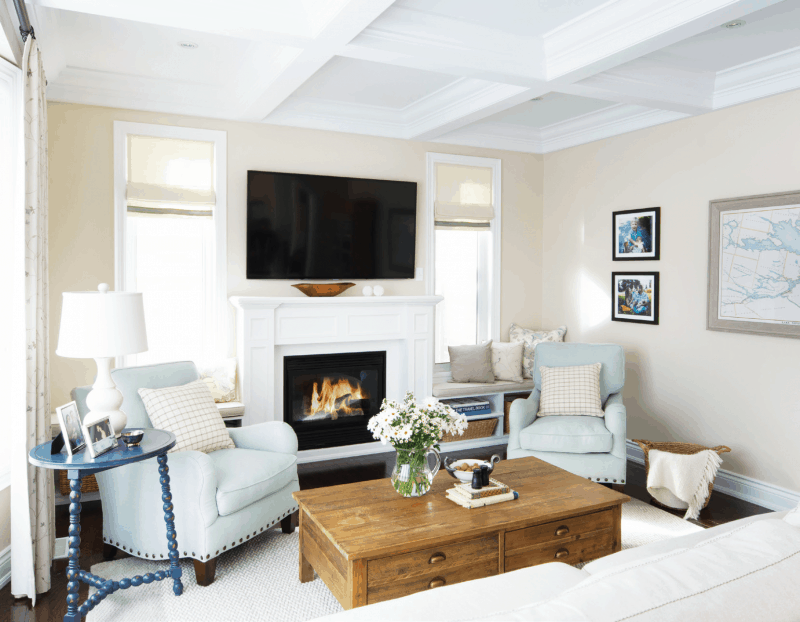 After a cottage style renovation, the home boasts plenty of natural light and cottage vibes. Aesthetics aside, Elliott stresses the importance of ample storage and multipurpose design, particularly if you have children in tow, "In the living room, we added benches to either side of the fireplace. Not only did this add extra seating, but they're a great place for baskets and much needed toy storage." Says Elliott: "Think in terms of multi-functionality whenever possible."
Space Designed by Christine Elliott, www.christineelliottdesigns.com; Photography by Stephani Buchman, www.stephanibuchmanphotography.com
Text Zakiya Kassam
The following two tabs change content below.
Zakiya Kassam
Zakiya is a freelance writer/editor based out of Toronto. You can follow her on Twitter: @zakkassam
Latest posts by Zakiya Kassam (see all)