Searching for a unique centrepiece idea? Canadian Home Trends' DIY Editor, Nicholas Rosaci has a chic tree DIY that is sure to make your holiday décor look fabulous!
Material list
Large sheet of ¼" thick foamcore
Simple outline of a tree hand-drawn or copied to the desired size onto a large paper
Decorative paper or gift wrap
Small craft utility knife and/or scissors
Cutting mat
Rubber cement glue
Instructions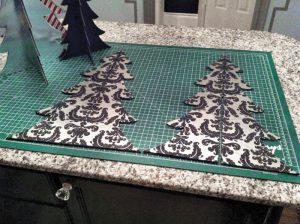 On a large blank paper, draw a simple silhouette outline of a tree to your desired fi nished size. Cut out the outlined shape with a craft utility knife or a pair of scissors.
With a pencil, carefully trace the outline of the paper template onto foamcore and cut the shape with a craft knife. Make two identical tree shaped cutouts out of foamcore. These two pieces will be assembled together to create one three dimensional tree.
Starting at the top center of the first foamcore tree cutout, cut a ¼" wide groove ten inches long down towards the bottom of the tree.
Starting from the bottom center of the second foamcore shape, cut a ¼" wide groove ten inches long up towards the top of the tree. The grooves should be half the height of the tree. For instance there is one 10 inch long groove for each 20 inch high tree.
Trace the outline of each foamcore tree, including the groove, onto attractive paper or gift wrap, and cut the outlined shape with scissors or a sharp utility knife.
Glue the paper or gift wrap cutout onto both sides of each foamcore tree shape. Carefully trim with scissors or a craft utility knife for an exact fit.
To assemble the tree, slide the "dressed up" foamcore tree with the groove at the base of the shape down onto the foamcore tree with the groove at the top. Make sure to insert the foamcore tree shapes perpendicular to each other so that the tree stands straight without tipping over.
The following two tabs change content below.
Nicholas is the DIY Editor for Canadian Home Trends Magazine, an award-winning Designer Decorator, and appears as a guest expert on City TV's CityLine. As Principal Designer, Interior Decorator and Stylist for
Nicholas Rosaci Interiors
, Nicholas creates chic, confident and glamorous spaces that cross the divide between Modern and Traditional.
Latest posts by Nicholas Rosaci (see all)