Paris – the City of Love – is well known for it's landmark architecture that ranges from ancient buildings like the Hotel de Sens to modern works of art like the Louvre Pyramid. This eclectic mix of old and new is seen through-out Paris and was the inspiration for this week's Decor Scrapbook.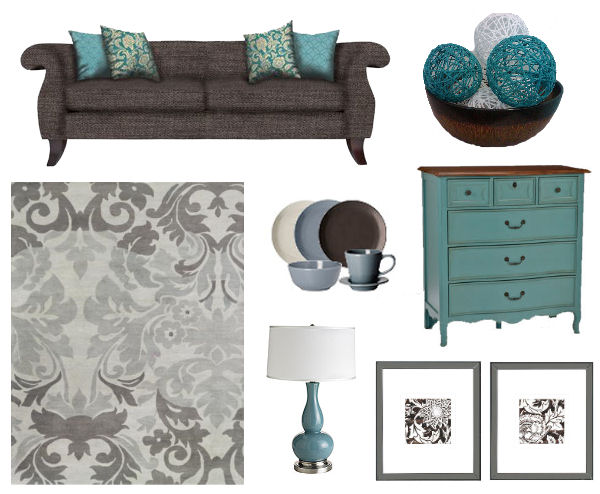 The centerpiece of this room is the beautiful Rockstar Sofa in a classic grey with throw pillows in a perfect combination of modern symmetrical prints and classic florals. This sets the tone for a beautiful room that brings together modern and classic pieces in perfect harmony. On the walls, antique floral prints are given a modern update in crisp, clean grey frames.  The varying shades of grey on the damask area rug give this classic print a modern twist. The Marseilles Chest adds a classic feel with its smoky blue color and antique-inspired design that compliments the Rockstar sofa beautifully.
Finish the look with a selection of decor pieces that bring together old and new for a perfectly pulled together room. Here we've picked a modern porcelain bowl filled with home made "yarn" balls, dinnerware pieces that bring together the colors of the room and a lamp that combines a classic style with a crisp modern shade for a perfect finish.
Source Guide:
Sofa: Rockstar Sofa in the "Weekend In Paris" fabric color scheme by Marc Atiyolil Designs www.shopmarcdesigns.com
Yarn Ball Table Top Decor: Learn how to make this project on the Marc Atiyolil Show: How To Make Decorative Lights
Area Rug: Grey Damask Print Rug from Domestic Modern www.domesticmodern.com
Dinnerware: DINERA collection from Ikea  www.ikea.com
Dresser: Marseilles Chest from The Art Shoppe www.theartshoppe.com
Lamp: Available from Pier1 www.pier1.com
Floral Prints: Antique Floral Motif 1 & 2 from Union Lighting & Furnishings www.unionlf.com
The following two tabs change content below.

Crystal Williams
As Online Editor for Canadian Home Trends Magazine, Crystal has a passion for design and decor. She enjoys browsing the web to find new, exciting decor ideas, DIY projects and unique products to share with her readers. With formal training in graphic design and a background in the event planning/design business, Crystal looks at design from all angles to give readers a fresh perspective.

Latest posts by Crystal Williams (see all)