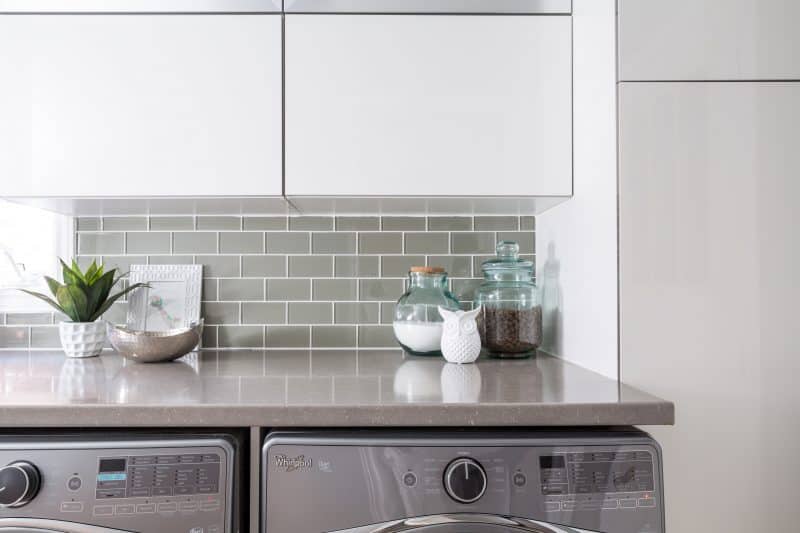 COLOUR
Clean, simple colours! I chose washable gloss white cabinets and applied a coat of CIL Wexford Fog on the walls. The simple colour palette created a calming effect in a usually chaotic room. I added in greys and stainless steel touches throughout the room for a more unisex look.
STORAGE
Who doesn't need more storage? I added tall pantry storage to one side of the room which enabled me to store laundry baskets, kids' boots and bins for mittens, hats and scarves, keeping everything organized and easy to find. Upper cabinets are used to store and hide away detergents, extra towels and cleaning supplies, keeping everything organized.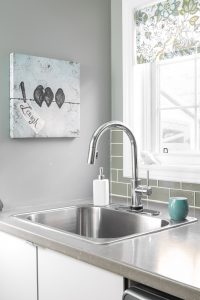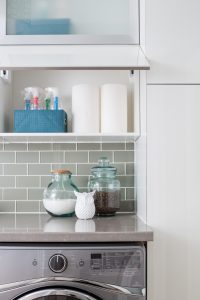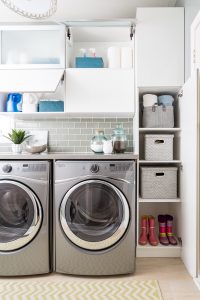 COUNTER TOP
Don't overlook counter space! Make sure you have enough room to deposit dirty clothes, apply stain treatments and fold clothes. Choose a counter top that will hide dust and dirt. Multiple flecks of colour help hide messes and add an industrial element to the room. Laminate has come a long way in recent years; it's amazing how you can get it to look like stone, but at a fraction of the cost.
SINK & FAUCET
Laundry sinks can be stylish! If your space doubles as a mudroom, a sleek faucet is not only visually appealing, it is also a great solution to easily clean up muddy hands after gardening or washing up when arriving home from school, work, sports or after taking the dog out for a walk.
ACCESSORIES
You shouldn't dread spending time in your laundry room! I added a great piece of art, a bowl for keys, and a multitude of great baskets to keep the room stylish yet functional. Everything is out of sight and organized but easy to access.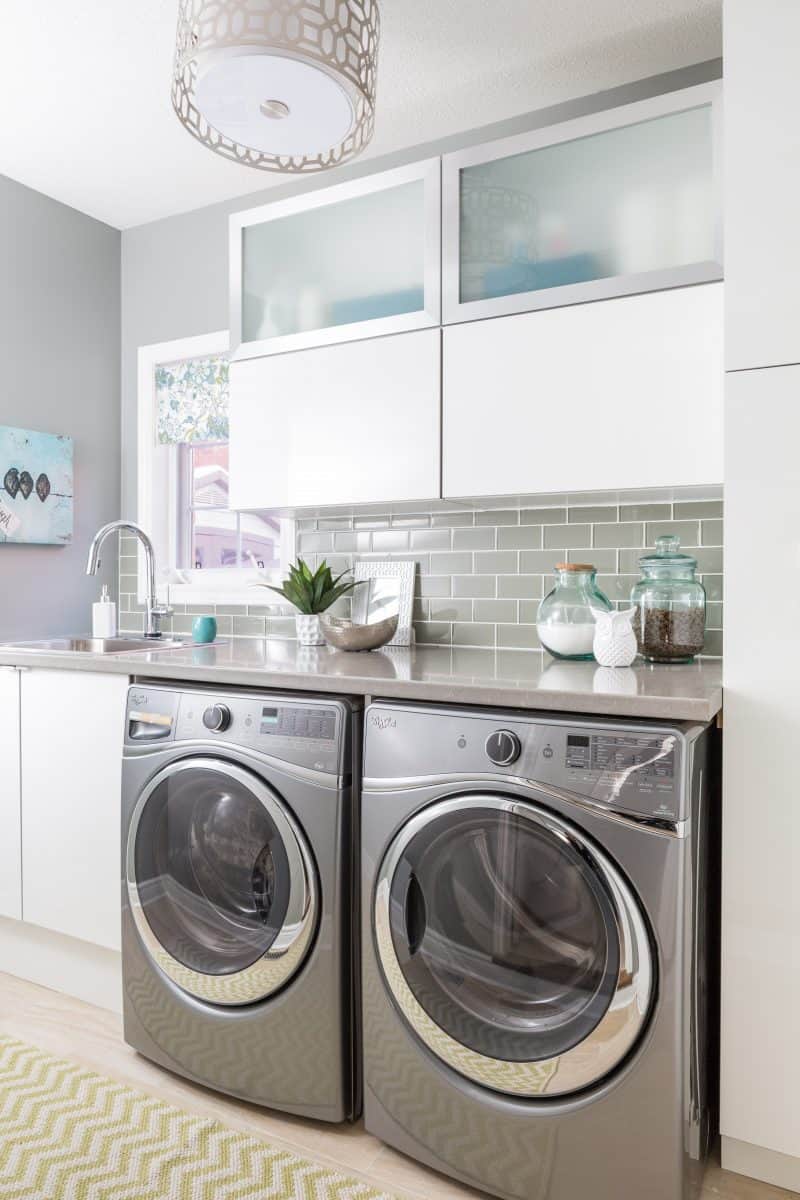 SOURCES
As Seen On The Cover Of Canadian Home Trends Magazine Spring 2016
The following two tabs change content below.

Canadian Home Trends' Style Editor, Jo Alcorn, Principle Designer and Founder of
Alcorn Home
. Jo has over 15 years experiences as a celebrity interior and home product designer, expert instructor, corporate ambassador, TV personality and a strong female entrepreneur, Jo has created a fabulous fan following. To add to credentials, she is a style editor & writer for multiple publications and blogs, a public speaker, and an avid animal/environmental advocate.

Latest posts by Jo Alcorn (see all)