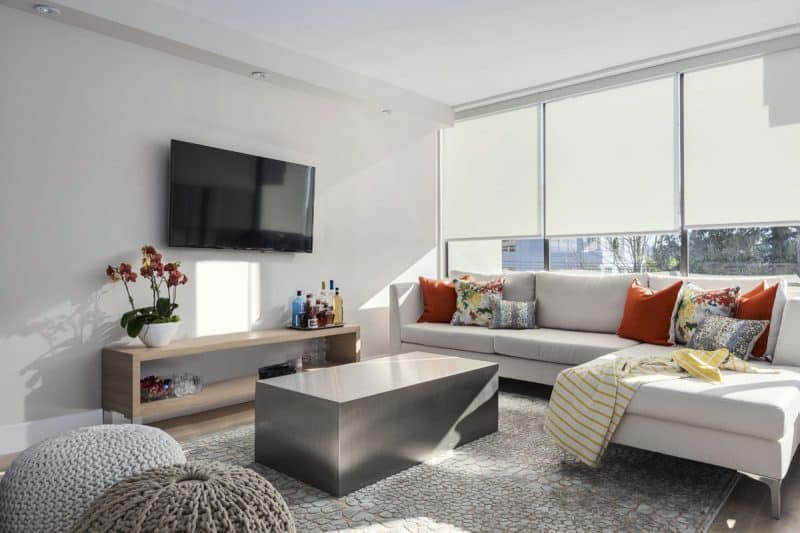 Masoum Mahjoob's 1980s-built West Vancouver condo needed rejuvenation. Mahjoob, a hair stylist, had just paid off her mortgage and wanted "a fresh and new life—my home was the first step." Her condo, home for 20 years, was dark and cramped. "I wanted something bright, contemporary, feminine and sleek," Mahjoob says.
Full and reflected light were partners in designer Negar Reihani's plan. "When Negar presented the colour scheme, finishes and furniture in our first presentation, I was thinking 'I would have never chosen these colours and finishes' — but they were all so ME! It was like tapping into a part of me which I didn't know before or creating a new identity," Mahjoob remembers.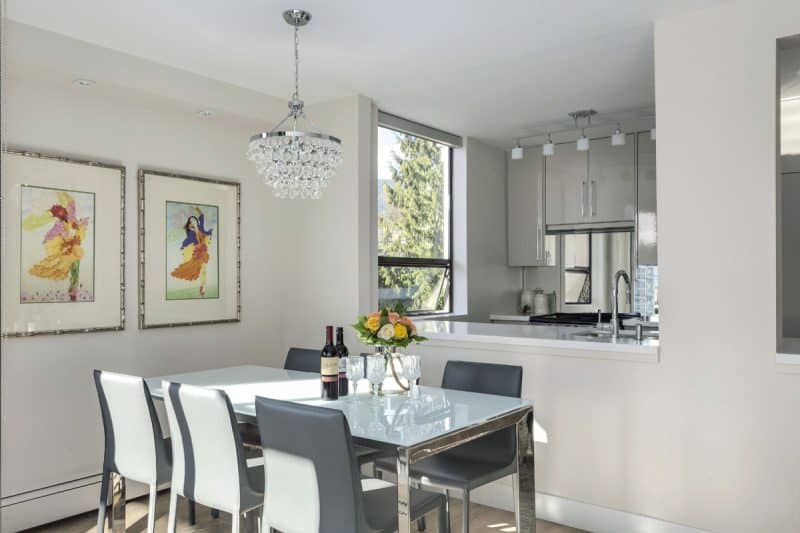 Reihani halved the condo's dining room wall turning it into a half wall topped with a white quartz counter. Bright light now streams into the kitchen reflected by a glass backsplash and white cabinetry.
"The dining chairs are leather and dark gray. They were chosen for functionality and comfort next to their simple look," Reihnai comments. A self-described "foodie" Mahjoob now has ample space to entertain friends and family. "I can't think how I could have lived and cooked in my previous kitchen for so many years!"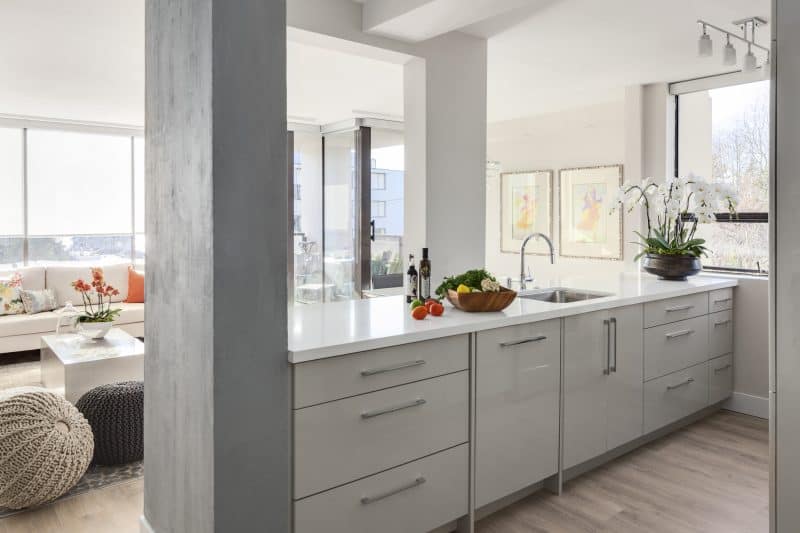 A closet was removed to add space and part of the bedroom/living room wall was cut back. These adjustments widened the entry hall into the condo. Greeting guests, in the entry, a generous mirror with beveled glass frame, refracts light into the living and dining rooms.
New blond oak flooring is used in every room except the bathroom. "What I love about this floor is its subtle grey undertone which worked perfectly with the light grey high-gloss kitchen cabinets and the light grey veins of the porcelain tile in the bathroom," Reihani remarks. Keeping flooring consistent expands a space, as does layering shades of neutral fabrics, furniture, and wall paint.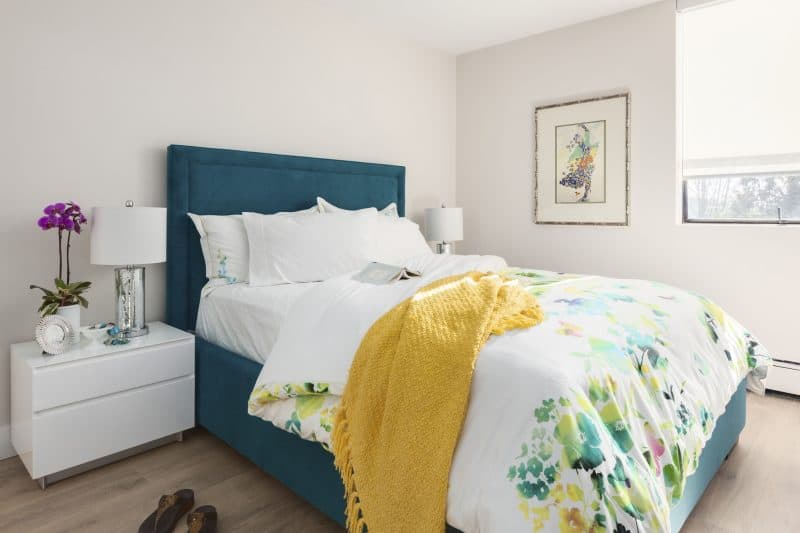 Mahjoob's dining and living rooms' shared motifs include silvery metallics, expansive use of white, and delicately framed art, windows, and furniture. The result is a luxurious, but spare room, where textures, materials, and forms focus the eye. "The area rug is large but subtle with a great transitional pattern and a lustrous sheen, the colour is dark silver and beige," Reihani notes. It "pulls everything together."
Orchids, art, and accent pillows add small rushes of colour to the living room while plump, knitted, ottomans add a tickle of capriciousness to the room's serene sleekness.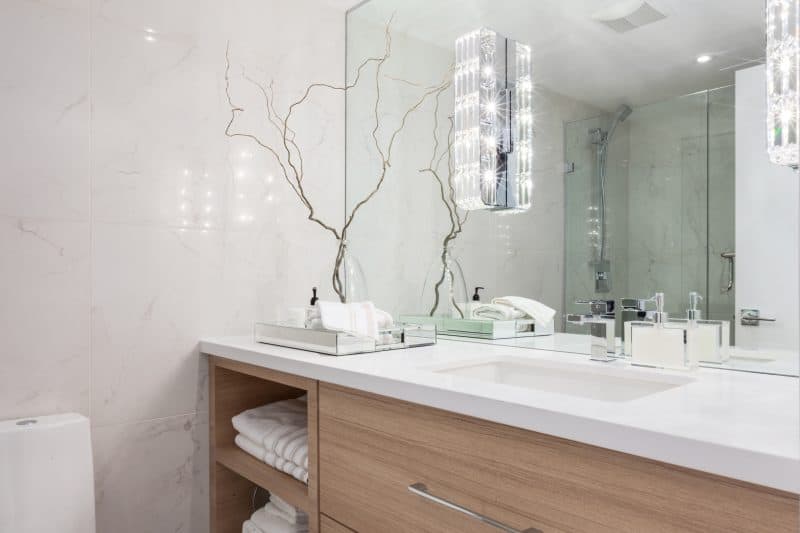 Reflected light, spare forms, and bright colours visually expand the master bedroom, next to the living room, that was once dark. A softly 'watercoloured' coverlet and buttercup-coloured throw coordinate with the bed frame's turquoise silhouette. White linens and end tables along with silver lamps infuse soft luster over the room. "For me, the master bedroom is one of the most important rooms in the house to design, it's your refuge," comments Reihani.
"Everybody is amazed," Mahjoob states. "I couldn't, still can't, believe the transformation. In my wildest dreams, I couldn't imagine my place like this. It's well-balanced, harmonious, and functional."
Text by J. Lynn Fraser, Photography by Colin Perry, Produced by Canadian Home Trends Magazine
Sources:
Space Designed by Negar Reihani, Space Harmony, www.spaceharmony.ca;
Photography, Colin Perry, www.twocolumn.com;
Sofa and Bed, Vangogh Designs, www.vangoghdesigns.com;
Coffee Table, Mobital, www.mobital.ca;
Dining Table, Mobital, www.mobital.ca;
Bed Side Tables, Mobital, www.mobital.ca;
Art, Home Owner's;
Rug, Surya, www.surya.com;
Refrigerator, Blomberg, www.blomberginternational.com;
Dishwasher, Blomberg, www.blomberginternational.com;
Range, LG, www.lg.com;
Hood Fan, AEG, www.aeg-appliances.ca;
Paint, Benjamin Moore AF -55 Sonnet, www.benjaminmoore.com;
Tile, Ican Tile, www.icanceramic.com;
Cabinetry, Custom made by Best Choice Kitchen Cabinets, www.bestchoicekitchencabinets.ca;
TV Unit, Custom made by Best Choice Kitchen Cabinets, www.bestchoicekitchencabinets.ca
The following two tabs change content below.
With over 20 years of experience within the design industry, the founder and principle designer Negar Reihani is celebrated for her timeless and elegantly simple approach to creating high-end, polished interiors that evoke a broad range of design sensibilities and distinctively reflect the tastes and lifestyle of her clients. She began with a career in graphic design, building a successful and thriving company that provided design solutions for many national and international companies. After 15 years at its helm, her latent passion for interior design lead Negar to fully realize a life-long dream and launching Space Harmony in 2008. Since then, her work has been recognized and featured in many national publications as well as nominated for Georgie Award. She has repeatedly won the Best of Houzz Award for most popular designs and highest level of customer service. She has positioned herself as a strategist and style-maker within the industries of Interior Design, delighting her clients with her creative finesse and perfectionism.
Latest posts by Negar Reihani (see all)