This weekend I started working decorating my house for Christmas. This year I am doing blue and silver and I wanted to do some of my own projects. I found a great deal on popsicle sticks (150 for .75!) so I bought a ton and started looking for ideas for things to make out of them.  Here are some of the results: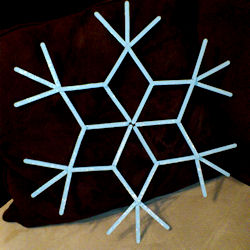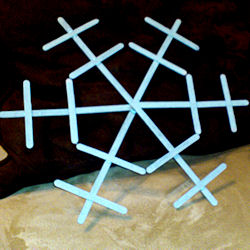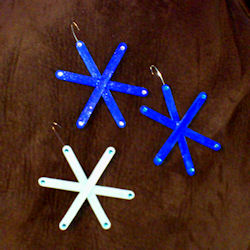 I ended up making 3 giant snowflakes to hang on the wall, 18 mini snowflakes to hang on the tree and a star for the top of the tree all out of snowflakes.  Here are some pictures of the giant snowflake building process.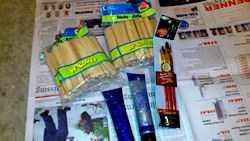 Materials Used:
About 110 popsicle sticks
Gray  and blue craft paint
Blue and Clear Glitter Glue
Paint Brushes
Hot Glue Gun
Ribbon
Rhinestone stickers
Ornament Hooks
For the snowflakes, I was inspired by Crafty Nest – you can actually see complete instructions for some of the designs on there – as well as more design ideas.   I choose to paint mine in a blue gray color and then add a coat of glitter paint for shine. I used clear glitter on the larger two and blue glitter paint on the smaller one. One they were done, I used blue ribbon to hang them.
For the tree ornaments, we made three versions: blue with clear glitter and clear rhinestones, blue with clear glitter and blue rhinestones and grey with blue glitter and blue rhinestones.  I used 3 sticks for each ornament and hot glued a wire ornament hook to the back of each ornament for hanging.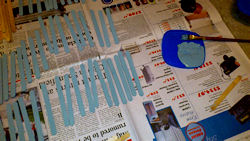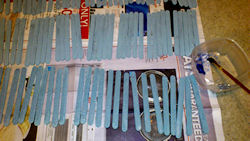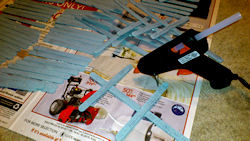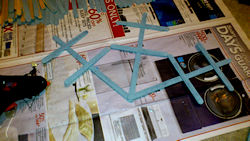 Pictures of the Snowflakes finished and hung.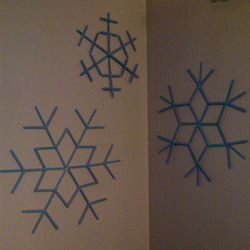 Pictures of our Christmas tree with a popsicle stick star with popsicle stick snowflake ornaments.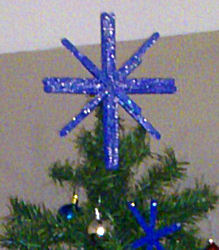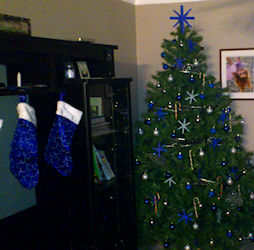 The following two tabs change content below.

Crystal Williams
As Online Editor for Canadian Home Trends Magazine, Crystal has a passion for design and decor. She enjoys browsing the web to find new, exciting decor ideas, DIY projects and unique products to share with her readers. With formal training in graphic design and a background in the event planning/design business, Crystal looks at design from all angles to give readers a fresh perspective.

Latest posts by Crystal Williams (see all)