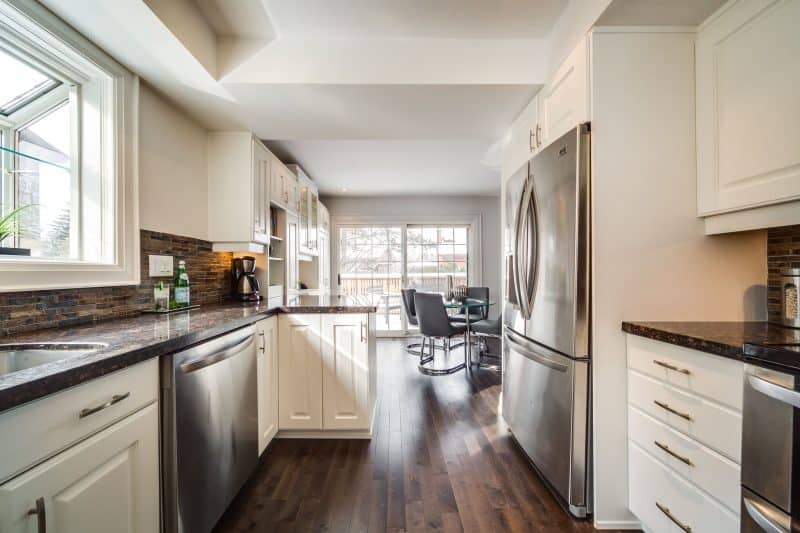 An eat in kitchen is a must-have on many home buyers lists but in a small space, a table and chairs can cause a few problems. If the eat-in kitchen blocks a beautiful outside view or obstructs the view of the newly upgraded kitchen, this is an issue. After all, buyers are buying the view and the space, not your furniture! It is also necessary to ensure that there is always a clear path between rooms (at least 36") and a clear path to doors that go outside. Furniture has to be as compact as possible to accommodate the traffic flow.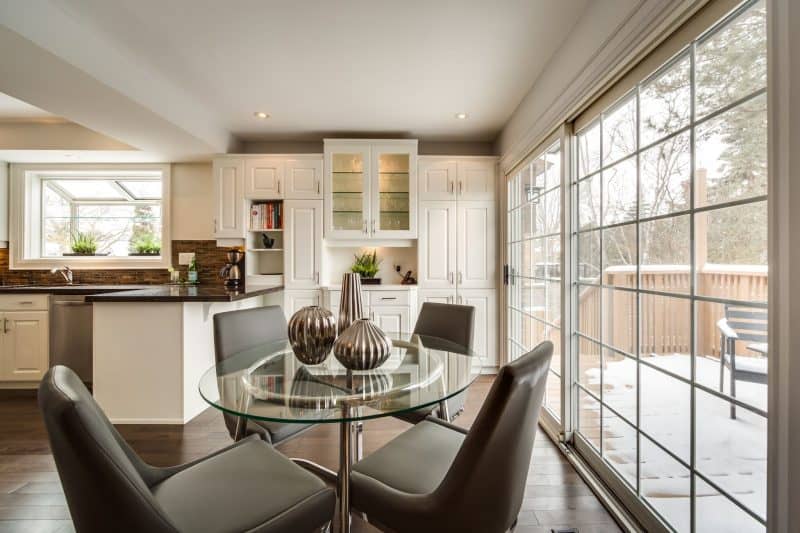 The solution for smaller spaces? A glass table is the answer. It doesn't block the view and it gives you the ability to decorate on top without appearing "heavy/large" in a small space. In this space, a round table softens the very rectangular shaker style doors and the square accent details on the patio doors as well. We chose low profile chairs with minimal bases which ensures that the view is also not blocked by seat backs. Ensure that the chairs can be pushed under the table to minimize the size of the entire set. We chose to go with neutral/soft chair colors that blend in with the rest of the space and chrome bases that further modernize the kitchen and tie in the stainless steel appliances and door handles.
Before Photos: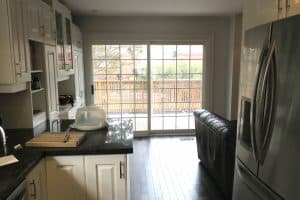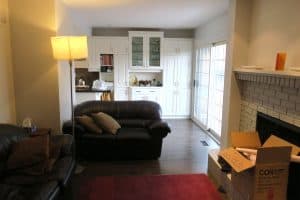 The one thing we left out? Bar stools! In this particular case, low profile bar stools could be added to the counter top are for additional seating but to ensure great flow and keep the space from feeling to crowded, we choose to forgo those.
The following two tabs change content below.

After spending close to 20 years either in or serving the corporate world, and helping friends and family decorate and renovate their homes, Laurie established Love This House in 2013, combining her desire to help people with a strong passion for home decorating. Laurie brings a wealth of knowledge to any work she does having extensive educational degrees (Bachelor & Master Science (Chemistry), Master Business Administration (Marketing), Culinary Arts and certifications (Certified Staging Professional, Certified Colour Consultant, Residential Renovation Project Manager, Eco Professional (Energy efficiency/Universal Design, Downsizing Specialist, Senior Move Manager).

Latest posts by Laurie Usypchuk (see all)