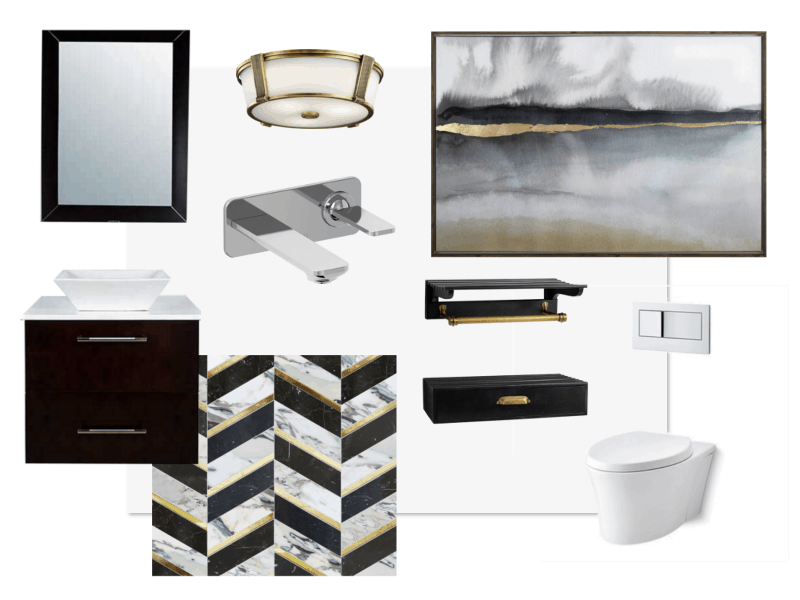 Small Bathroom Design – Today I was challenged to create a stunning, designer bathroom that would make use of a small space and this black, white and gold showpiece was the result. Here are some of the small space tricks you'll see integrated into this design!
Keep Floor Space Open
One trick to making a small space feel larger is to keep as much floor space visible as possible. Even though this isn't necessarily "usable" space – it helps to make the bathroom feel more open and spacious. A wall-mounted vanity and wall-mounted toilet are a great way choice for a small bathroom. The vanity I choose from
Modern Bathrooms
is shown with a vessel sink in an angled design that allows more countertop to show under the sink, another great choice for a small bathroom!
Clean Up the Countertop
When your bathroom only has space for a small vanity, you want to keep the countertops as clean as possible. To accomplish this, choose a wall-mounted faucet rather than a countertop-mount so there is one less thing on the countertop. Bonus: The wall mount faucet I picked is from
Riobel's Equinox collection
and also gives the space a more modern feel at the same time!
Simple Finishes with One Dramatic Feature
Just because a bathroom is small doesn't mean it can't be dramatic. In fact, dramatic details in a small bathroom can really make the space stand out and tile is a great way to do that. The key is to focus on one feature and keep all other surfaces simple. In this bathroom, I selected a stunning black, white and gold marble tile for the floor but I would keep the walls, tub/shower surround and ceiling a simple white so the space does not start to feel overcrowded. If you're working in a small space and you already have another bathroom in the home with a tub, opt for a stand-alone shower with glass doors that don't block the light and a tile-ready base or a linear drain rather then a shower base. Then, continue the floor tile right through the shower. This will create the illusion of larger open floor space, making the bathroom feel bigger as well.
Smart Lighting
Great lighting is a must in a small space but decorative fixtures can take up valuable space. Ensure you have a well-planned lighting scheme with recessed ceiling lights on a dimmer to provide overall lighting that you can control. In this bathroom, I would opt for a backlit mirror to provide even task lighting for things like applying makeup without adding more fixtures to the space. Of course, every bathroom needs some decorative lighting so I added a flush mount ceiling light that adds a decorative touch to the ceiling without taking up much space.
Use Wall Space Wisely
Wall space is important when planning out a small bathroom – it's a great place to added extra storage and decorative touches – but it's also important not to overfill the space! The drawer/shelf and shelf/rod pieces are actually part of a closet organization set but they would be perfect on the wall above the toilet, adding hidden storage, open shelving and towel hanging options while still remaining decorative. I have a small bathroom at home that has a vanity and toilet on one wall with the facing wall empty. The door opens towards this wall so you can not put anything there that protrudes from the wall. In a small bathroom like that, the open wall space offers the opportunity to add a decorative touch like a large wall art piece. This art piece has a simple design (nothing too busy) and would create a decorative feature on the empty wall without protruding far from the wall. Sources:
For more unique items for your home,
click shopCHT.com.
For more great ideas,
click here.
The following two tabs change content below.

Crystal Williams
As Online Editor for Canadian Home Trends Magazine, Crystal has a passion for design and decor. She enjoys browsing the web to find new, exciting decor ideas, DIY projects and unique products to share with her readers. With formal training in graphic design and a background in the event planning/design business, Crystal looks at design from all angles to give readers a fresh perspective.

Latest posts by Crystal Williams (see all)