While you may not think about your bathroom often, you probably spend a lot of time in it. The bathroom is often the first room you visit when you get up in the morning and your last stop before bed. It's the place you go to prepare for your day, or night. It's the place where guests will go to freshen up when you entertain and it's the place you go to when you want to unwind and soak in the tub at the end of a long day. Designing a bathroom is no longer just about function. Modern bathrooms are more like small, in-home spas. A well designed bathroom will make your mornings more enjoyable and offer a place to retreat and relax in style at the end of the day.  Here are a few trends to help you turn your bathroom into a luxurious, designer space.
Subscription Offer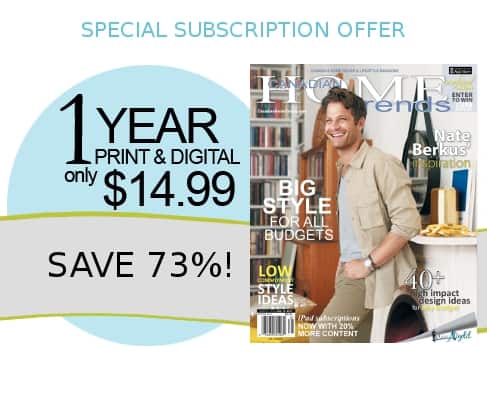 Image 5 of 5
SUBSCRIBE TODAY & SAVE 73%

Canadian Home Trends Magazine is Canada's Home Decor & Lifestyle Magazine offering readers design inspiration from Canada's top designers along with special international guest designers and celebrity home showcases. Readers are inspired by a fabulous selection of Designer Spaces, Editor's Picks, Design Boards, Trend Finds, Drab to Fab DIY projects and more. Informative articles and special features in each issue keep readers up to date on the latest trends, hottest products and newest technologies in home decor and renovations. CHT offers everything you need to turn your house into a beautiful, designer home.

SUBSCRIBE TODAY & SAVE 73%
The following two tabs change content below.

Crystal Williams
As Online Editor for Canadian Home Trends Magazine, Crystal has a passion for design and decor. She enjoys browsing the web to find new, exciting decor ideas, DIY projects and unique products to share with her readers. With formal training in graphic design and a background in the event planning/design business, Crystal looks at design from all angles to give readers a fresh perspective.

Latest posts by Crystal Williams (see all)