Alexandra and Kimberly have a passion for helping homeowners create their dream homes on any budget and their company, Direct Design Company, offers a unique design service to achieve just that. In this week's edition of Home Trends & Inspiration, I chat with Alexandra and Kim about their personal design styles, what inspires them, their favorite Canadian finds, what they enjoy most about the design process and more. Read on to see what Alexandra and Kim had to say. – Crystal Williams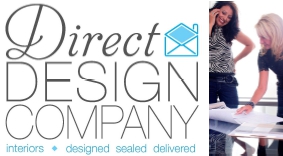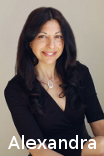 Alex & Kim At Home
Crystal: What room in your home would you say is your favorite and why?
Alex: We both love our bedrooms which gives us a sanctuary at the end of a busy day. This is Kim's room where you can see how she loves to add a touch of glamour.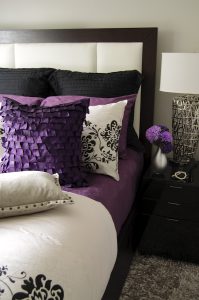 Crystal: If you had to choose one room in your home to redesign – which room would you pick and why?
Kim: We are both so excited to get back to some outdoor living and entertaining after the winter. Without going into major construction we both have ideas about improving our gardens and patios, bringing in new life with plants, lights, and interesting fabrics on the soft furnishings, like cushions and outdoor curtains!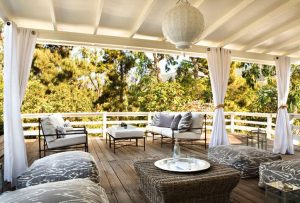 Crystal: If you had to pick one furniture or decor piece in your home that would be your favorite, what would it be?
Kim: I love my mid-century credenza, it was a steal that my husband and I picked up at the garage sale at the Four Seasons Hotel in Toronto. Perhaps the fact that my husband was the executive chef there gave us an advantage? I love the fact that it is multifunctioning and practical to have near my dining area.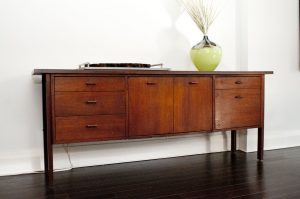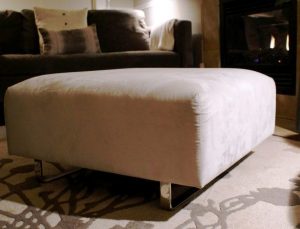 Alex: I love my ottoman which was designed and manufactured by my friend Yvonne. Although it is a light colour, the microfiber suede is so easy to clean, and it can be used as a bench, coffee table or computer table while I am sitting by the fire! But I also bought it because of its simplicity and quality of design.
Crystal: I know Kim has worked on a number of HGTV shows in the past. What are some of the shows you have worked on and if you had to pick a favorite, which would it be?
Kim: I had a vision of how I wanted to see my home and thought the best way to learn was from the pros! Peter Falico and Barb Purdy helped me realize my dream on "Home To Stay". I got to have a main floor open plan concept and a fabulous kitchen for my celebrity chef husband. When I decided I would like to have a large luxe bathroom, Candice Olsen listened to my ideas, added her own twist of glamour and featured it on "Candice Tells All."
Alex & Kim on Inspiration and Trends
Crystal: Where do you find inspiration for your design?
Alex: My  inspiration often comes from fine art, because  "it is timeless, and there is no agenda, it is created out of pure aesthetics". Kim absorbs her inspiration from everywhere; she loves to travel and is spoiled with having a very creative chef for a husband. Together their creativity feeds off one another… (pun intended)
Crystal: What is your current favorite design trend?
Alex: We love the back to nature trend, raw woods, references to outdoor life, birds, trees, natural fibres and fabrics.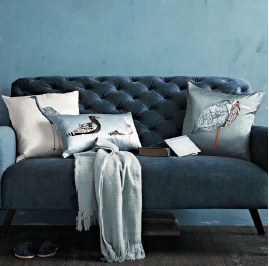 Crystal: If you could pick the next big design trend or hottest colour, what would it be?
Alex: Royal Blue and white; check out this Hermes bowl, the rich classic blue with a modern twist.

Crystal:  Direct Design Company is an avid promoter of Canadian made products – what would you say are your current 5 favorite Canadian made decor pieces?
Eurolite on Front Street has this pendant light: Designed by 2×4 Design Company (Canadian) and manufactured in Canada by Viso. Put a little glam in a master bedroom or bathroom or hallway!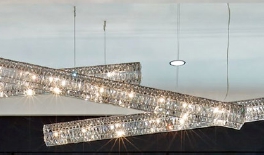 Cabinet Furniture at 55 Mill St in the Toronto Distillery District. This solid wood table is designed and made by owner Ron Briand. This is the GO-TO table for families who want beautiful solid wood, hand crafted, Canadian Furniture .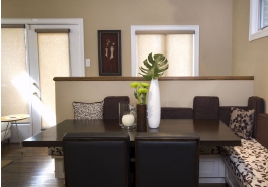 Kate Thornley-Hall takes art from Canadian artists and puts it onto wallpaper. This one is by Smythe.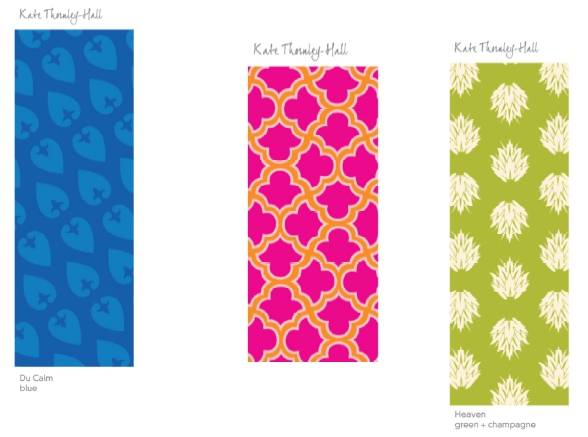 Gresham House This YORK ottoman, is made by family run Gresham House in Mississauga, available through Direct Design Company.  Beautiful simplicity!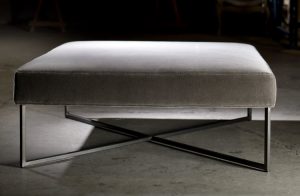 What better way to support Canada than to buy a piece of Canadian Art work? This is by Donna Andreychuk, available at Canvas Art Gallery.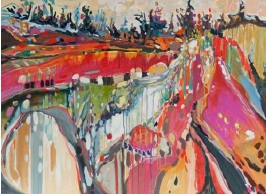 Alexandra & Kim at Work
Crystal: How did you get started in the design field?
Kim: Alex and I both loved design from a young age and like many designers began re-arranging and designing, and decorating our family homes as  teenagers. Alex's formal education started with a BA in Visual Arts, which inspired her to study Interior Design so she could bring such design to everyday living spaces. After studying and working in the UK, she moved to Toronto and started her own design company. My design experience started in the restaurant business where as a manager I became involved in designing kitchen and dining areas. My passion for interior design could not hide itself and drove my career change to residential design.
Crystal: Your company, Direct Design Company, offers a very unique design service. Can you explain a little about how the process works?
Alex: Since HGTV has given everyone the 'designer bug', we could see that the consumer was asking for professional help but not always able to access it. We love improving space and looked for a way to reach people who might not be able to get professional design within their budget. Essentially we are asking the client to participate in the process, thus saving part of the designer's fees. Our experience is that many people want guidance but also want to be involved, take control of the timeline and budget. This program allows for this.
Crystal: What does a day in the life of Direct Design Company look like?
Alex: We have contrasting starts to the day. Kim starts hers with a spin class while on the other side of the planet I am getting my kids off to school. The day at the office starts with a quick of agenda of what the priorities are for the day. We spend time working on our own responsibilities within the business: I am designing on the computer and Kim is sourcing products and samples for clients. We like to schedule our meetings in the afternoon so we can get the most important work done for our clients in the morning.
Crystal: What do you enjoy the most about the design process?
Kim: It is so exciting to see our influences used in a space. It starts with making the absolute best use of the space with a floor plan. Then our excitement continues with selecting finishes, and working with colour and texture! We both get butterflies when we find a beautiful fabric, or inspiring design. In the online business we are not always privy to the final product but people love to share their final design and show us their interpretation of the plan we have given them.
Crystal: What would you say was the most difficult design challenge you have ever faced?
Alex: The biggest design challenges are often getting people to move out of their comfort zone. We try to give them some sound reasons and good information on why they should make the change, and they are usually very happy once they take the leap!
Crystal: What do you think is the biggest design faux pas that clients make frequently?
Kim: We think there biggest mistake is not always trusting the design process. We will give them the finished design and then sometimes they may think of another item that they have seen that may be more affordable and then think it will work the same way. It never works out and inevitably we go back to where we started. Time wasted I guess in the creative process.
Crystal: What do you like most about Canadian Home Trends Magazine?
Alex: We think the thing that really stands out is the content. We feel that the magazine is wonderful in offering all Canadian content and also we love the layout of the magazine; it seems so consumer friendly in its approach. Easy to read with great trend features and articles. The pages are stylish and really are helpful for the client to recreate. For the ipad your digital version is great as well.
The following two tabs change content below.

Crystal Williams
As Online Editor for Canadian Home Trends Magazine, Crystal has a passion for design and decor. She enjoys browsing the web to find new, exciting decor ideas, DIY projects and unique products to share with her readers. With formal training in graphic design and a background in the event planning/design business, Crystal looks at design from all angles to give readers a fresh perspective.

Latest posts by Crystal Williams (see all)