Today on Home Trends & Inspiration with… I interviewed Emma Reddington. Emma is an interior designer, co-owner of Marion Melbourne and the blogger being The Marion House Book. Emma gave me a peak inside her beautiful home and we talked about art, colour, 70's inspired design, her favourite blogs and more. Read on to find out what Emma had to say. – Crystal Williams
Photo: Myles McCutcheon
Emma At Home
What does a day in the life of Emma Reddington look like?
It really depends on the day and the projects we are working on. No two days are alike which is what I love about what I do. Regardless, they tend to start early and end late. My only time off during the day is when I make dinner for the family and put my son to bed. After that it's back to work until I go to sleep.
How would you describe your personal decor style?
My own style is informal and layered with lots of character pieces. I don't like anything too formal or overly stylized. I tend to favour materials and fabrics that develop a nice patina over time. I think a home should look lived in and loved, not like a showroom.
I know you are currently expecting your second child. Do you find that being a mother has changed your personal design style and if so, how?
No, not really. Like I mentioned earlier my personal style is pretty informal and always has been. It works well with children! If anything it has made me more aware as a designer of the needs of parents and families when it comes to planning a home.
What one room in your home would you say is your favorite and why?
I love our bedroom. I love the contrast between the more formal, classic features of the room (the fireplace, chandelier, mouldings) and the informal, bohemian furniture and fabrics.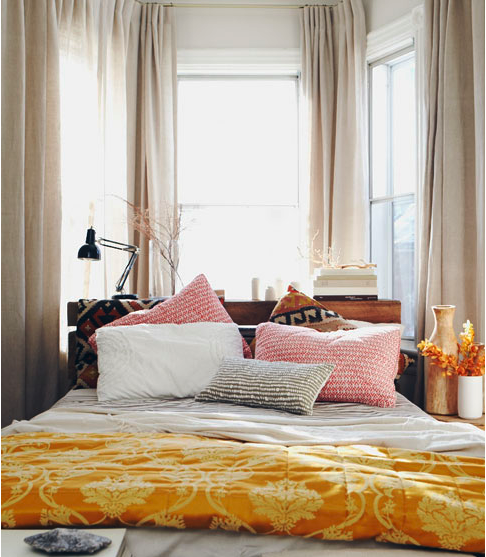 If you could pick one room in your home that needs to be redone, which room would it be and why?
At the moment, the inside of our house is looking pretty good! However, we are in desperate need of a garage and some serious landscaping.
If you could pick on piece in your home that would be your favourite, what would it be?
It would have to be the art. Either the Tony Scherman in our living room or the Eliza Griffith's in our dining room.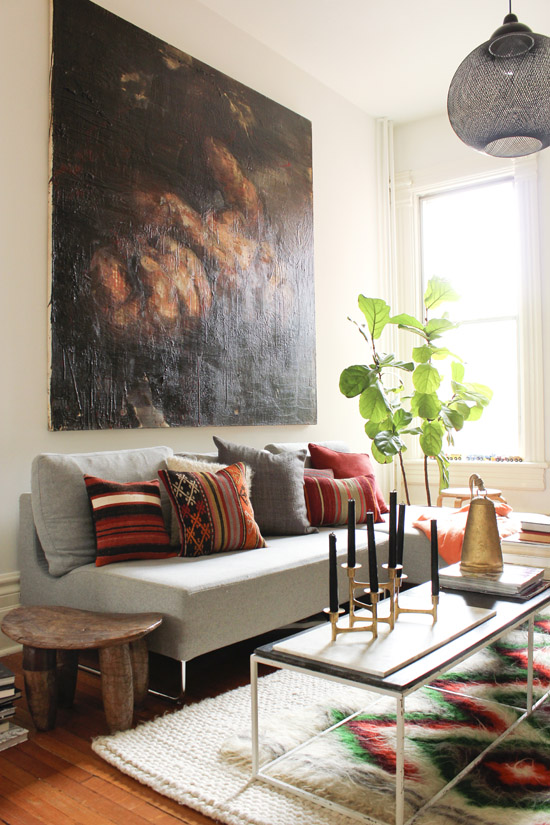 Emma on Trends & Inspiration
Where do you find inspiration for your blog posts and design work?
Most of the inspiration for my blog posts come from my own house and whatever I happen to be up to at the time. It's really a personal journal about the design projects I take on in our house, along with some cooking, DIY projects and inspiration thrown in for good measure!
What current home decor trends do you love?
I'm loving some of the work that is coming out of California at the moment, that recalls the State's more free wheeling days back in the early 70s. Commune Design out of Los Angeles is particularly adept at this current trend in design.
Amy Neusinger for House Beautiful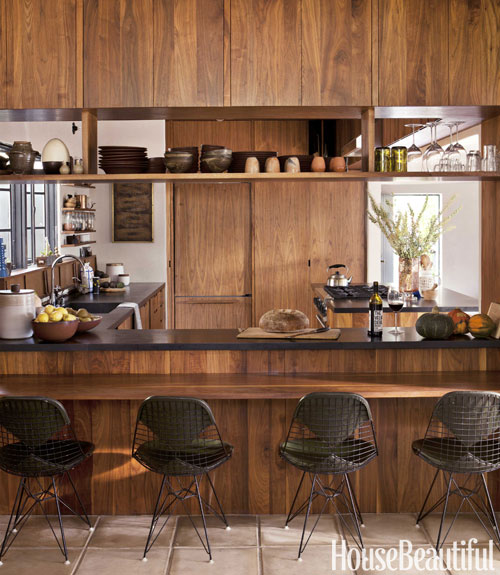 Amy Neusinger for House Beautiful
What current home decor  trends do you think should go?
I'm not a big fan of those chandeliers inside drum pendants.
If you could pick the next hot colour, what would it be?
I'm loving navy blue right now and coral pink matched with mustard yellow.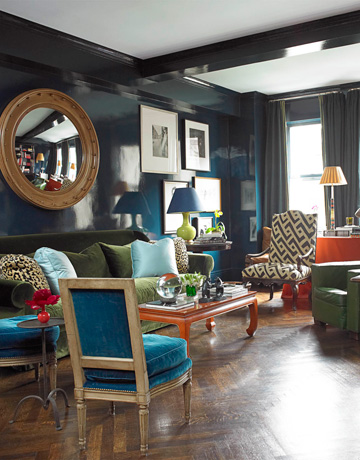 What are your five favourite websites/blogs for design inspiration right now?
I tend to favour blogs that have a particular vision and stay true to that. I love Pia Jane Bijkerk, Sacramento Street, Simple Lovely, Ill Seen Ill Said and the wealth of information at Remodelista.
Emma at Work
Can you tell us a little bit about your design history and how you got into the design field?
I studied Interior Design at Ryerson University and received a Bachelor of Interior Design from there. Upon graduation, I immediately started work as an Exhibition Designer at The Art Gallery of Ontario. Recently, I started my own design firm called Marion Melbourne, with my partner Yasmin Zeitler.
How did The Marion House Book get started?
I started The Marion House Book after a year off on maternity leave. It was a good way to slowly get myself back into the swing of things.
Do you have a post on The Marion House Book that stands out as a favourite?
I'm really proud of the home tours I have done on my blog which fall under the name Hello! Neighbor. It started as a simple idea to profile some of the stylish homes in my neighbourhood and has turned into a much bigger project. To date, my photographer Kristin Sjaarda and I have documented 26 homes and this year we're expanding to include home tours in Vancouver, Stratford and the Toronto neighbourhood of Riverdale.
What is the biggest thing you have learned about design as a blogger?
That readers can't get enough of it! People are passionate about their homes.
How has blogging affected your everyday life and your own design?
Blogging has provided me with an outlet to express my own ideas about design. It's really my escape at the end of the day or on the weekend to explore ideas or projects that I want to undertake. I've always done these kinds of things; it's just that now I actually document them.
As an interior decorator, what is your favourite room to decorate?
My favourite is when we get to design a whole house rather than just a single space. There is nothing like seeing a vision through from room to room.
What do you enjoy most about the design process?
The beginning and the end! The early days are so exciting when you are pulling the vision together and coming up with ideas. Likewise, seeing the finished product is so rewarding. We're lucky in the field of interior design that we actually get to see the results of our hard work. Not every profession is like that.
What is the biggest design faux pas that you see homeowners making regularly?
My biggest pet peeve is people who choose either mass produced "art" (if you can call it that) or people who match their art to their sofa. There's no reason in this day and age not to seek original art whether it's through an art gallery, online auction, or at an art fair.
The following two tabs change content below.

Crystal Williams
As Online Editor for Canadian Home Trends Magazine, Crystal has a passion for design and decor. She enjoys browsing the web to find new, exciting decor ideas, DIY projects and unique products to share with her readers. With formal training in graphic design and a background in the event planning/design business, Crystal looks at design from all angles to give readers a fresh perspective.

Latest posts by Crystal Williams (see all)