This week I had the opportunity to interview Patricia Andrew – one half of the dynamic duo behind FaAB Home Fashions. Patricia is a self-proclaimed décor magazine junky with a love for all things Canadian made and a passion for interior design and home décor. In this week's Home Trends & Inspirations interview, Patricia shares her newly renovated kitchen, her favorite Turkish rug, her love for travel and the inspiration she finds all around her, her excitement over the return of patterns and colour, some fantastic design advice and more. Read on to find out what Patricia had to say. – Crystal Williams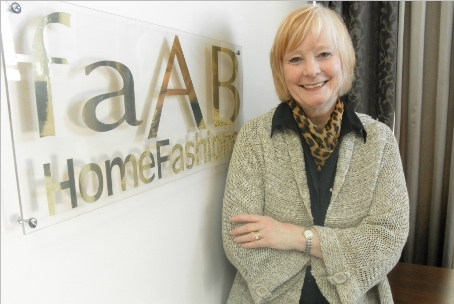 Patricia at Home
What room in your home would you say is your favorite and why?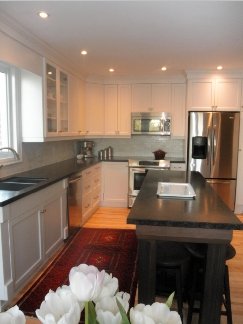 Our brand new kitchen. It has been 20 years since my husband Paul and I last renovated and although we loved the space, it was just time to get rid of the used and worn. We have a long narrow space and we spent a great deal of time measuring, thinking and scheming about how to make the most of the small foot print. We ended up turning the original floor plan on its head. I love it. It's modern, fresh, clean and we have gained a load of new storage. The best thing ever is the granite counter called "leather in brown"; it feels gorgeous to the touch, looks amazing and its luxurious matte surface is incredibly easy to care for.
If you had to choose one room in your home to redesign – which room would you pick and why?
We are in a very good place; a fresh new kitchen makes everything better, but there's always the wish list. I would love custom built-ins for our walk-in closet and I'd love a brand new laundry room, but I'll keep my design plans secret from my husband for now.
Some ideas Patricia loves – found on Pinterest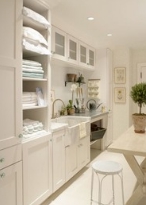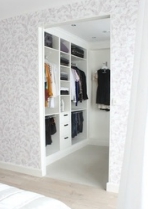 If you had to pick one furniture or decor piece in your home that would be your favorite, what would it be?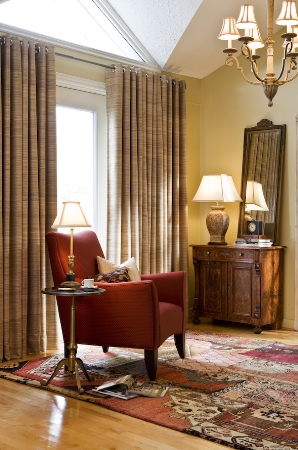 I love my Turkish patchwork rug. I think it is amazing; it pulls my whole living room together. I found it five or six years ago, fell in love with it and redesigned the whole space around it. It is colourful, unique, unexpected and totally fits my eclectic decorating style.
If you could work with one interior designer of your choice to redesign a room in your home, who would you pick?
Definitely my business partner Penny, she has a discerning eye, with a modern, classic aesthetic. She sees important design qualities in the curve of a leg, the shape of a chair, a unique lamp base.These small but surprisingly important elements add the essential design touch to any room. I always ask for her advice and she is never wrong.
Patricia on Trends & Inspiration
Where do you find inspiration for your design?
As I mentioned I'm a décor magazine junky, I have stacks at the office (eleven on my desk right now) and my share at home too. But along with that I'm open to inspiration from anywhere. I have a membership at both the AGO and the ROM;, travel as much as possible; I find Italy and France especially inspiring. When we are working on a new collection I meet with as many of our amazing fabric vendors as possible. We get pure inspiration from their vision and from the fabrics that they have sourced from around the world.
What do you like most about Canadian Home Trends Magazine?
I love that it is a Canadian publication. At FaAB we are strong advocates of Canadian made products (our ready-made draperies are all manufactured in the Toronto area) and we love that our unique Canadian point of view is being celebrated.
What is your current favorite design trend?
Refreshingly we are seeing pattern and colour come back into play. It has been a long era of plains and beiges, but now fabrics are being shown with colour and florals, pop and pizazz. No, not the flowery chintz from the nineties, but fabrics with a spark of colour, a dash of print, graphic patterns and exciting surface interest.
If you could pick the next big design trend or hottest colour, what would it be?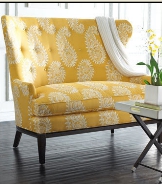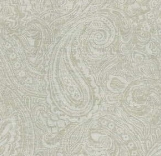 Now that pattern is back, the most exciting new look is Paisley. They are available in a brand new modern aesthetic. You'll see dramatic large scale drawings and fresh de-constructed paisley patterns. Traditional paisley was in saturated jewel tones, but they are now offered in simply beautiful two-tone colourways – soft beiges, metallic, pastels and greys. It is a very modern colour palette for your home and particularly appropriate for window coverings. We are very excited to be offering this new look in paisley for our next collection in fall 2012.
Image Sources: Chair by Ballard Designs, Fabric by Kravet
What are your 5 favorite websites or blogs for design inspiration?
I'm into Pinterest, Houzz, Design Maze, Life Hackers and the Etsy Blog.
Patricia at Work
What does a day in the life of Patricia Andrew look like?
Each FaAB work day is both busy and unique. We love it because Penny and I are blessed to have a great working relationship, with most of our time focussed on the opportunity to make FaAB better. We could be out visiting client's stores, throwing fabric samples around for the next line, scheming up new inventive business strategies, solving problems (which blessedly are few), welcoming interior designers to our showroom, but all in a very relaxed and creative environment.
I know you were involved in home decor before FaAB was launched, can you tell me a little bit about your decor history and how you became interested in home decor?
My background in sales & marketing led me to a position with B.B.Bargoon's. There, my passion for interior design and home décor was ignited. I always had an interest, devoured décor magazines, spent hours shopping for the perfect accessory and in the 90s I must admit, faux painted, sponged and distressed my share of furniture and walls. But my love affair with home décor and textiles turned into more, when I became business partners with Penny Busher, whom I met at B.B's. We had a shared passion and together we saw an opportunity in the market for better made, designer quality, ready-made draperies.
FaAB HomeFashions was born.
Penny, with her background in textiles and I, with sales and marketing experience – made the perfect team. In the seventeen years we have been together, we continue to love fabrics, the feel, the texture, the weight and the colours. We are always on the search for the new and exciting; we search for trends and hidden gems. Together we have developed a unique design esthetic, that we call FaAB.
What do you enjoy the most about the design process?
It is the hunt. I am perpetually on the lookout for the new, or unusual and always looking at how to turn the traditional way of doing things on its head. My greatest pleasure is when we can add something to the FaAB line that will delight and surprise.
What is the biggest lesson you have learned about design over the years?
Trust your instinct. Follow the trends and keep up to date, of course, but in the end you really need to please yourself.
What do you think is the biggest design faux pas that home owners make?
Unlined draperies. Lining adds body and fullness and makes your draperies look luxurious. It offers important insulation properties against cold, heat, sound and damaging UV rays. Plus the different grades of lining provide varying degrees of room darkening properties and light control. Lining will make your draperies look great on the inside of your home, but as an added bonus they also look good from the street
What would you say is the easiest way to update a room?
Frame a window with gorgeous silk drapery panels, or an amazing faux silk. They will add a touch of glamour and soften the hard edges of your window. Choose a colour that closely matches your walls for a subtle look, or go for drama by choosing an accent colour from your room. Just add a single panel on each side of your window frame, it will provide a cost effective update and will give the room surprising new warmth.
If you had to pick one favorite product from your current line, what would it be?
It is hard to choose just one, with 186 fabrics and colours in our Spring 2012 line, but I'll go with our clients' favourite- our bestselling, Persia Silk, a beautiful Dupioni silk with discernible slub, luxurious hand and subtle sheen. Available in 13 fabulous colours, it makes a gorgeous ready-made drapery. You've got to love a winner.
What projects are you currently working on that you are most excited about?
We are just launching our newest product line – FAAB-U-LESS. We are very excited about this collection of better priced ready-mades. Retailing at $99 to $149 per panel, they are designed to fill that place in the market for well-made, ready-mades, designed and proudly manufactured in Canada.
We have been growing our business across Canada with designer quality ready-mades and offering our "faux custom" features, but we now see FAAB-U-LESS as an amazing opportunity. It is a ready-made collection at a lower price, carefully designed with a modern edge, in mild to wild colours, but with the same attention to manufacturing excellence as we are known for. The line is packaged in a brightly coloured innovative box and response from our retail clients, has been amazing. It will be available across Canada.
The following two tabs change content below.

Crystal Williams
As Online Editor for Canadian Home Trends Magazine, Crystal has a passion for design and decor. She enjoys browsing the web to find new, exciting decor ideas, DIY projects and unique products to share with her readers. With formal training in graphic design and a background in the event planning/design business, Crystal looks at design from all angles to give readers a fresh perspective.

Latest posts by Crystal Williams (see all)