With a background in the fashion industry, Renee Elliott is passionate about cooking, art and design. Her company Re: Creative, located in Toronto, offers DIY craft workshops, event styling, furniture makeovers and more. You can also find her blogging at Eat. Live. Shop.  Today we chat with Renee and explore design, shoes, makeover projects, personalized spaces and much more. Read on to see what Renee had to say.
Renee At Home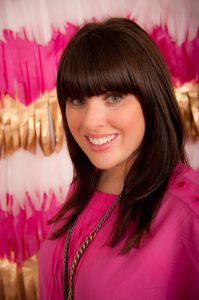 What does a day in the life of Renee Elliott look like?
I wake up, walk my French Bulldog puppy Harper, go for a quick jog and then start my workday. I usually spend the morning returning emails and working on my blog. My afternoons are typically spent grabbing supplies and working on client projects or craft class ideas. My nights are either spent out at an event or chowing down on a yummy meal at a restaurant (if I'm feeling too lazy to cook) or teaching a class in my craft studio.
How would you describe your personal decor style?
I would say my décor style is very eclectic. I love a touch of vintage, a touch of industrial and a touch of girly.
If you could pick one piece in your home that would be your favorite, what would it be?
I would say one of my favourite pieces in my home is a vase from Guatamala which I received as a teenager from a family for whom I used to babysit. It's probably the only thing in my apartment that I've owned for that long – sad but true!
What one room in your home would you say is your favourite and why?
I love my living room area – it's full of DIY projects I've done, a frame wall full of art I love, lots of vintage finds and items that have meaning to me.
If you could pick one room in your home that needs to be redone, which room would it be and why?
My bedroom could use some attention. I have a great bed made from steel and reclaimed wood, but the rest of it needs to be spruced up a bit.
If you could have a designer come into your home, who would you pick and why?
Genevieve Gorder is a favourite designer of mine. I love her use of texture, the way she layers everything and her special touches.
I LOVE shoes – I hear we have that in common! Do you have a favorite for Spring/Summer this year?
I'm obsessing over all the ballet flats with coloured blocked toes!
Renee on Trends & Inspiration
Where do you find inspiration?
I find inspiration from so many sources:  an image in a magazine, an outfit on the street, a pattern on a fabric, a walk through the hardware store, a visit to the antique market or vintage store or even the colours from a flower arrangement.
What current home decor trends do you love?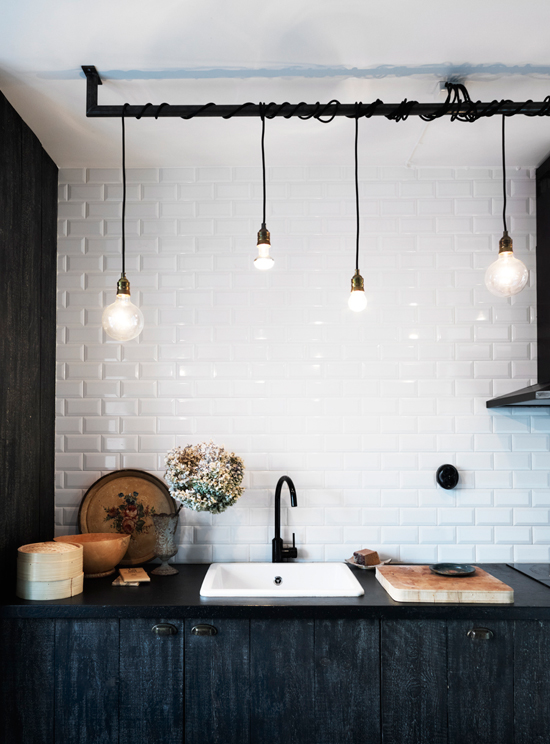 I'm not one to jump on home décor trends. I think the best thing someone could do in their home is to fill it with lots of personal touches. I love when a space has character, personality and is unique!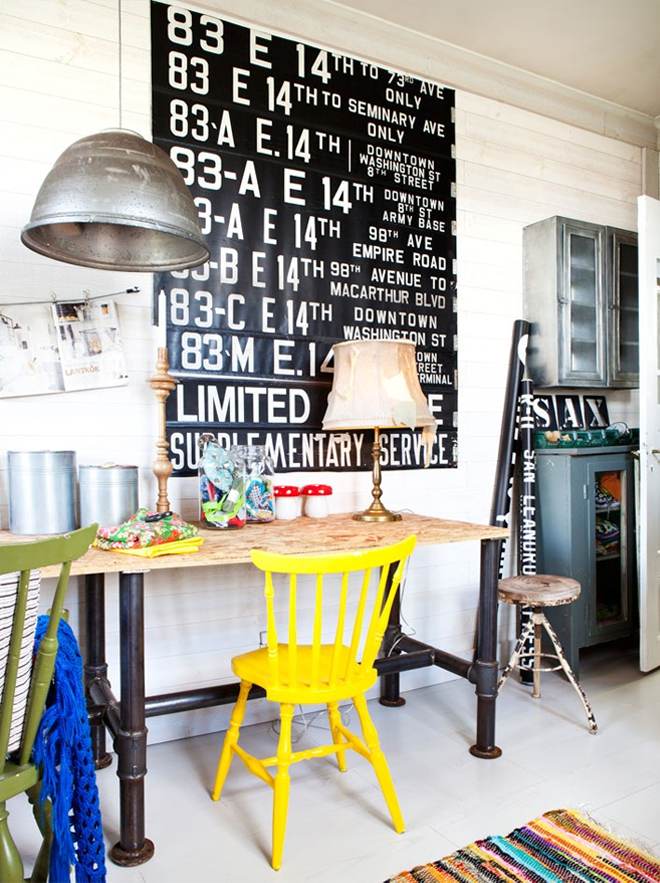 What are your five favorite websites/blogs for design inspiration right now?
Renee at Work

How did Re: Creative get started?
I first came up with the idea to start Re: Creative over a year ago after realizing there was a lack of creative things to do in Toronto. I'm obsessed with anything DIY so I thought it would be fun to share my passion with others. I opened the Re: Creative craft studio in April 2012 and offer DIY + craft workshops involving jewellery design, home décor and stationery/paper products. I also offer my creative services through Re: Creative for event styling, furniture make-overs and boutique window display + merchandising.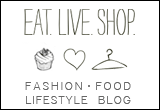 Why did you decide to launch your blog, Eat. Live. Shop.?
I launched Eat.Live.Shop. in January 2009 so I would have a place to express my creative side while hoping to inspire others. My background experience is in the fashion industry so with that experience as well as my love for cooking, art and design, the blog was a place where I could talk about it all in one place.
Do you have a post on the Eat. Live. Shop. blog that stands out as a favorite?
My favourite posts are typically ones when I feel like I've really inspired someone or when they've tried one of my DIY projects or recipes.
What is the biggest thing you have learned about design as a blogger?
I've learned that blogging requires a ton of time – more work than I ever could imagine. I've also learned there is an amazing community of bloggers and  I am so thankful for the friends I have made from all over the world. I'm always in awe at the amount of creativity that exists out there.
How has blogging affected your everyday life and your own personal design?
Since blogging requires a ton of time, I've really learned the hard way how important time management is. I've also learned that sometimes I just need to shut down the computer and step away for a bit – it's so easy to get caught up and lose track of time! In terms of blogging and my own personal design, it has really helped me develop my own aesthetic and brought out my creative side that had been hidden for a long time.
You have done some gorgeous furniture makeovers – do you have a personal favorite?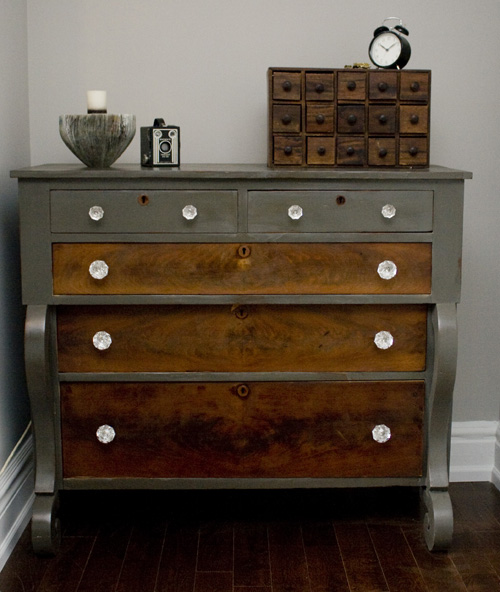 I always have some sort of attachment to each piece I do, but if I had to pick my favourite one I would go with the vintage dresser I did in the fall. I love finishing a piece with a mix of wood and paint; and a touch of crystal hardware never hurts either!
The following two tabs change content below.

Crystal Williams
As Online Editor for Canadian Home Trends Magazine, Crystal has a passion for design and decor. She enjoys browsing the web to find new, exciting decor ideas, DIY projects and unique products to share with her readers. With formal training in graphic design and a background in the event planning/design business, Crystal looks at design from all angles to give readers a fresh perspective.

Latest posts by Crystal Williams (see all)