Home-decor blogger Sharalee Mushore grew up in Zimbabwe and has traveled and lived around the world. Today she calls Toronto home and spends her days planning store displays and helping clients with custom furnishings. When she's not working, she is online searching for inspiration for her blog, Escapade, were she shares her favourite home decor ideas, travel, fashion, art, photography and more. In today's Home Trends & Inspirations with… Interview, Sharalee shares some of her favourite blogs, talks about how traveling and living around the world has affected her personal decor style and gives us a peak inside her home. Read on to see what Sharalee had to say. – Crystal Williams
Sharalee At Home
What does a day in the life of Sharalee Mushore look like?
Part of the fun of having juggling several balls in the air at once is that no two days are really quite alike – but most start off very early with a great big mug of tea and hopefully a long run before I get on the computer to squeeze in a bit of work before I head out to my regular job planning store displays and helping clients with custom furnishings.
How would you describe your personal decor style?
While I can delve into different styles from exotic and ornate to sleek and refined with accessories, the background of my space is always very classic, clean and contemporary. I'm drawn to simplicity and clean lines. I always opt for all white walls which I always find to be the best compliment for my growing art collection and have a bit of an obsession with black and white.
Do you think growing up in Zimbabwe and having travelled/lived in many parts of the world has had an impact on how you view design?
Definitely! I feel my own sense of style keeps evolving and changing with me as I've grown and moved around. Growing up in a warmer climate I always gravitate towards open, airy space and outdoor living. While I have a soft spot for antiques and some of the antiques and Victorian styles my mom favoured growing up, I'm also drawn to the bold patterns and simple geometric styles of traditional African prints.
What one room in your home would you say is your favorite and why?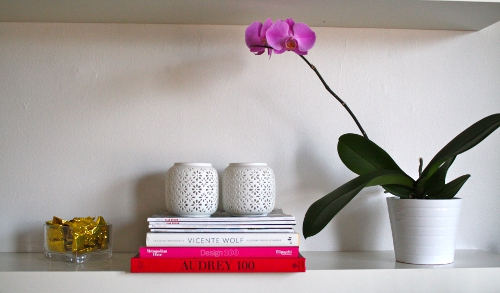 Our living room – we spend most of our evenings here and it always feels calm and relaxing to me. When we moved in it was a warm custard yellow colour that made me feel a little claustrophobic (I'm just not much of a yellow person), repainting it in a soft shade of pale grey made it feel much more airy and open. I installed two long white floating shelves at the end of the room which host a constantly revolving display of art, books and little objects which I find beautiful and inspiring, I love having this controlled area to mix things up and be creative.
If you could pick on piece in your home that would be your favorite, what would it be?
My 'Mona' painting by an artist friend, Tom Ackerman whom I very much admire that was given to me by my Aunt as a gift for our wedding. It's the first thing I see when I walk in my door and it's always the nicest of hellos.
If you could pick one room in your home that needs to be redone, which room would it be and why?
My bedroom, I'm sad to say after receiving a new coat of paint it was a little neglected as I focused on other areas of the house and is currently undergoing a bit of a makeover. While the room is bright and neutral, it needs a bit more life in the space. Some more art and a new set of bedside lamps will help to pull the space together and give the room a little more personality.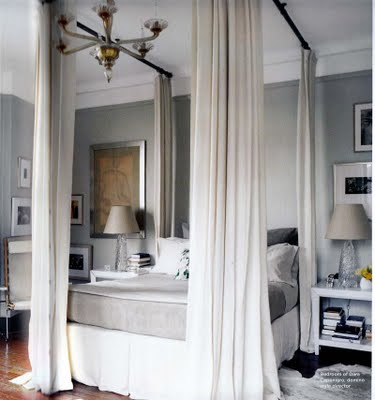 Photo credit: Max Kim Bee
If you could have a designer come into your home, who would you pick and why?
I'd love to team up New York designers Kelly Behun and Vicente Wolfe, both share my passion for all white spaces and have an amazing eye for art and unique treasures from around the globe. I think they'd come up with something pretty cool.
Sharalee on Trends & Inspiration
Where do you find inspiration?
The online world of design is always overflowing with so much inspiration. While I do tend to find alot of my inspiration here sometimes it can feel a little overwhelming. I also rely heavily on my collection of magazines (my favourites ones are often from Australia or the UK), and of course, a change in perspective is always the best way to feel refreshed and filled with a new sense of inspiration – either through travelling or even just exploring new areas of the city I live in (Toronto).
What current home decor trends do you love?
I love that people are slowly becoming more confident in mixing styles and patterns from different eras that may not 'match' but all come together to tell their own personal story. I also love that so many clever people are becoming more crafty and 'upcycling' or revamping older pieces or more generic pieces from big box shops. Living with high style doesn't have to mean spending alot of money, often all it takes a bit of extra creativity and thinking outside the box. (This "hack" of Ikea's Rast dresser by Lindsay of The Little House blog is a favourite of mine).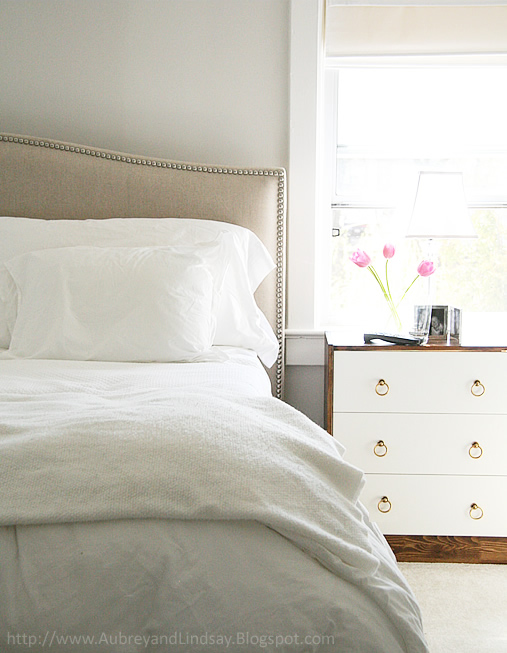 What current home decor trends do you think should go?
Matchy-matchy furniture sets from big box shops and clunky overstuffed leather sofas – I'd love to banish these forever!
If you could pick the next hot colour, what would it be?
Navy – I feel it's very unused in decorating but, like in fashion, is always a perfect neutral base and mixes so well with a whole range of different colours and tones.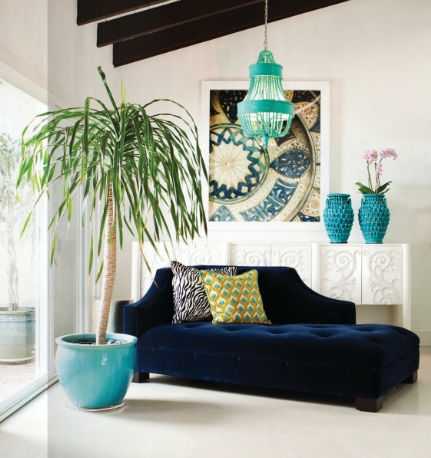 What are your five favorite websites/blogs for design inspiration right now?
The Cool Hunter
Little Green Notebook
Aubrey Road
French by Design
The Style Files
Sharalee at Work
Have you always had an interest in home decor?
Definitely! Looking back I've always had an obsession with homes and spaces – from building the ultimate Lego mansion to styling my childhood bookshelves and playing house, I'd like to think I've always had a bit of a knack for putting things together and fantasizing about houses has always been one of my favourite pastimes. Sometimes while watching movies, I get so distracted by the movie sets I lose track of the storyline.
Of the movies you've seen recently, are there any movie sets that really stood out to you?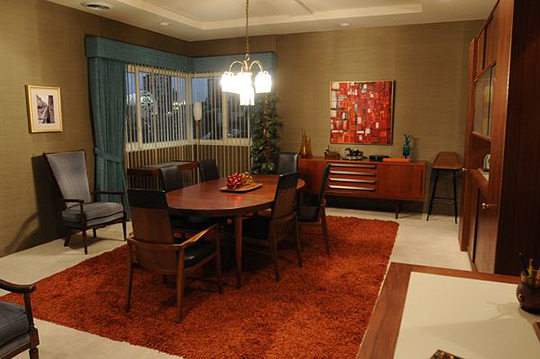 It's not a movie but I'm always been very drawn to the sets on Mad Men. Their tailored mid-century style feels just as relevant today as it was back then (and seeing some of my favourite iconic pieces being accessorized with Don Draper doesn't hurt either 😉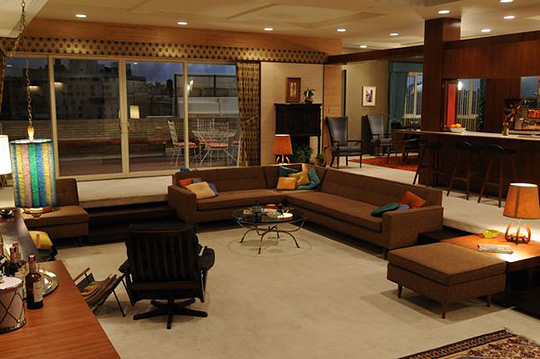 Why did you decide to launch your blog, Escapade?
To be honest I started without a huge vision or strong direction in terms of what I wanted it to be. When I started blogging in 2009, I'd only recently discovered a small handful of design blogs and begun to explore the wonderful rabbit hole of design online. I started my own blog at the encouragement of my husband Andrew, to collect and share the inspiration I'd been collecting for some time.
What is the biggest thing you have learned about design as a blogger?
There are as many styles and types of homes out there as there are people and that's wonderful. I think one of the big benefits of design blogs is that each individual can have their own unique collection of blogs they regularly visit that perhaps all represent different facets to their own sense of style and really tailor to individuality in that sense.
How has blogging affected your everyday life and your own personal design?
It's definitely made it a bit busier – I've heard a fellow blogger say that blogging can feel like being back in school and constantly having an assignment due the next morning. It can be alot to take on at times, especially while working full time, but I do find it to also be one of the most rewarding, creative activities I do so it really is a labour of love. It's really helped to fine tune my own individual style as well, looking through so many images constantly I have a good sense of what I'm consistently drawn right away.
The following two tabs change content below.

Crystal Williams
As Online Editor for Canadian Home Trends Magazine, Crystal has a passion for design and decor. She enjoys browsing the web to find new, exciting decor ideas, DIY projects and unique products to share with her readers. With formal training in graphic design and a background in the event planning/design business, Crystal looks at design from all angles to give readers a fresh perspective.

Latest posts by Crystal Williams (see all)