Vanessa Sicotta is a designer, blogger and the mastermind behind Damask et Dentelle – a local design resource showcasing Québec's design boutiques, artisans and professionals. In this week's Home Trends & Inspiration with... interview, Vanessa shares her personal decor favorites, trends she loves, her favorite decor blogs, tips for decorating small spaces and much more. Read on to find out what Vanessa had to say. – Crystal Williams

Vanessa at Home
What does a day in the life of Vanessa Sicotte look like?
It starts early and often ends very late. My son calls me before 6am every morning and then the hustle bustle begins. I usually get to work around 8:30 and check all of my social media accounts as I rely a lot on social media for my business. On most days I will visit a store or two and squeeze some appointments with clients in the middle. The early evenings are spent with the kids and then work starts again after they go to sleep. I started my own business for the liberty it would give me, but I have to admit, I have never worked so much in my life. Luckily, I absolutely LOVE what I do so it makes it all better.
Have you always had an interest in design?
My mother found in her house scrapbooks of décor pictures that I kept in a box and that date back to my young teens. So, although I went on to study many things other than design, I believe the passion was always there, dormant, until I decided to find a way to get paid for it.
How would you describe your personal decor style?
With a lot of qualifiers! I would say my style is somewhere on the median between bohemian, eclectic, and Hollywood Regency with a massive vintage twist.
What one room in your home would you say is your favorite and why?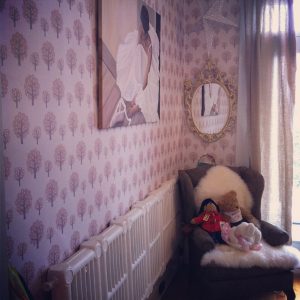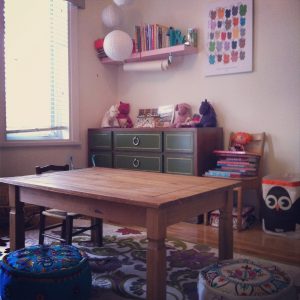 My daughter's room is my favourite as it feels as if I'm entering an enchanted forest. The Fern Living wallpaper is a showstopper and I love the Minibulle paper lanterns hanging in the corner of the room. Next up to really complete the room? A vintage poster of a ballerina I saw at l'Affichiste in Montréal.
If you could pick one room in your home that needs to be redone, which room would it be and why?
My bedroom! It is the last room of the house that has yet to be addressed. It is the dumping ground of everything that comes into the house before it gets filtered to its proper resting destination: gym clothes, my children's toys, laundry to be folded… name it. (No picture… I am that shy!)
If you could pick one designer to come into your home and redo a room with you, who would you pick?
I would pick Kelly Wearstler. I love her business sense and personal sense of style. I also love how confident her designs are and how no rules apply… ever.
If you could pick one piece in your home that would be your favorite, what would it be?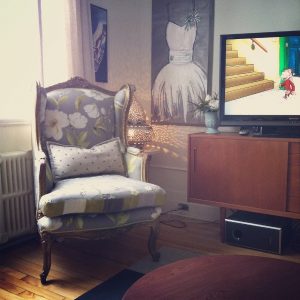 I have a 400 years old antique bergère in my living room that was reupholstered in a chartreuse and grey floral pattern that I absolutely love. Actually, I think it would be safe to say that I love all the chairs in my house. I have a chair fetish!
Vanessa on Trends & Inspiration
Where do you find inspiration?
Everywhere and anywhere, but I seem to always revert back to the meanders of the web. How did I ever live without it I wonder.
What current home decor trends do you love?
I am very much into neon right now. Maybe I was too young to really enjoy it the first time around, but I seem to be binging on highlighter colours.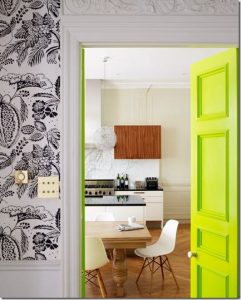 Image: addicted 2 decorating
If you could pick the next hot colour, what would it be?
Well I have been all over orange for a long while, so I guess I am pretty much on trend this year as Pantone's "Tangerine Tango" has been named the colour of the year. The downside to that is that I am not much of a trend follower and so I am slowly veering off orange and heading, head first, into Kelly Green. It is a vibrant, fresh and crisp shade of green. It can be made to nautical, preppy, eclectic or classic, and best of all… all greens go well together. No trouble here trying to match shades of green.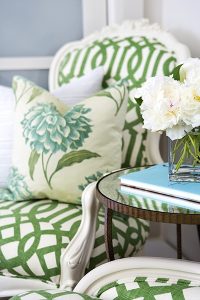 Photo: Samantha Pynn
What are your five favorite websites/blogs for design inspiration right now?
That is the toughest question yet… I follow so many blogs it's not even funny.
So here we go. I love Bijou & Bohème for Christine's penmanship. I crave Emmas Designblogg for its Scandinavian sensibility. Locally I follow the blog of Buk & Nola, because I adore the 2 owners (Hi Laurence & Caroline!) and because their sense of style is flawless. I also love Savvy Home's blog, which is all about neo traditional… with a twist! Finally I really like Design*Sponge for their before & after transformations. I am always taken aback by how talented people are in turning trash into décor treasure.
Vanessa at Work

What is Damask et Dentelle?
Damask & Dentelle's website was launched in October 2009 and is now recognized as one of Québec leading design blogs & web directory with a devoted following. As the curator of the site I am also a design blogger and trends observer. I created Damask & Dentelle as a way to reach out and share finds of Québec's design boutiques, artisans and professionals to the consumers as well as people from the design industry.
Do you have a post on Damask et Dentelle that stands out as a favorite?
Well, I recently embarked on making my first city guide and I have to say that it was quite popular.  The next edition will be coming out mid May.
As an interior decorator, what is your favorite room to decorate?
I love decorating living rooms as they are the heart of the house, the place where all the action usually takes place. They often house the most interesting architectural features of the house also and that in itself is very inspiring. I also love decorating really small spaces like powder rooms. The transformation is always very surprising.
That's interesting – most people don't like working with small spaces! What tips would you give homeowners working with a small space?
I love the challenge of decorating a small space. With square footage at its peak rate in the city, one must find creative ways to maximize storage and function without neglecting style. My key tips are as follows:
Think vertical. A great example of that is to extend your kitchen cabinets to the ceiling to store pots and pans that you seldom use.
Mirror effect. Mirrors have a way to refract light and make a room appear larger. I  use them a lot in small places as a way to give rooms sparkle and glamour.
 Go ghost or go big. Visual clutter can really hinder a room's proportions. In order to counter that effect I either make great use of translucent surfaces like lucite and glass, or I simply use fewer but larger pieces to furnish the room. There is nothing worse than seeing a tiny living room with a slew of tiny spindly chair legs everywhere.
Make a statement. I am a firm believer that small rooms are the perfect place for statements such as bold wall coverings or moody paint colours. Since the area to cover is small, the print will not be overbearing and yet it will give the tiny mudroom or powder room a lot of flair & personality.
What do you enjoy most about the design process?
I always involve the homeowners as much as they will want to. To me decorating is about democratizing the process and giving people the tools and confidence they need to decorate on their own afterwards. You might think it is counter intuitive, but it is actually very gratifying.
What is the biggest design faux pas that you see homeowners making regularly?
Not trusting their instincts and buying everything at once, from the same place. It is better to have a void in the room than to pack it up with things that are just fillers. The perfect piece of furniture will eventually find its way and fill that void as if it belonged there. Also, I often recommend to people to be mindful of the craftsmanship and provenance of the products they buy. Cheap (and I don't mean inexpensive here) will always be just that… cheap.
The following two tabs change content below.

Crystal Williams
As Online Editor for Canadian Home Trends Magazine, Crystal has a passion for design and decor. She enjoys browsing the web to find new, exciting decor ideas, DIY projects and unique products to share with her readers. With formal training in graphic design and a background in the event planning/design business, Crystal looks at design from all angles to give readers a fresh perspective.

Latest posts by Crystal Williams (see all)