How long does it take to remodel a bedroom? The bedroom: it is our retreat to indulge in some down time or chill after a long day at work. Refreshing a bedroom offers a great opportunity to improve the room's energy and visual appeal. We cover some wonderful ideas that can be done within a few hours, a day or a weekend.
Only have a few hours to spare?
No need to fret as our simple ideas are easy, time friendly and will give your bedroom the refreshing it needs and all can be done within a few hours.
Swap out a light fixture
Changing a light fixture is by far one of the easiest and trusted methods to spruce things up. With a vast selection of styles and arrangements available, you can brighten up your bedroom with chandeliers, sconces, fans and more.
Swap out your curtains for some epic blinds.
Not only are blinds aesthetically appealing, they also hold out the sun, can save energy costs and are extremely easy to maintain. Choose from a wide variety of options including roller shades, cellular shades, wood or faux wood. The options are endless with installation taking only an hour or so. Blinds are also available for custom fits, allowing for the covering for any type, size or shape of window.
Change up bedding and accents.
One of the easiest ways to change up your bedroom is to spruce up your bedding. Replace a comforter set with a new, more colorful set, or change up the comforter for a duvet.
Add lots of pillows showcasing a variety of designs and colors then complement your color scheme with a few pieces of décor in a matching color.
Even a simple throw can make a beautiful difference with added texture and color. Also consider hanging some wall art in similar shades. You can get creative with the number of applications available today and use personal photographs to complement your color scheme.
Welcome a Plant to the bedroom
A touch of green to any space can make the room's aesthetics a lot more welcoming. Whether you opt for a fern nestled in a stand to a small pot of English ivy, swirling down a mirror or a floating shelf, plants make a beautiful addition to any bedroom.
Changing up the Bedroom in a Day
There are a variety of projects that can be done within a day. It just requires a solid preparation plan and a flair for the creative.
How long does it take to remodel a bedroom: Replacing Flooring
Sure, this sounds like a daunting task at first, but with today's flooring options, removing and installing flooring can be done rather quickly. You will find this especially true with any type of laminate flooring.
Laminate doesn't have to be glued down and doesn't involve any type of grout or mortar.
Laminate flooring comes in a wide variety of styles and finishes and is a great option. Laminate flooring simply snaps together and lies in place. It is what is called a "floating" floor and isn't attached to the sub-floor or underlay.
How long does it take to remodel a bedroom: Paint the Walls and Ceilings
Depending on the size of your bedroom, painting the walls and ceilings can be done in one day. The first tip – Start early! Set that alarm to coincide to when the birds start singing.
To complete a painting day job, it is essential to purchase a self priming paint. This eliminates having to use up precious time waiting for the primer to dry following application.
Prepping the area
Prepping is time friendly and simply involves covering the bedroom floor, furniture and of course the bed. Fabric drops are preferred, especially for the flooring as they aren't prone to slipping as you step around them. Ensure all walls are fresh and clean.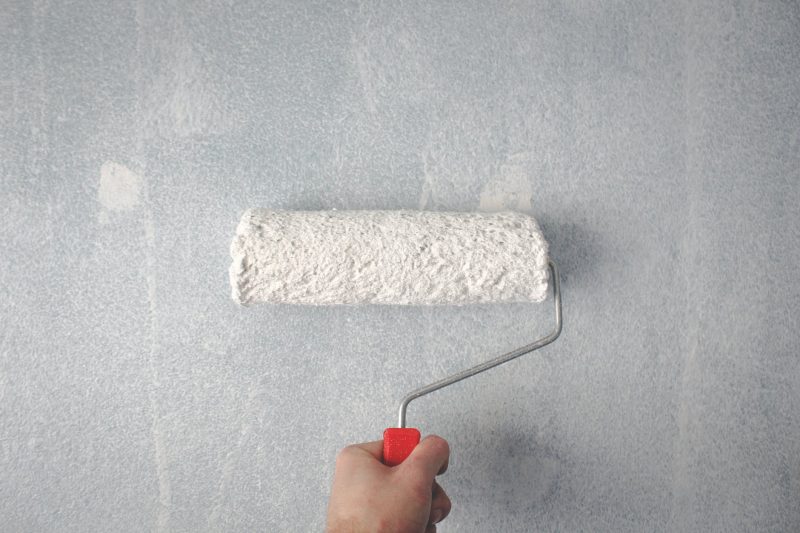 Paint does not hold well to dirty surfaces, that includes dust and cobwebs. A simple swipe with a dust brush should do the trick. For any extra dirty spots, wipe them down with a damp sponge.
The next step is to remove outlet and light switch covers and tape off any areas you don't want painted.
Now, let's get painting!
Use an angled brush or a sponge tool, paint a two inch swath around the edges of woodwork and ceiling (if you're painting the ceiling a different color). Use paint rollers for smooth surfaces and ensure your sponge is made for rough or smooth surfaces.
How long does it take to remodel a bedroom: Add a Feature Wall
Feature walls, or accent walls, offer either a high impact or subtle change to your bedroom. Depending on the type of material you use – wallpaper, paint, or a mural, they can add just the right amount of impact to a room without overwhelming the eye. Use complementary colors and ensure the color or pattern you choose also works well with the rest of the room.
Wainscoting is another option for your bedroom and was a familiar sight among older homes, especially those in the Victorian era. Mostly used for insulating purposes during those days, today wainscoting can add a rich and welcoming atmosphere to any bedroom.
DIY this Weekend
Adding an Ensuite or a Wetsuite to your bedroom
Yes, it can be done and if planned well, you can enjoy your new ensuite or wet-suite following a weekend of work. Deciding where the new bathroom will be located is question number one. If you have a large bedroom, the bathroom could be partitioned. This is probably more in line with having the project completed over a weekend time line.
You are also going to have to consider the plumbing and wiring aspects for the space. Ideally, you want to add your ensuite next to an existing bathroom either on the same floor or above a bathroom on the lower floor. It gets much more costly to add a bathroom if plumbing is to be re-directed. Decide on whether you will be opting for a shower or bath (or both). As well, the location of the toilet and basin will determine the size of the bathroom and how it will be enclosed.
An ensuite will require a wall and a door, while a wet suite can be closed off with a panel or blind. Heated towel rails are great options for heating your ensuite rather than installing radiators or other heat sources. Water pressure is also important as is ensuring sufficient hot water flow to your en-suite. An en-suite is a luxurious addition to any bedroom, giving a spa like feeling while at home.
Adding a Walk-In Closet
There are numerous ways to add a walk-in closet to your home – Your decision will be based on the amount of space you currently have to work with and if it can be done over a weekend.
Free standing wardrobes are a great option and come in different sizes.
If you have your heart set on a closet allowing you to "walk inside" then it is important to plan the size and layout. Consider whether you will use swinging or folding doors, what will you be storing in it and do you plan to include non storage elements, like dressing or ironing clothes.
You will need to frame and drywall the walls for the closet, raising the walls and adding structural support will be required. Shelving choices can include custom-made shelves to store-bought options. Complete your walk-in closet with bright lights that mimic natural lighting. – Text by Cora Lee Ertler