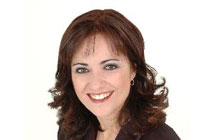 Dear Reena,
I am 76 years old and regularly look after my grandchildren on weekdays. Although I enjoy my time with them, when they leave I almost always notice black marks on the floor from their runners. It is hard to bend over to clean the floor. Any suggestions on what I can use to get rid of the marks? Helda
Hello Helda,
Of course the most obvious solution and I am sure you have considered this is, asking your beloved grandchildren to remove their footwear upon entering your castle. If this is not an option, I have another solution for you. Make a slit in a fuzzy tennis ball and slide it onto the end of a broom handle. Brush the tennis ball along the floor to erase the marks, works with little effort.
Hi Reena,
Do you have any solutions or preventions for yellowed linoleum around forced air registers? Thanks, Myrla
Dear Myrla,
I am assuming that your flooring is vinyl. In order to prevent discoloration from occurring under the lip of vent covers, secure masking tape underneath the area. Yellowing stains that are already present are tricky to remove and in many cases permanent. You have nothing to lose by trying the following: Pour 3% hydrogen peroxide onto the area everyday for three days. Do not wipe and observe if stains become less noticeable. Some people have had great results by using oven cleaner to remove these stains. Test on an inconspicuous area first because what works on one type of vinyl will not necessarily work on another. If desperate consider purchasing a stronger concentration of hydrogen peroxide from a hair salon.
Just as a side note the terms vinyl and linoleum are often used interchangeably. Vinyl is made from synthetic fibers. The main body is cardboard or vinyl that is covered with one sheet that contains the design, another sheet for the finish followed by a protective coat of varying thickness. Linoleum is a 100% natural product. It contains linseed oil, cork powder, natural resins, color mineral pigments and other natural materials. As linseed oxidizes the linoleum gets harder. Linoleum is a much more durable product than vinyl and is ideal for high traffic areas. Linoleum is currently making a big comeback. Vinyl and linoleum need to be treated differently.
Dear Reena,
My kid keeps applying temporary tattoos to his arm. After a while part of the tattoo wears off and his arm just ends up looking dirty. Any idea on how to quickly remove the remaining mess? Tess
Hi Tess,
Wipe remaining tattoo residue with rubbing alcohol, it will quickly disappear.
Dear Reena,
My husband and I received a lovely handmade quilt from my husband's grandmother as a wedding present. The quilt is made out of cotton and synthetic materials. The quilt was stored in a plastic container with mothballs for a significant period of time before it was gifted to us. For the past three years, I have not been able to get the mothball smell out of the quilt. We've tried a variety of laundry detergents, hanging it in the sun, and storing it for months in a cedar lined chest. Nothing has worked and the smell does not seem to be fading. If there anyway to get this smell out? Thank-you, Terri
Hi Terri,
Try one or more of the following tricks: Lay the quilt on the grass during a rain shower. The combo. of water and chlorophyll are powerful odor zappers. Or soak the quilt in plain old King Vinegar and a few drops of tea tree oil. Leave for a few hours and wash as usual. Air dry because the dryer can permanently set in the smell of mothballs.
Fabulous Breakfast Tips:
· Did you know that poaching eggs are among the healthiest powerhouse protein packed ways to cook eggs because no butter or oil is required?
· You can make poached eggs a day in advance and refrigerate. When you are ready to eat the egg. Reheat by placing egg in simmering water for one minute.
· When cooking pancakes, resist the urge to press pancakes down with a spatula. Doing so will not quicken cooking time and will take away its fluffy texture.
· To cook perfect hard boiled eggs. Place eggs in a pot and fill with enough water to cover the eggs. Bring to a boil for seven mins. Remove eggs (with a slotted spoon) from pot and submerge in a bowl of ice water. Leave for 5 mins. Crack each egg and peel underneath room temperature water.
Reena Nerbas is a highly popular professional speaker and the author of three national best sellers, "Household Solutions 1 with Substitutions", "Household Solutions 2 with Kitchen Secrets" and "Household Solutions 3 with Green Alternatives". Corporate and Christmas Workshops Available by calling: 204-320-2757.
I enjoy your questions and tips, keep them coming!
Check out my web site! www.householdsolutions.org
For all of your home improvement needs please contact my friend Shell Busey at www.housesmartcentre.com. To read more household solutions visit: www.CanadianHomeTrends.ca
The following two tabs change content below.
Canadian Home Trends magazine gives you a personal tour of the most stunning homes and condos across Canada. You'll be inspired by a selection of accessible home décor products, trend reports, simple yet stylish DIY projects, and much more. In each issue, you are given the tools to recreate designer spaces you've always dreamt of having at home, in-depth renovation and design advice, colour palette and furniture pairings, and Canada's best places to shop.
Latest posts by Canadian Home Trends (see all)