The transition from childhood to adult is not an easy one. With so many changes happening at once and without regularity, having a space that offers comfort and refuge is more important than ever. Not to risk looking "uncool," here are images of fabulous, transitional teen bedrooms showing color, light and texture. With college only a few years off, why not embrace these changes now and take steps to prepare the space as a future guest room. We've created a "get-the-look" using Hudson Valley Lighting® fixtures, perfect for all—be it jock, prep, emo, goth or whatever!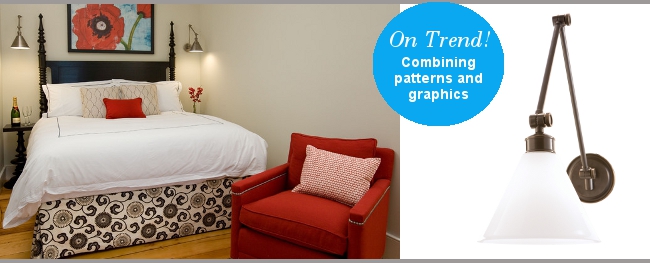 The Trend: Combining Patterns and Graphics

The Fixture: Exeter takes versatility up a notch in style. With sleek extendable arms and minimal detailing, Exeter's ultra practicability makes it a winner with choice of metal or glass shade in old bronze, antique, or polished nickel finishes. Perfect for desk or bed side! Available from Royal Lighting.
Photo Source: Rachel Reider Interior Designs – The Veranda House Hotel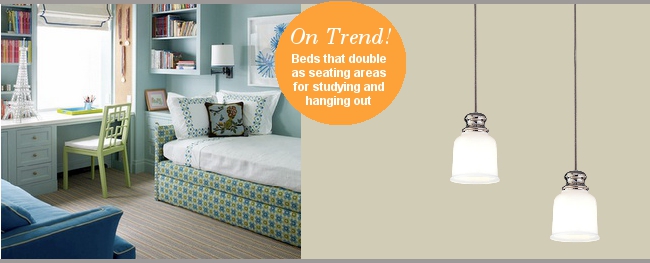 The Trend: Beds that Double as Seating Areas

The Fixture: With an elegant glass shade and graceful metal stem, Riverton pulls double duty, working as a modern or classical fixture. The metal top balances well with old bronze, antique or polished nickel finishes. Simple and chic at the same time! Available from Royal Lighting.
Photo Source: Amanda Nisbet Design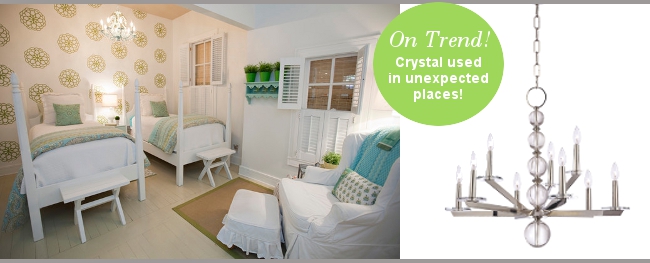 The Trend: Unexpected Glam

The Fixture: Cheerfully chic, Ashley offers an updated retro look that works with any decor. Blending shining, polished nickel arms and lamp stems with clear glass globes in graduated sizes, this chandelier dresses up a room perfectly. Available from Royal Lighting.
Photo Source: Van Wicklen Home Design – Austin Modern Farm House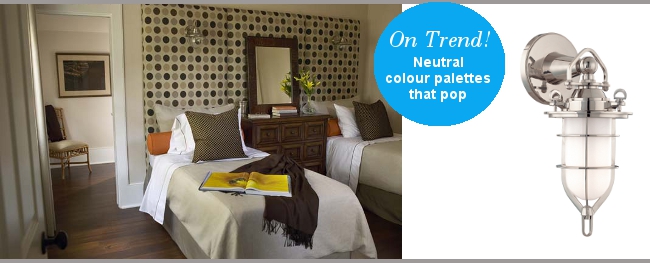 The Trend: Neutral Colour Palettes that Pop

The Fixture: Industrial rail road chic, New Canaan is steeped in history. The caged detail and finely cast finish illustrate its handsome looks. Choose from aged brass, antique nickel, old bronze and polished nickel finishes. Perfect for train or history buffs! Available from Royal Lighting.
Photo Source: Just A Girl
Produced in collaboration with DRS & Associates

The following two tabs change content below.

Crystal Williams
As Online Editor for Canadian Home Trends Magazine, Crystal has a passion for design and decor. She enjoys browsing the web to find new, exciting decor ideas, DIY projects and unique products to share with her readers. With formal training in graphic design and a background in the event planning/design business, Crystal looks at design from all angles to give readers a fresh perspective.

Latest posts by Crystal Williams (see all)