Modern Tiny House – This year I jumped on the Tiny Home trend and worked with my parents to remodel an old 5th Wheel Trailer. After lots of bumps in the road, we created a space worthy of full-time occupancy.
First things first! Being 15 years old and stored in damp locations for years, we wanted to ensure the mobile home housed no health hazards. Once we ripped it apart, we found water damage that leads to mold. We turned to Concrobium Mold Control. It contains no bleach or harsh chemicals, kills mold at the root and prevents it from coming back.
Then came the surface clean. I chose Mrs. Meyer's Clean Day. I love that they are formulated with plant-derived ingredients, essential oils and other thoughtfully chosen materials to create products that are effective but also contain no chlorine bleach, petroleum or parabens. I love this as my pets and nieces and nephews will be enjoying the space as well.
Once clean, the fun began – choosing a color scheme. Instead of installing new cupboards, we worked with a great company called InSPRAYtional Painting who was able to bring the old cupboards back to life by spraying them. We chose two colors from Benjamin Moore: Chantilly Lace OC-65 for the uppers and Mount Saint Anne CC-710 for the lowers, for a two-tone look, both in Aura Interior Paint in Eggshell finish.
In a modern tiny house (mobile home), you have to think about how much things weigh. I selected NEUE Floors, an engineered hardwood plank that is lighter in weight than traditional hardwood and has better expansion and contraction attributes, which is ideal in this application.
I also wanted to update the tiny kitchen's backsplash, but traditional tile would simply break and crack when the mobile home hit the highway. I chose a product called The Good Tile who offer a bold wallpaper and luxury vinyl tile options that are easy to install and have no risk of breaking.
Architectural detail – not something you'd expect in a mobile home right? I worked with Metrie which offers a high-end, finely crafted solid wood and composite moulding and interior doors to create faux beams. I also used their hollow moulded panel doors so they don't weigh as much.
I didn't skimp on faucet features in the kitchen or bathroom. For the kitchen I chose Delta's Trinsic faucet which is sleek and modern. For the bathroom I chose the Pivotal Bath Collection which creates a look that makes a true statement; I wanted to go with a real contrasting color so I chose black. It's also perfect as it shows no finger prints and it's easy to keep clean.
Another unexpected element is the fireplace. There was an existing bookshelf built-in and instead of ripping it out, I made it a central piece in the living room space. I had a Dimplex 23" Multi-Fire XHD unit built into the bookshelf creating a feature wall in the tiny space. It was the perfect addition to the space with the optional heat – giving the space warmth on cold nights, or running without heat during the warm summer months.
Bedding had to be easy to get into the small opening of the trailer but still extremely comfortable. A mobile home is a space people might spends months in at a time, so I wanted it to have all the comfort of home. I chose Cocoon by Sealy. They offer superior quality and their mattress comes in a small box; perfect to get into our tiny home space.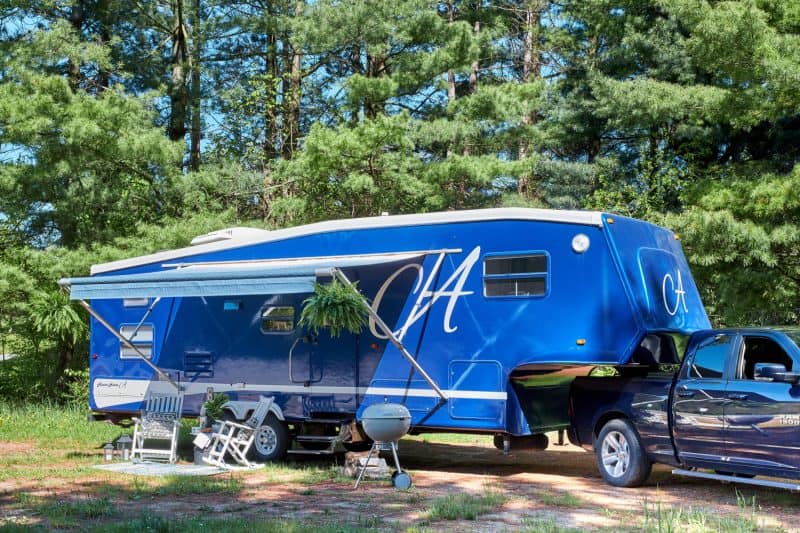 Now for the outside of this modern tiny house. This is what people see first and it sets the tone for the space. There was lots of bodywork to be done on this 2004 mobile home so that came first. We worked with Great Canadian Fleet Services who were able to repair the damaged fiberglass and paint to make the mobile home look like new again. We also chose to have it completely wrapped by Bolt Signs. They were able to produce and install a vinyl wrap to completely transform the outside of the mini home.
The dated awning was hanging off the mobile home and in desperate need of a complete overhaul. We teamed up with The Awning Authority who special in retractable awning and screens that are designed to last a life time (and with a home on wheels, you certainly need the option of opening and closing up the shade system).
Finally, this Modern Tiny House would not be complete without a great charcoal grill that you can easily set-up when you arrive at your destination. We knew we'd want to enjoy some outdoor grilling so we added an ivory color Weber Master-Touch charcoal kettle to the mix. After a long drive, it's the perfect grill to pop out of the trailer, light the briquettes and anticipate the sound of foods sizzling on the hot cooking grates. This retro-looking grill fits perfectly with the retro-looking trailer.
Now grab a drink, put your feet up, and cheers to the upcoming summer season.
For more great ideas, click here.
For more unique items for your home, click shopCHT.com.
The following two tabs change content below.

Canadian Home Trends' Style Editor, Jo Alcorn, Principle Designer and Founder of
Alcorn Home
. Jo has over 15 years experiences as a celebrity interior and home product designer, expert instructor, corporate ambassador, TV personality and a strong female entrepreneur, Jo has created a fabulous fan following. To add to credentials, she is a style editor & writer for multiple publications and blogs, a public speaker, and an avid animal/environmental advocate.

Latest posts by Jo Alcorn (see all)