The newest cinema remake of The Great Gatsby has captured attention across the country and why not? Who wouldn't want to live in the glamourous world of the post-war era depicted in F. Scott Fitzgerald's fabulous novel? Today, I take a look at bathroom design through "Great Gatsby" lenses to create my own interpretation for this bathroom inspiration gallery.
Modern Great Gatsby Bathroom Inspiration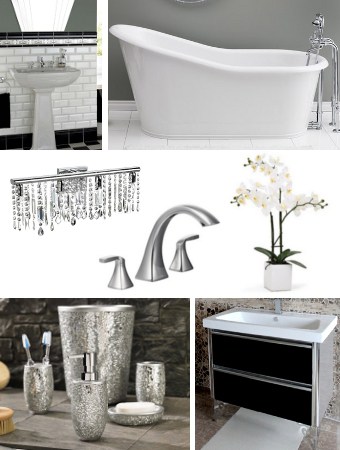 Image 1 of 8
While the art deco styling of the 1920's is not normally my preferred style, even I can not help but fall in love with the glitz and glamour of the Great Gatsby lifestyle. Here is my modern interpretation of the Great Gatsby style for a glamourous bathroom with the perfect combination of modern style and vintage flair.
The following two tabs change content below.

Crystal Williams
As Online Editor for Canadian Home Trends Magazine, Crystal has a passion for design and decor. She enjoys browsing the web to find new, exciting decor ideas, DIY projects and unique products to share with her readers. With formal training in graphic design and a background in the event planning/design business, Crystal looks at design from all angles to give readers a fresh perspective.

Latest posts by Crystal Williams (see all)