Known as Canada's Design Fair, the Interior Design Show offers designers and design savvy consumers a look at the newest and most innovative products on the marketplace today. IDS 13 takes place this week (Jan 24-27, 2013) in Toronto. If you are planning to attend, here are some of the hottest trends you can expect to see from many of the 300+ exhibitors at the event.
Mix It Up

Designers are embracing colour and pattern this year with brave, bold custom designs. On Opening Night KIA will unveil a unique exhibit at IDS showcasing four cars wrapped in colourful, custom patterns created by Karim Rashid, Christiane Lemieux, Douglas Coupland and Jürgen Mayer H.
Back to Nature

Furniture and accessories that showcase the natural beauty of the organic materials they are made from are a growing trend in home decor for 2013.
Craft Redefined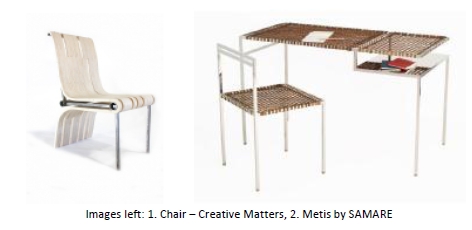 Rooted in both Canadian and international cultural influences, craft pieces have been refined to create unique contemporary pieces that still allude to the historical traditions from the city or country of inspiration.
Inspired Working Spaces

Technological advances coupled with the rapid adoption of mobile technology mean, for many people, a permanent office space has been rendered obsolete. Two features at IDS explore inspired work spaces: How Do You Work? presented by Steel Space Productions challenged four design teams to explore the boundaries and balance of work and play by transforming empty shipping containers into modern work spaces. Another IDS feature, WORK.SPACE presented by National Bank, curated by Trend Hunter and designed by Jentry Chin, is a showcase of 23 of the most innovative offices from around the world.
The following two tabs change content below.

Crystal Williams
As Online Editor for Canadian Home Trends Magazine, Crystal has a passion for design and decor. She enjoys browsing the web to find new, exciting decor ideas, DIY projects and unique products to share with her readers. With formal training in graphic design and a background in the event planning/design business, Crystal looks at design from all angles to give readers a fresh perspective.

Latest posts by Crystal Williams (see all)