Shiny , Sparkly, Shimmery things which we don't necessarily 'need', but want in our spaces. Shiny accessories are fabulous for adding that twinkle on  your cocktail table or on a bookshelf. Very much like a highlight in a painting, items which have sparkle will add a sense of luxury and entice a feeling of attraction to your décor.
It is a trick which many stagers and designers use in the presentation and finishing of their spaces. I love using a glass or silver ball in my spaces which get photographed…you'll notice that I use this trick a lot to add some interest to a tablescape such as the one below which I arranged for a client's home.
A mirror made with a mirror frame, a mirrored tray or mirror shelves are excellent in a small space to add depth and sparkle.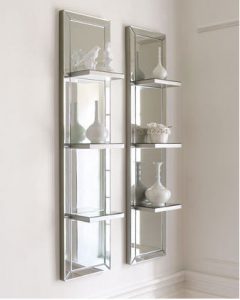 Crystal may remind you of your Grandmother's home, however, you should not discount the elegance factor which it can add to your spaces, like a gorgeous decanter or a glass sculpture.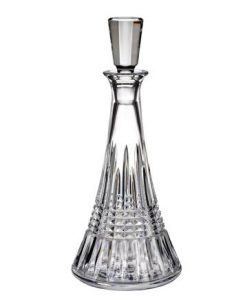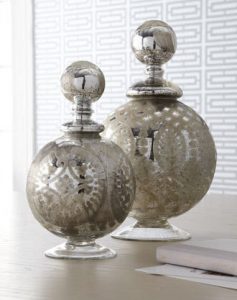 All accessory images are from Horchow Home