Contemporary VS rustic decor with Designer Evelyn Eshun visits Abacus Furniture to create two unique looks for your dining room using custom furniture pieces and exclusive Canadian artwork.
Contemporary Expression Dining Room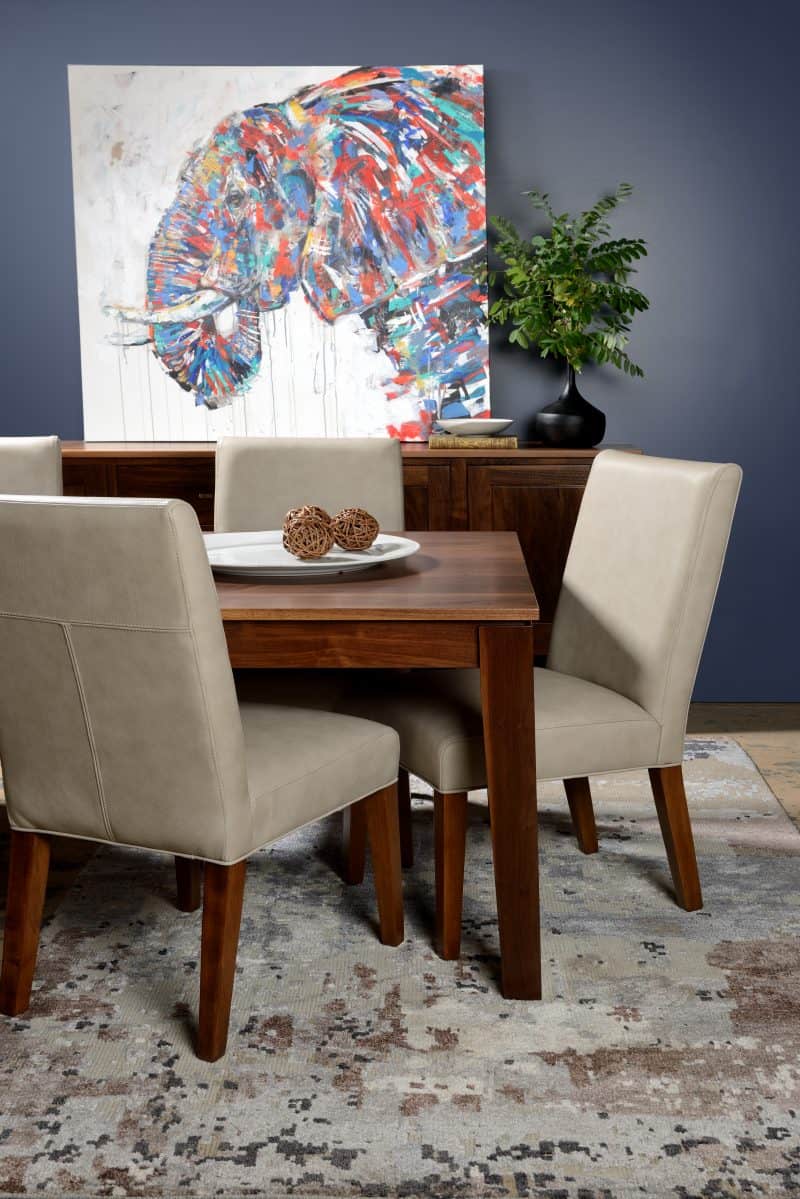 For this look, we paired the Boron Console in regular cut maple with a walnut table with slightly tapered legs and clean lines. We continued the clean, contemporary feel with chairs in a light cream leather and tapered legs. I chose a throw rug with an irregular pattern of cool colors and a hint of brown to coordinate with the furniture. Accessories are kept to a minimum for an uncomplicated style which allows the exclusive Water Fountain-Elephant painting by Canadian artist, Laura Stevens, to really stand out as a focal point of the room.
Rustic Country Dining Room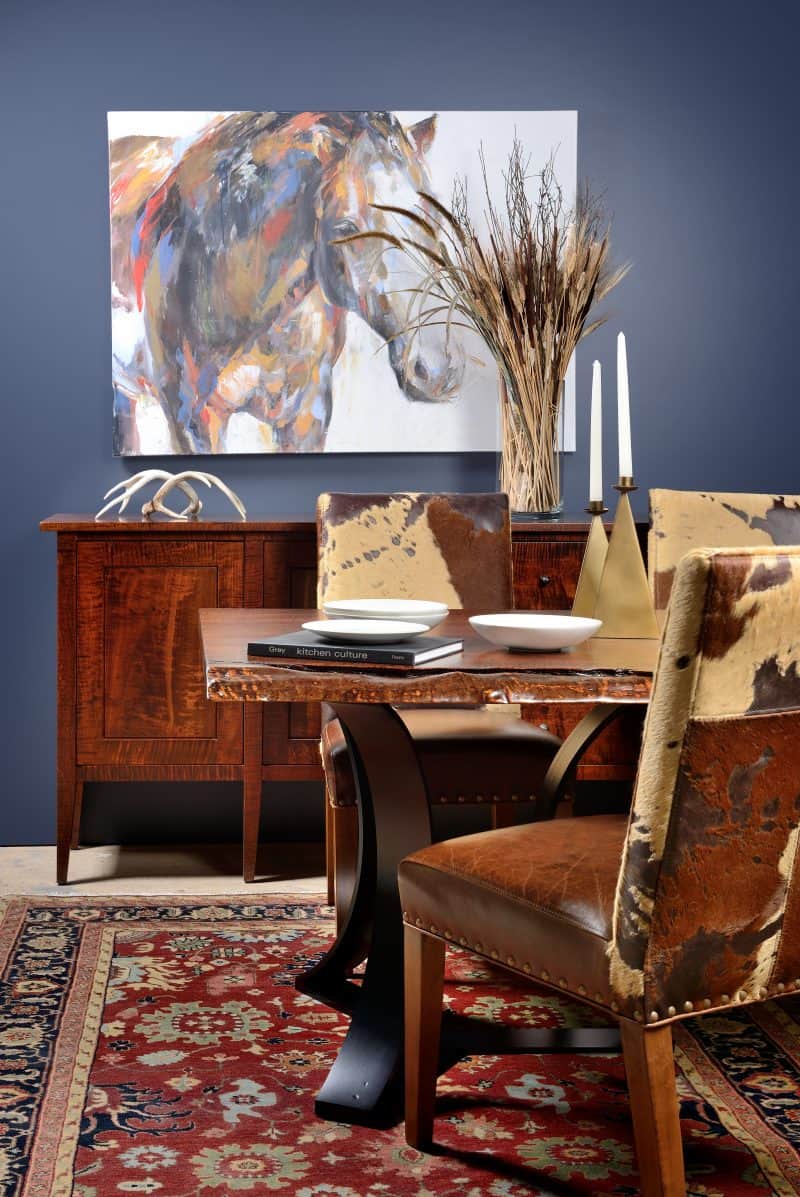 For our rustic look, we used the same console but in a curly maple. This material has more action in the wood and gives a more handmade, rustic feel. I continued the hand crafted feel with a live edge finish curly maple table. The live edge table on a solid metal base expresses the strength and longevity that a classic and traditional look brings to a space. This was paired with chairs upholstered in a chocolate, acid-washed hide to bring pattern and texture into the space. They are a bit whimsical and fun, which is perfect for this theme. Accents in gold bring a touch of sophistication to the overall look.
All In The Details
Even though the table is simple and linear, the craftsmanship is spectacular.
Greenery found along the roadside was used to add a natural element. The softly rounded leaves which are linear in their branches suits the contemporary style perfectly.
I choose an area rug with strong color and pattern and a traditional look. This look is perfect for anyone who wants that Southwest Ranch feeling.
The artwork in both looks are custom pieces by Canadian Artist Laura Stevens of Victoria Street Studios. While the prints are contemporary in nature, the horse print fit perfectly in this more traditional space. – Available Exclusive through Abacus Furniture
Product Spotlight: Boron Console
The Boron Console is a very versatile piece that offers dovetailed, soft-closed drawers and plenty of storage. It can be custom made in any size, and a wide variety of finishes, allowing it to fit perfectly into the look and style of any space. For this double take, we showcased the Boron in Walnut (Contemporary Expression) and Curly Maple (Rustic Country).
Contemporary VS Rustic Decor Sources:
For more great decor ideas, click here.
For additional information, click here.
The following two tabs change content below.

Evelyn Eshun has been providing creative Interior Design solutions for her Residential Clients in the Toronto area for over a decade. Principal Designer at
Evelyn Eshun Interior Design
, Evelyn has participated in various Television programs over the years in addition to her Design business. With a passion for design and travel, Evelyn has translated her extensive and various experiences into a design philosophy which puts the Client's needs and functional needs first. Always striving for a unique and personalized solution for each Client, Evelyn prides herself on creating interiors which will stand the test of time. Whether transforming an old and tired property into a vibrant home or simply finishing a home with the decorating touches which make a house a home, the goal is always to collaborate with Homeowner, Trades and Suppliers to finish the project successfully.

Latest posts by Evelyn Eshun (see all)