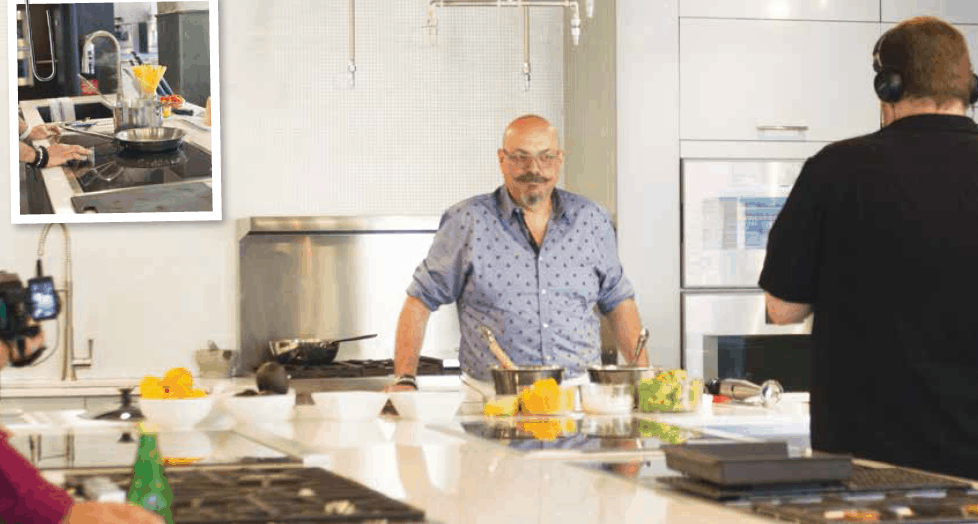 A behind the scenes look as Canadian Home Trends Food Editor, Massimo Capra, prepares recipes for the Marc & Mandy Show and Canadian Home Trends Magazine!
Cooking with Massimo
Filming segments for the Marc and Mandy Show with Celebrity Chef and Canadian Home Trends' Food Editor, Massimo Capra was so much fun! He never ceases to amaze me with his talent for putting together delicious dishes. Be sure to tune in to the Marc and Mandy Show to catch his latest cooking creations! – Marc Atiyolil

The Kitchen…
Luxe Appliance Studio
334 King Street East
We filmed Massimo's cooking segments at the gorgeous Luxe Appliance Studio at 334 King Street East in Toronto. Home of Bosch, Thermador and Gaggenau appliances, the Luxe Appliance Studio offered the perfect backdrop for Massimo's delicious recipes, prepared on state-of-the-art induction cooktops and wall ovens. Visit www.thermador.ca to set up an appointment or to book the studio for an event.
Massimo's Recipes
Grilled Pork Chops on Linguine
–