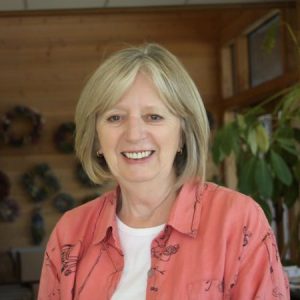 This week's edition on Home Trends & Inspiration has a holiday twist! Today I had the opportunity to chat with Carole Umbarger of Creekside Farms – a California-based family farm specializing in naturally grown herbs and flowers. For over 20 years, Carole and the staff at Creekside Farms have supplied Artisan Christmas wreaths for luxury home décor retailers, including William Sonoma, Pottery Barn, Frontgate, Harry & David, and Sur La Table.  Carole shared a little bit out the history of the farm, its family roots, her own personal decor style and her favourite Christmas wreaths from this year's collection. Read on to see what Carole had to say and find out more about her stunning Christmas wreath creations! – Crystal Williams
How would you describe your personal Christmas decor style?
I would describe my personal Christmas style as upscale but very natural.
Where do you find inspiration for your Christmas wreaths?
I love working with natural ingredients. A lot of my inspiration comes from the natural colors that are found all around us.
What current Christmas decor trends do you love?
I love simple, traditional styles with a touch of elegance.
How did Creekside Farms come to be?
After many years of raising horses and cattle, my husband and I were investigating ways to boost our income to cover college tuition for our oldest son, Allen, and daughter, Stacey. Our two younger boys, Aaron and Scott were still in elementary school and I was looking for a way to earn an income on the ranch and to be home with my family. A friend had given me a Christmas wreath made of sinuata statice and I decided that would be an interesting crop to grow. In 1988, we planted 6 acres of sinuata, yarrow and various other herbs. After we discovered a market for California Pepperberries that grow on the numerous trees in the Salinas Valley, we changed from growing flowers to exclusively growing ornamental and culinary herbs. While marketing the Pepperberries to various stores and Christmas wreath manufacturers throughout the United States, I met a buyer for Smith and Hawken, a high end garden store and catalog chain headquartered in Sausalito, California. Because of my relationship with Smith and Hawken, I was asked to help out one of their vendors, who was making a Eucalyptus wreath decorated with their Pepperberries. We took on the job, learned to make a Christmas wreath that weekend and spent the next 3 weeks making 3,000 Christmas wreaths in our playroom. In our Creekside Farms facility today, we are able to make 3,000 wreaths in 3 days instead of 3 weeks.
Can you tell us a little more about the types of materials you use in your wreaths?
I believe that the best and longest lasting Christmas wreaths are made from fresh holiday greens, such as fir, pine and cedar, as well as eucalyptus leaves, hydrangeas, magnolia and California bay and olive. Our family farm specializes in herbs and flowers, all grown naturally. We use no pesticides or herbicides, hand-pick our herbs, leaves, and flowers, and dry them on racks until they are needed for the next wreath creation.
You refer to Creekside Farms as a family farm – do you have a lot of family members working with you?
My husband, Larry, and I are still active in the company but we are planning our retirement. Allen, our oldest son, as General Manager oversees all aspects of the business. His wife, Teri, is in charge of all sales and quality and has taken the design phase of the business to new heights. Aaron, our second son, is in charge of shipping, Scott, our youngest son, is in charge of the field and farming division of our operation. This is truly a family affair, with Teri's sister, Hilda Gonzales, also working with Creekside Farms. Our oldest grandson, Branson, who is now 18, is the latest family member to come to work over the past two summers.
What are some of your favourite Christmas wreath designs for this holiday season?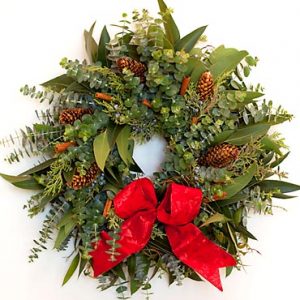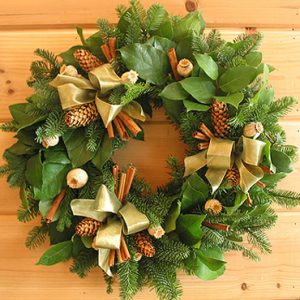 Cinnamon Pine Cone Wreath & Fresh Woodlands Wreath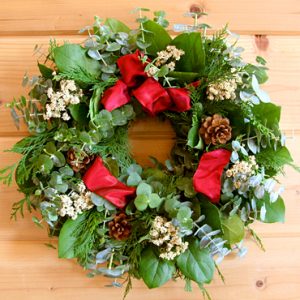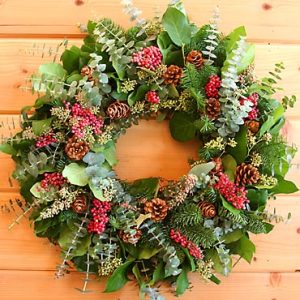 Fragrant Holiday Wreath & Fragrant Berries & Cones Wreath
Where do readers go to find your wreaths if they would like to purchase one for themselves or as a gift this year?
Christmas wreaths can be purchased online through the Creekside Farms website.
The following two tabs change content below.

Crystal Williams
As Online Editor for Canadian Home Trends Magazine, Crystal has a passion for design and decor. She enjoys browsing the web to find new, exciting decor ideas, DIY projects and unique products to share with her readers. With formal training in graphic design and a background in the event planning/design business, Crystal looks at design from all angles to give readers a fresh perspective.

Latest posts by Crystal Williams (see all)