Dear Marc:
I loved your feather tree accessory! I am anxiously trying to get everything done for the holidays. Shopping, decorating, baking – it never ends. While shopping, I saw a really neat wreath that was made of feathers and it looked amazing! Can you show me how to make a DIY wreath like that?
Kelly
Dear Kelly:
As the temperature drops, mother nature is hinting that the holidays are just around the corner. I am always fascinated how people decorate for the holidays in varying fashions. Some put up their tree as they are taking down their Halloween decorations, while others wait till the day before the family gathering to display their fabulous seasonal decor! We are all so busy these days, and most of us have seen both ends of the holiday spirit spectrum. The wonderful thing is it doesn't matter how hectic our schedules are, or how many decorations we have displayed, at the end of the day, the holidays are about spending time with friends and family. A lot of the DIY projects featured in this column can easily be made with loved ones. Crank up those Holiday tunes and have a DIY night! And most importantly, don't stress about getting everything perfect. As my grandmother always said, "If you don't have bumps in the road, what are you going to laugh about at your next family gathering?"
As we hurry to get our homes ready for the holidays, we try to tie together our room's colour scheme with our holiday décor. Thoughts of "What in the world was I thinking using lime green as an accent in this room?" are running through our minds. The day before the gathering, we think "Maybe I should repaint the living room to match the holiday decorations?" This is the part where your loved ones fix you a drink and say "Everything looks great!"
Now, I have the patience of a two year old when it comes to projects, which explains why you may have noticed that most of my projects can be done within a day or two. My theory is "Who has time to spend two weeks working on a DIY project?" I figure if I don't have time to fit a complicated project in my schedule, you probably won't either. Therefore, my word of wisdom this holiday season is: "KISS". No, I don't' mean lurking around the mistletoe and seeing which pretty girl is going get your unannounced ambush. The poor thing had no idea what hit her! For our married readers, it also doesn't mean kissing your spouse or partner hoping that it will make it all better. Although, as my wife says, "Happy wife, happy life!" So, a kiss may add a little cheer to your holiday season. At the end of the day, KISS is an acronym for "Keep It Short and Simple!"
This mantra applies to many parts of the holiday roller coaster. You burnt the buns and guests are on their way! Keep it simple, the bakery has freshly baked buns. Just powder your rosy cheeks with flour, throw away the plastic bag, and no one will know the difference. You get ambushed by your spouse's chattering aunt, just keep the conversation short. We sometimes like to complicate things because the holidays arise a sense of perfectionist in all of us. Remember, breathe and KISS.
While putting our new mantra to good use, here's a really chic holiday wreath idea made of feathers.

Chic Feather DIY Wreath:
Supplies:
Wreath

Feathers

Glue gun and glue sticks

Self-adhesive rhinestones

Decorative Bird

Silver branches
Step 1:
Glue feathers side-by-side to cover the entire wreath. Glue rhinestones to the tip of each feather to add a sense of glamour!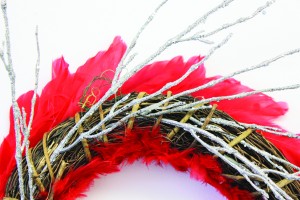 Step 2:
Glue small branches (12 inches in length) to the back of the wreath.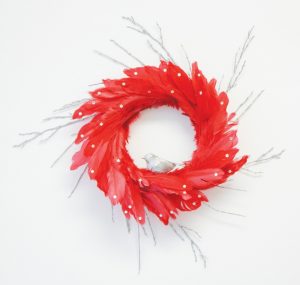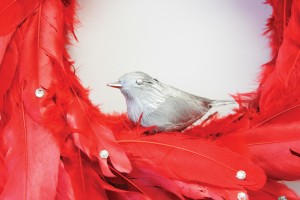 Step 3:
Glue a decorative silver bird in the bottom inner lip of the wreath. Voila, your new DIY wreath is ready to hang in your home!
The following two tabs change content below.

Marc Atiyolil is the editor-in-chief of the home décor publication, Home Trends Magazine. His charismatic, down to earth approach can be seen first hand as the co-host of the Marc & Mandy Show airing on networks across North America. His mantra, "Be bold, be different, be unique – Yet keep it simple" is reflected in all of his work. Marc is an avid promoter of breaking down the myths of design and offering simple alternatives to complicated design processes.

Latest posts by Marc Atiyolil (see all)