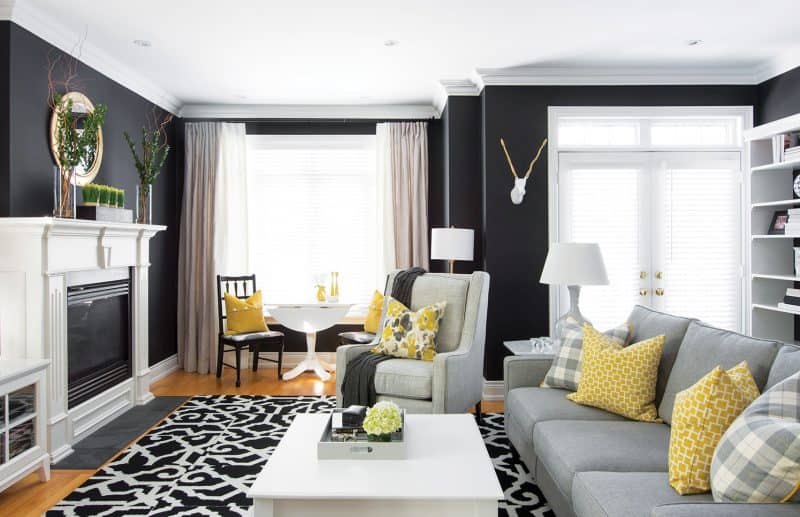 Designer Jacklynn Little and her husband Mark, a professional in the finance industry, have lived in their midtown Toronto home for seven years. Jacklynn wanted a room that displayed her professional skills while providing an inviting interlude for friends and family. "My home should reflect my work and myself," Jacklynn notes.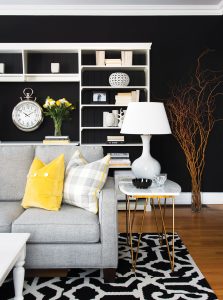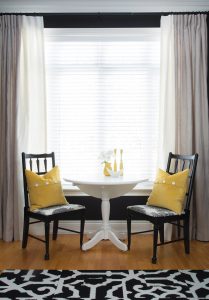 When Jacklynn visualized her living room's redesign, it was still wearing builder's beige. To visually expand the space, Jacklynn chose a flat, black paint for the walls. The white ceiling, mouldings, and shelving create a crisp frame for the room's carefully edited furniture and accessories. "I wanted the room to be warm, but dramatic," she says.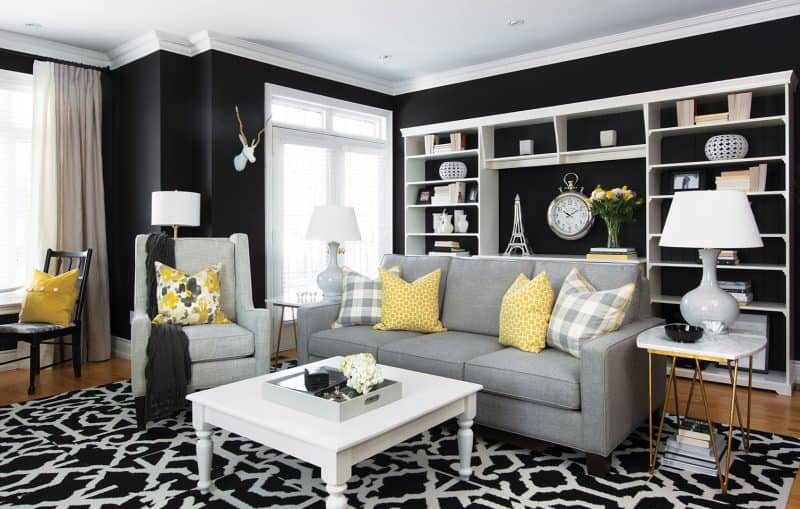 In preparing for a redesign, Jacklyn advises that "preparation" is the first step. She began with a design board, a budget, and a plan. "Don't start until you have everything ready," she advises. "Creativity comes together when you have a budget."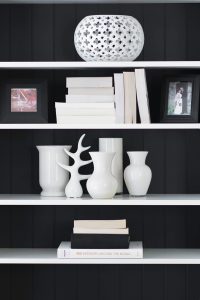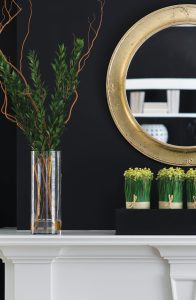 A handsome couch and white chair face the fireplace, while resting on bold baroque-patterned carpet tiles. They are poised to greet visitors who enter through the living room's glass-insert, French doors. Side tables, clad in Carerra marble with bronzed legs, add a dash of 'Je ne sais quoi' to the grouping. "The first things I purchased were the side tables. I knew they would be perfect," Jacklynn comments. The living room's upholstered furniture are Jacklynn's "investment" pieces suited out in neutral colours.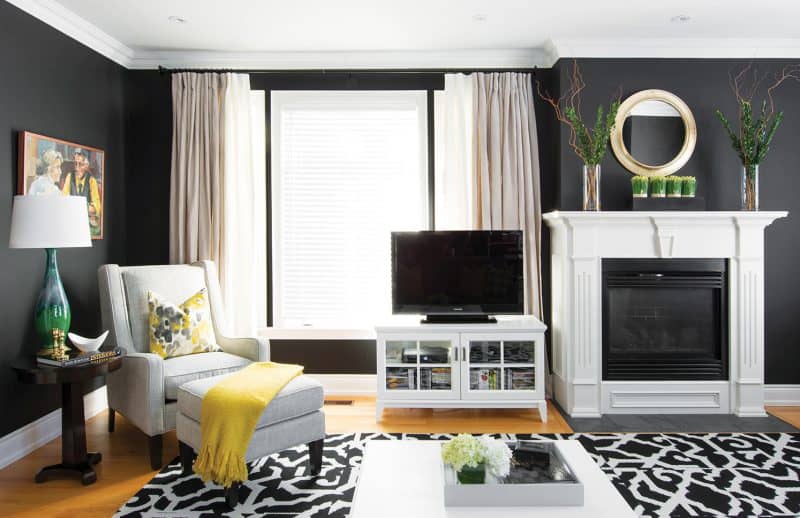 Jacklynn describes the room's style as contemporary and comfortable "rustic French country." The pillow patterns, with their shades of yellow, black, white, and taupe bring a bounce of colour. Accessories like the pocket watch clock, Eiffel Tower sculpture, and gilded antelope head insert a touch of whimsy to the tailored room.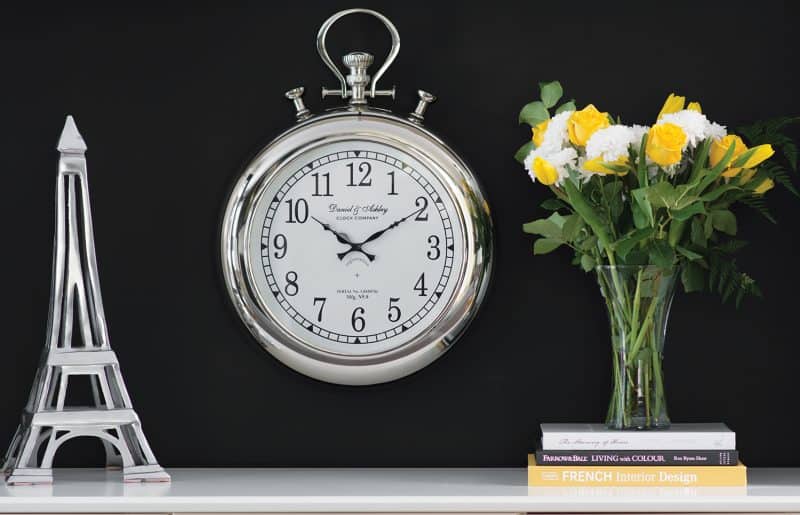 The fireplace, with its traditional trim, continues the room's emphasis on elegantly sculpted silhouettes found in the white tables, accessories, and cabinetry. A gold foil mirror, metallic finishes, glass and ceramics reflect light coming in through the windows and Juliette balcony. "I like mixing metallics," Jacklynn comments. She advises striking a balance when using silver and gold or pewter and bronze.
To the fireplace's right is a cosy tableau. A white drop-leaf table and two straight back chairs provide Mark and Jacklynn with a niche for intimate dinners. The chairs, a gift from a friend, were repainted in black lacquer. The chairs' print upholstery restates the room's black and white theme. Jacklynn believes that when mixing and matching patterns and solids a blending of five is "perfect."
To the fireplace's left, tucked into a nook, an upholstered chair and ottoman warmed by a yellow throw, offer a place for quiet reflection. Above, a vivid painting in a metallic frame, paraphrases the room's colour themes of yellow, celadon green, bright white, and deep black.
"My husband loves it. My friends think it's amazing," Jacklynn comments.
Photo Source:
Space Designed by Jacklynn Little Interiors, www.jacklynnlittleinteriors.com;
Photographer, Stephani Buchman Photography, www.stephanibuchmanphotography.com;
Sofa, Two Chairs and Ottoman, Gresham House Furniture,  www.greshamhousefurniture.com;
Drapery Fabric and Flower Fabric Pattern, Landsmeer, Tonic Living, www.tonicliving.ca;
Other Fabric, Designer Fabric Outlet, www.designerfabrics.ca;
Pillow and Drapery Sewing, Tonic Living, www.tonicliving.com;
Side Tables, Elte, www.elte.ca;
Carpet, FLOR Carpet Tiles, www.flor.com;
White Book Cases, IKEA, www.ikea.ca;
Paint on the Back of the Bookcase, Black, Benjamin Moore, www.benjaminmoore.ca;
White TV Cabinet, Crate and Barrel, www.crateandbarrel.ca;
Wall Paint Colour, Pitch Black, Estate Emulsion by Farrow & Ball, www.farrow-ball.com;
Crown Moulding, Trim and Ceiling Paint, Oxford White in Eggshell, Benjamin Moore, www.benjaminmoore.ca;
Animal Head, Large Clock, Vases, Round Mirror, Basket, and Throw, HomeSense, www.homesense.ca;
Small Tray, West Elm, www.westelm.ca;
Paint Colour Used on Tray, Grey Owl, Benjamin Moore, www.benjaminmoore.ca;
Pictures on the Wall, IKEA, www.ikea.ca;
Spray Paint Used on Pictures, Gold, Krylon, www.krylon.ca