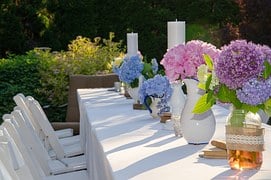 5 Budget Saving Tips for Summer Entertaining with Jacklynn Little as she shares with us where to splurge and where to save when it comes to creating a garden oasis for hosting parties.
SAVE Use a few extra bowls from your dinnerware set, add water and float a few fresh garden flowers for an inexpensive, decorative touch.
SPLURGE Turn dinner into entertainment! Hire a personal chef to host a hands-on cooking demonstration. Your guests will be engaged in the process and as an added bonus, you'll be free to concentrate on being a great host while a delicious dinner is prepared for you!
SAVE Borrow items to add to your decor. Small potted plants and flowers can be moved from other areas to add to the party decor or bring decor items and accessories out from inside for the event.
SPLURGE Food is the highlight of any dinner party! Invest in quality ingredients or opt for catering for more formal events. Make the meal memorable by adding a special touch; petit fours decorated to match your theme perhaps?
SAVE Gorgeous food can double as decor if displayed with style. A pretty, tiered cake tray could be used to display those petit fours as a gorgeous centerpiece.
For 5 Budget Saving Tips for Summer Entertainingor For more great ideas, click here.
For great home decor or gift ideas
shopCHT.com.
The following two tabs change content below.

Jacklynn Little, Principle Designer and founder of
Jacklynn Little Interiors
, has been designing most of her adult life and turned her talent and passion into a full time career 15 years ago. Her focus is always to help her clients achieve a functional and beautiful home all while giving them a positive design experience. Jacklynn takes the overwhelming design and renovation stress away from her clients so they can focus on the end results, "it can certainly be overwhelming." She works collaboratively with her client's style, needs and budgets to develop a space that is both creative, contemporary, and unique to her client's lifestyle. Jacklynn believes that everyone deserves to live in a beautiful home.

Latest posts by Jacklynn Little (see all)