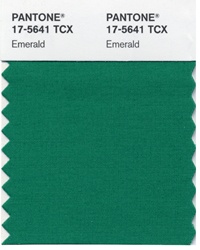 Pantone announced their 2013 Colour of the Year – a beautiful Emerald Green.  This luxurious green colour has been popping up on runways quite often recently and is expected to be a very popular colour for fashion, jewelry and even cars in the coming year. Many interior designers are still predicting that blues and greys will be the dominating colours in home decor in 2013 but with Emerald Green being named Colour Of The Year, we are sure to see some great designs and home decor pieces in a luxurious Emerald Green as well.
While Emerald Green may not seem as exciting or dramatic as last years' Tangerine Tango, with the right colour palette, Emerald Green can be dramatic, fun or exotic. Here are a few colour palettes we put together using Emerald Green.
Dramatic Emerald Green

This gorgeous dining room combines dark gray walls with rich Emerald Green drapes for a dramatic design statement. Emerald Green accents are a great way to add drama to an otherwise neutral colour palette. For a more subtle look, use the Emerald Green in small accents throughout the room rather than one large statement piece.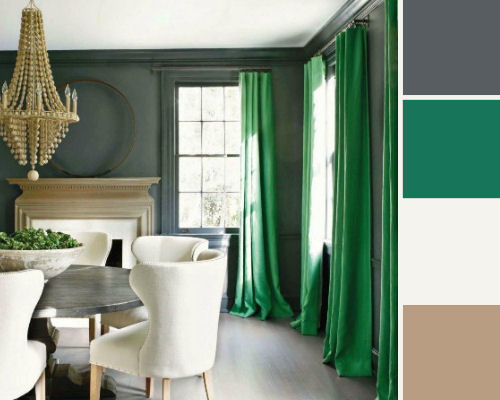 Dining Room by Kay Douglass Interior Design. Suggested Colour Palette: General Paint
Oxide CL 3126N, Jack Pine CL 2087N, Mistaya CLW 1042W, Rodeo Dust CLC 1251D
Get The Trend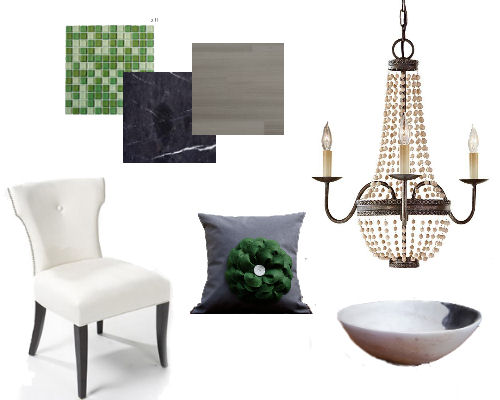 Sources: Windsor Chair by Chair Source, Chandelier from Living Lighting, Eden Mosaic Tile from Lowes, Line Art Hardwood from Lauzon, Throw Pillow by Jillian Rene Decor, Handcarved Stone Bowl from Said To Much, Van Gogh Quartzite from Interstone Marble & Granite.
Fun Emerald Green

This colourful chair from Sico combines Emerald Green with bold primary colours for a bright, fun look that is perfect for a college dorm room, a teenager's room or child's room.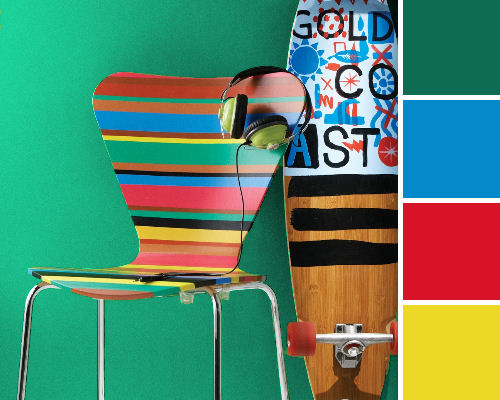 Inspiration Image provided by Sico Paints. Suggested Sico Paint Colours:
Emerald Silk 6130-73, Venusian Blue 6001-53,  Ming Red 6052-65, Clover Honey 6095-54
Get The Trend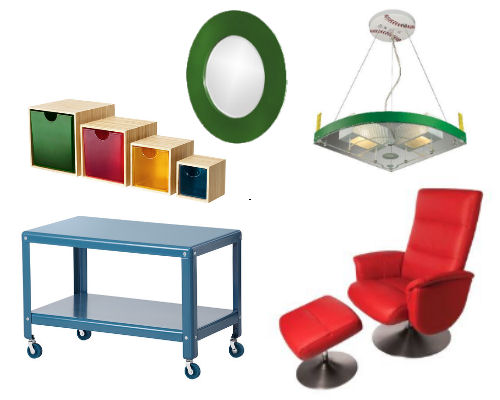 Sources: Casabel Chair by Chair Source, PS Coffee Table by Ikea, PS Drawer Set by Ikea, Metallic Green Vail Mirror by Wayfair, Baseball Field Pendant from Royal Lighting
Exotic Emerald Green

When Pantone first announced the Colour Of The Year, one of the staff here in the office suggested that the colour could be quite beautiful in a peacock themed colour palette. Paired with a rich purple, bold blues and stunning gold accents this Emerald Green colour scheme would create a stunning, exotic space. To pull off this look, go for luxurious fabrics like silk and satin and tasteful gold accent pieces.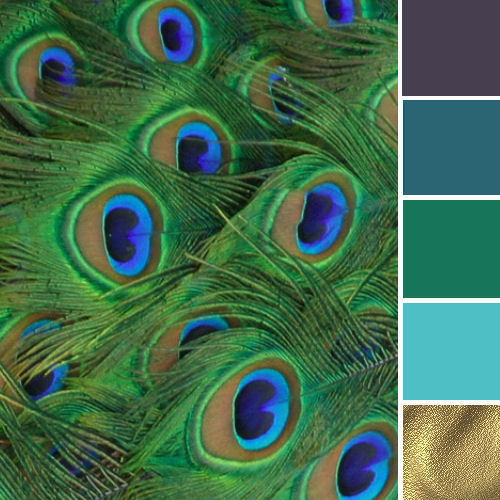 Colour Suggestions: General Paint
Glory CLV 1181N, Galway CL 2197N, Jack Pine CL 2087N, Searant CLV 1161D
Get The Trend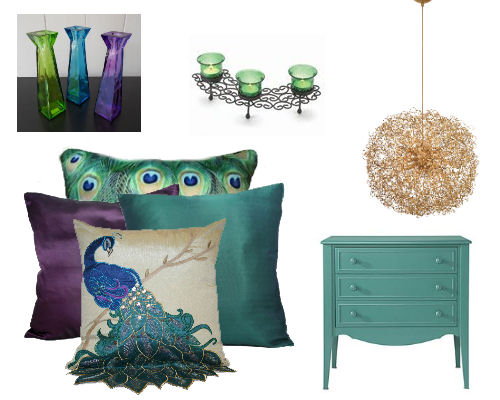 Sources: Bachelor's Chest from Bassett Furniture, Throw Pillows: Thro by Marlo Lorenz, Silk Pillows in Purple and Teal, Peacock Feather Pillow, Glass Candlesticks by Rural Urban, Venetian Lace Tealight Holder, Gold Chandelier from Royal Lighting
What do you think of this year's Colour of the Year? What colours would you pair Emerald Green with?
For more Emerald Green Inspiration, follow our Emerald Green Pinterest Board.
The following two tabs change content below.

Crystal Williams
As Online Editor for Canadian Home Trends Magazine, Crystal has a passion for design and decor. She enjoys browsing the web to find new, exciting decor ideas, DIY projects and unique products to share with her readers. With formal training in graphic design and a background in the event planning/design business, Crystal looks at design from all angles to give readers a fresh perspective.

Latest posts by Crystal Williams (see all)