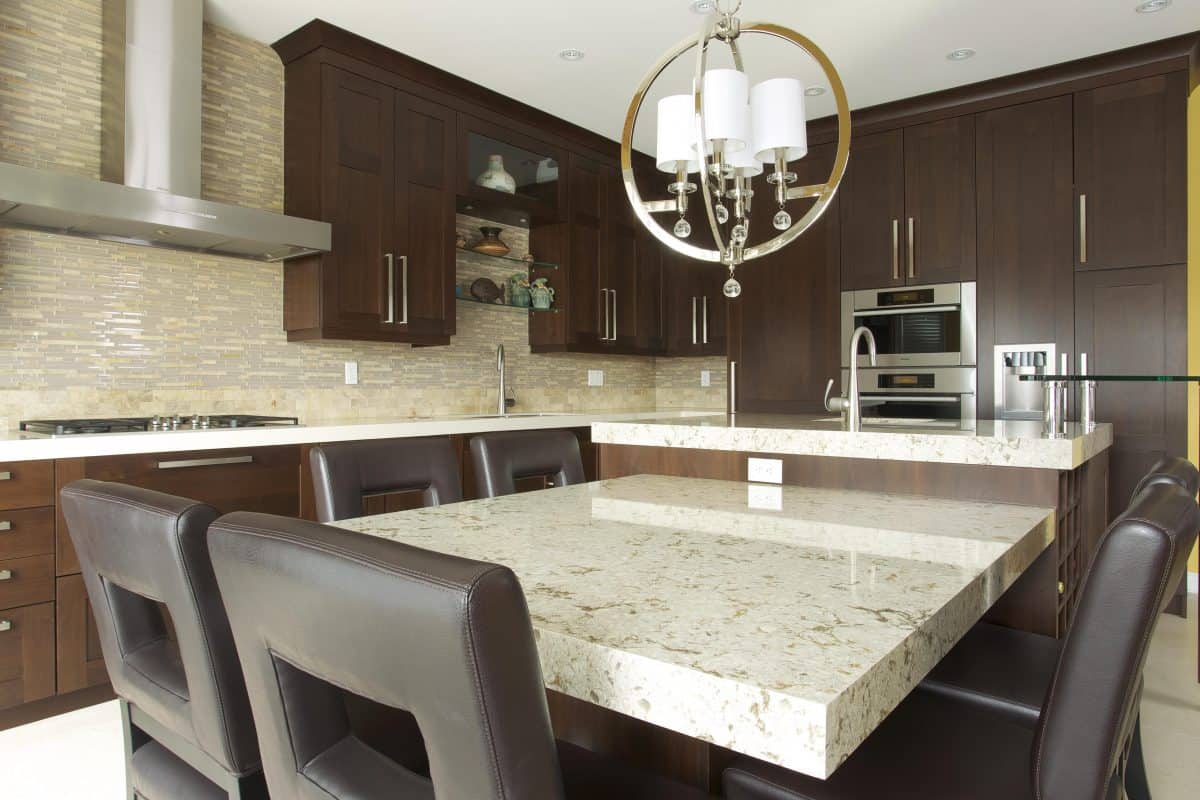 When planning a kitchen renovation, one of the biggest frustrations many homeowners face is a lack of space. This kitchen renovation is the perfect example of how a custom kitchen plan can turn a small kitchen into a dream kitchen that offers tons of storage and feels much bigger then you would have imagined the original space could be!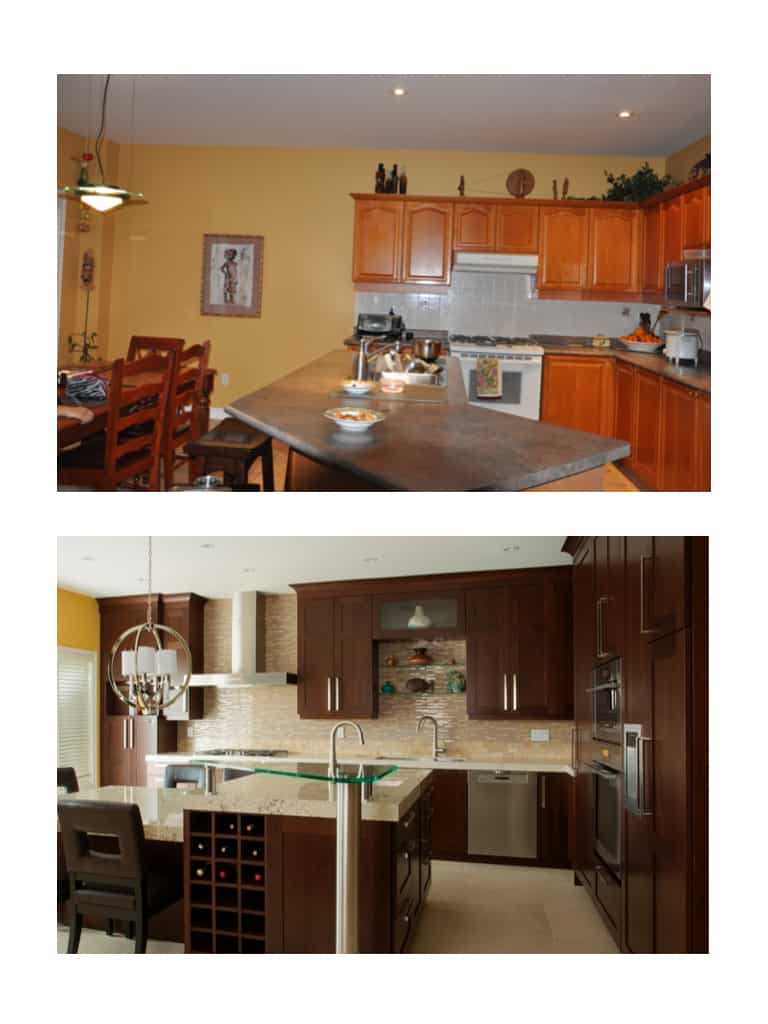 Maximize Available Space
To make this kitchen look, feel and function like a larger kitchen, the dining space was utilized and integrated into the kitchen layout. A 2-level island fills the new, larger kitchen space, providing a larger work surface without sacrificing the seating area. In this case, two levels allows for a separation of the counter space from the dining space but you could also opt for a single level island that merges two tasks into 1 combined space. By combining the dining and kitchen space into one area, the resulting space is also much better for entertaining. Guests can sit around the lower island and visit without turning their back to the host who is preparing food in the kitchen!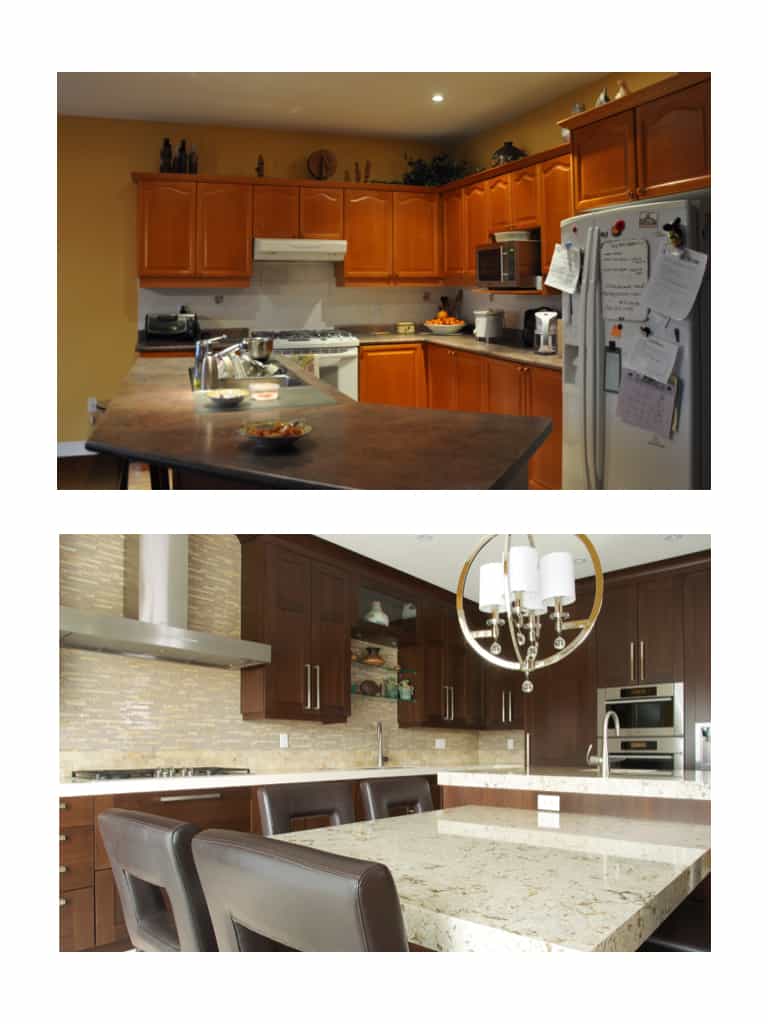 Create Space with Custom Cabinetry
Extending the cabinets across the dining room wall maximizes the use of the space, adding extra countertop and storage space! The new cabinetry is design to carry all the way to the ceiling which creates a clean, modern look while also adding the illusion of a taller, more spacious kitchen. You also get more storage space at the top of the cabinets as well.
Another feature in this kitchen is the hidden appliances. Both the fridge and dishwasher have the same panel front as the cabinetry, allowing them to hide in the cabinetry, creating a seamless finish that feels larger then it would otherwise. True counter depth appliances also allow for better integration of appliances within the cabinetry.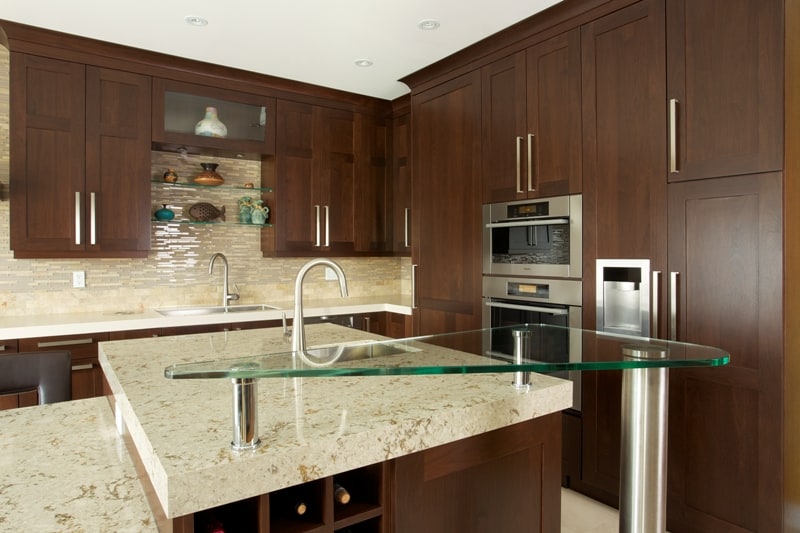 Plan Ahead
Planning ahead for both functionality and style is important. This is where you have the opportunity to customize the kitchen to truly meet your own needs. In this kitchen, the homeowner choose to include built in wine storage right next to the dining portion of the island, making it perfect for entertaining.
Adding Decorative Touches
When designing your kitchen, it's important to consider your own personal style and how it might change over the years. This kitchen offers a traditional scheme with warm tones and beautiful wood cabinetry but the cabinet style and glass and chrome accents give it a modern feel, resulting in a timeless look that the homeowner will love for many years to come. Glass shelves and a glass front cabinet allow the homeowner to add their own decorative touches without taking up counter space as well!