Lighting is a highly innovative design field and with each new year, lighting companies release new collections and new styles that excite the imagination and inspire amazing spaces. We asked the experts at Living Lighting to show us some of the new pieces hitting the market for 2018. Here are 8 styles we're very excited about!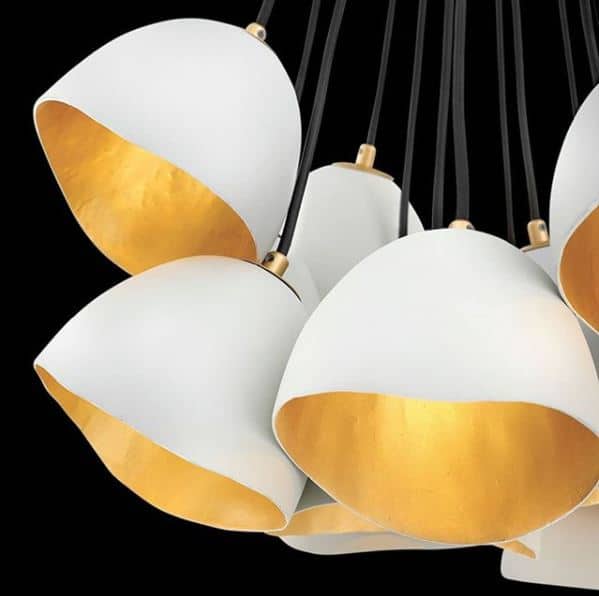 Nula multi-pendants from Fredrick Ramond's new Lisa McDennon Collection juxtaposes industrial elements and organic influences for a decadent, luxe effect.
WHY WE LOVE IT: Organic shapes mixed with contrasting shapes makes this piece a show stopper with subtle elegance that will work well with a variety of design styles.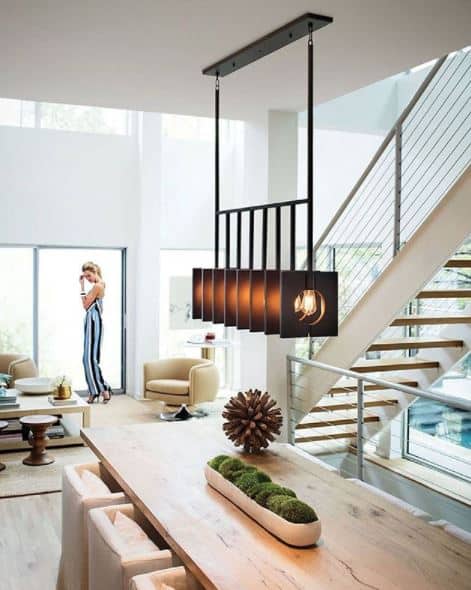 Ludlow linear suspension from Fredrick Ramond's new Lisa McDennon Collection plays on the simple geometry of circles and squares. Available 2018.
WHY WE LOVE IT: The geometric design of this pieces puts the bulbs themselves on display like framed artwork, creating a look where the function is also the design focus!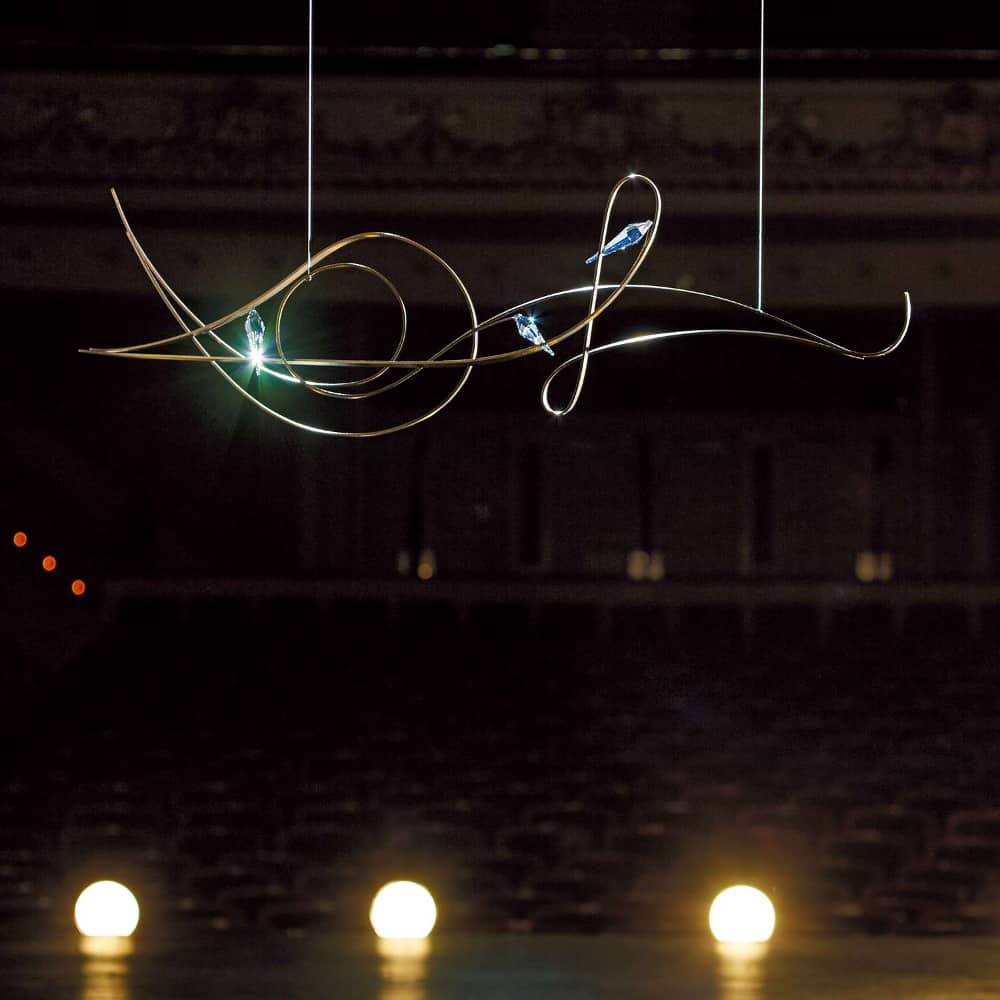 Rhapsody LED pendant by Synchronicity. Design inspiration and intricate craftsmanship merge in this visual symphony. Flowing ribbons of steel are pierced by three Swarovski cone-shaped crystals, creating this divine composition. Adjustable cable-hung LED pendant with Swarovski crystals.
WHY WE LOVE IT: This piece looks more like sculptural art then lighting. At just over 42″ in length, this piece is large enough to make a bold statement in an room.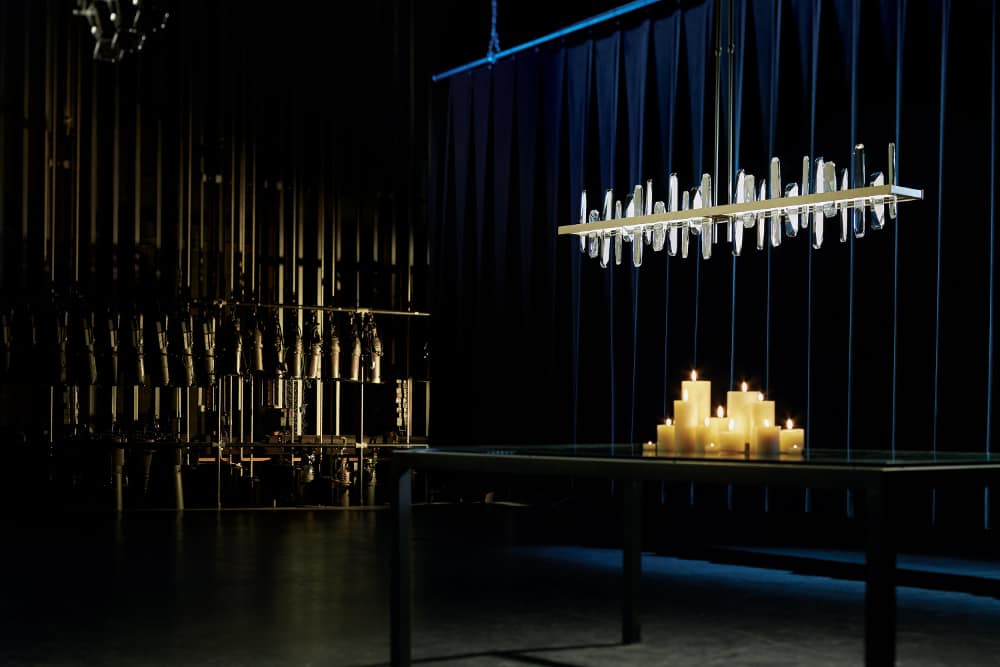 Solitude LED large pendant by Synchronicity. A floating island of angular crystal towers provides the visual aesthetics for this distinctive pendant. Each crystal rises from an LED light guide and pierces through to emerge below, reflecting and refracting light in a vibrant sparkle.
WHY WE LOVE IT: A very modern twist on the traditional crystal chandelier, this fixture is the perfect mix of modern aesthetic and traditional glam.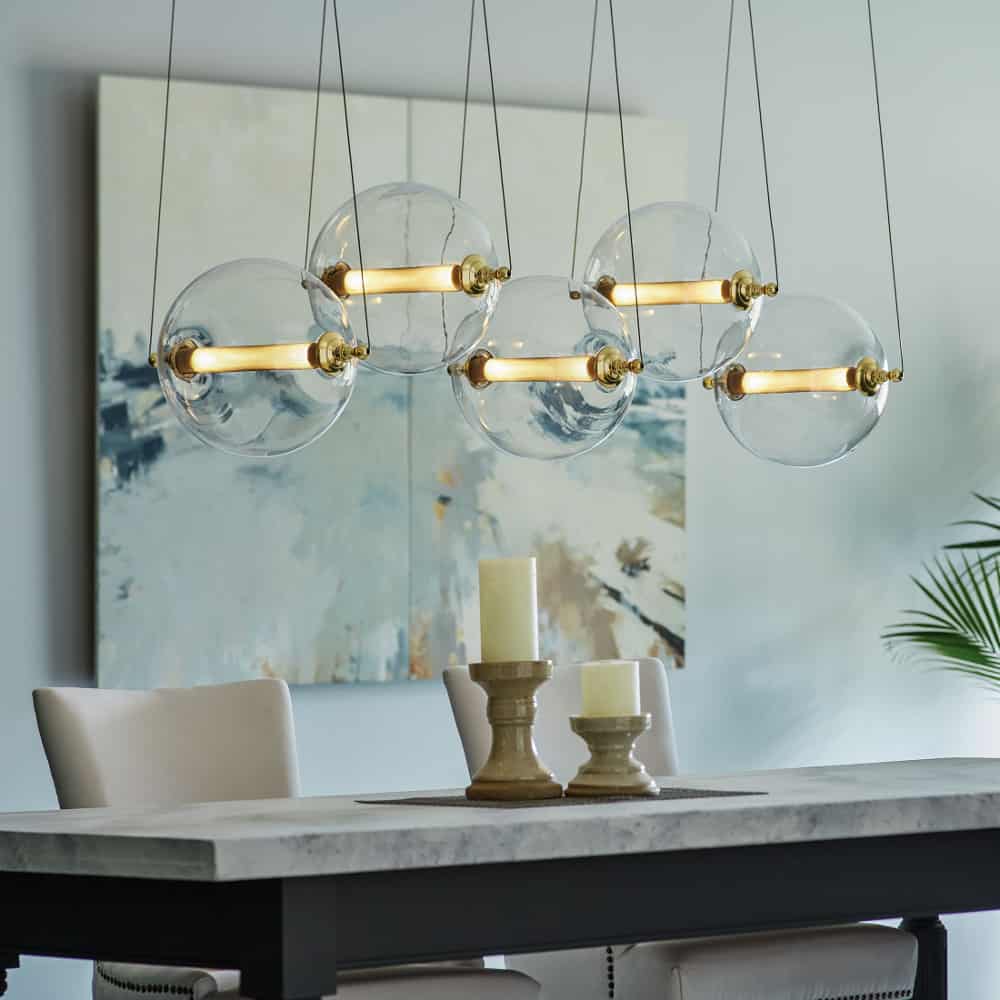 Otto Sphere 5 Light Pendant by Hubbardton Forge. A blend of polished brass and black finishes and five glass spheres creates the focus for any room. The spheres can be hung on the same plane, at varying heights. They can also each be hung with the lighting element at a horizontal or on an angle.
WHY WE LOVE IT: While the style is fantastic, what we really love about this piece is the flexibility to hang each pendant at varying heights and angles allowing you to create a one-of-a-kind display.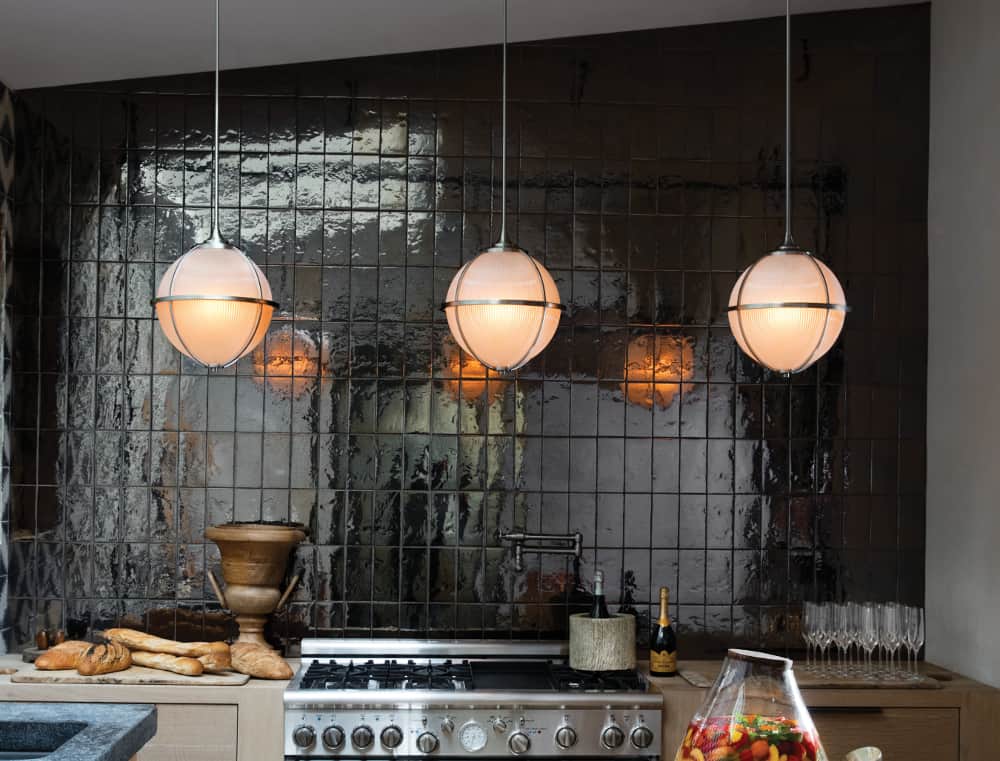 Odeon pendant by Hinkley. Inspired by the stylish Tribeca brasserie, Odeon elicits a fashionable, urban feel that is both modern and timeless. The metal frame follows the contour of the holophane sphere, inspiring perfection in any setting.
WHY WE LOVE IT: We love the use of a traditional material like holophane in a modern shape with clean, crisp lines for a classic, timeless style.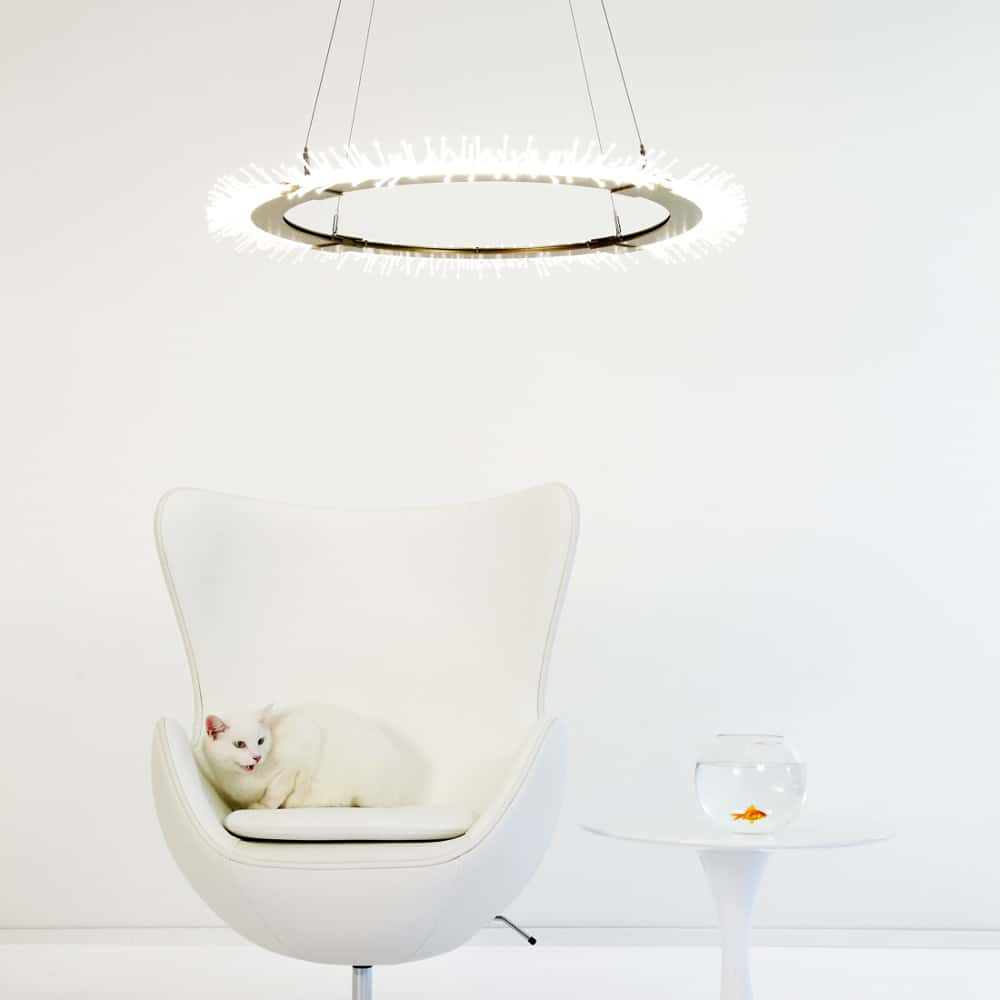 Anemone circular LED pendant by Vermont Modern. A circular LED light guide is suspended from four cables and feeds light to the Anemone's bristles. The bristles spread light to your room as dim or bright as you'd like. Feel the love.
WHY WE LOVE IT: We love seeing modern designs that take inspiration from nature. Whether this design reminds you of the tentacles of a sea anemone or the multiple stamen of an anemone flower, the finished look is just stunning!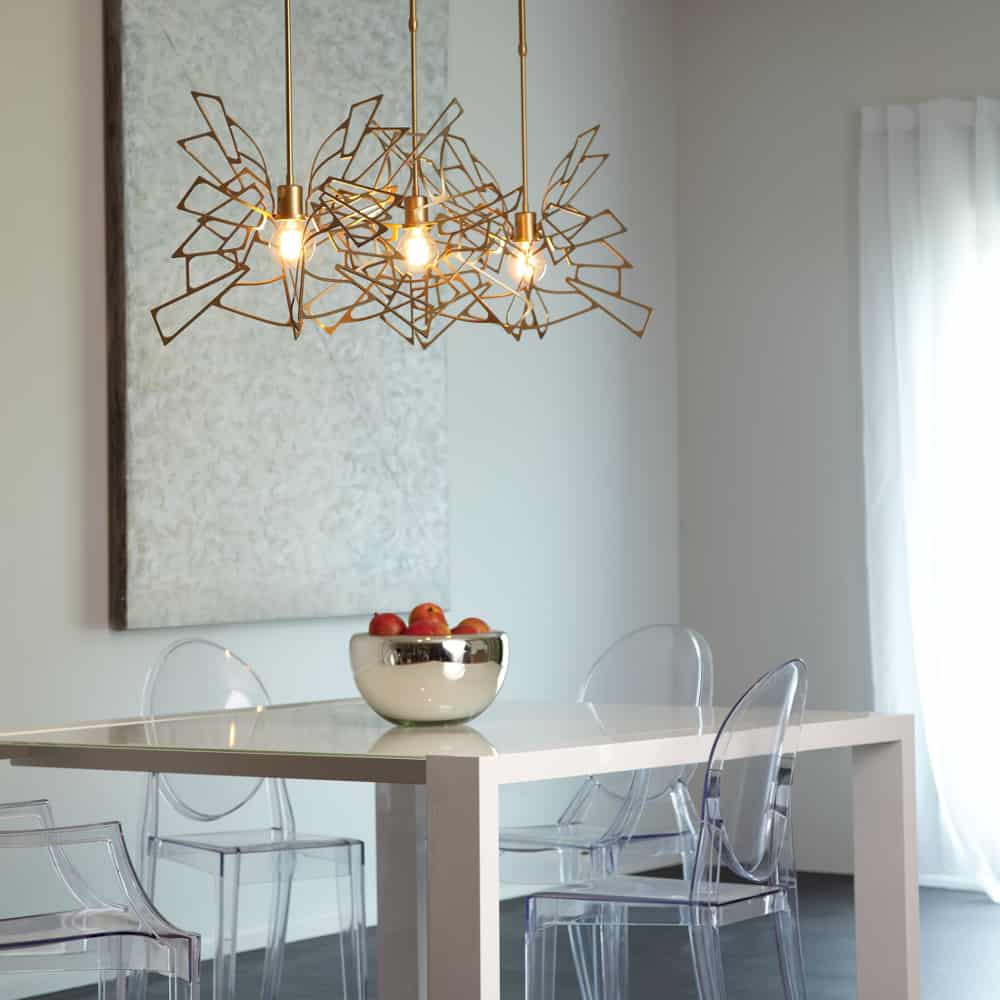 Monarch pendant by Vermont Modern. Three pendants suspended from a single canopy form this work of lighting art. Each pendant is created from two sheets of steel, laser cut, shaped and welded to create a "there, not there" visual aesthetic.
WHY WE LOVE IT: We love this modern design inspired by butterflies in flight! Elegant, laser cut pendants create a bit of an abstract feel that we absolutely adore.
All Photos Provided Courtesy of Living Lighting
The following two tabs change content below.

Crystal Williams
As Online Editor for Canadian Home Trends Magazine, Crystal has a passion for design and decor. She enjoys browsing the web to find new, exciting decor ideas, DIY projects and unique products to share with her readers. With formal training in graphic design and a background in the event planning/design business, Crystal looks at design from all angles to give readers a fresh perspective.

Latest posts by Crystal Williams (see all)