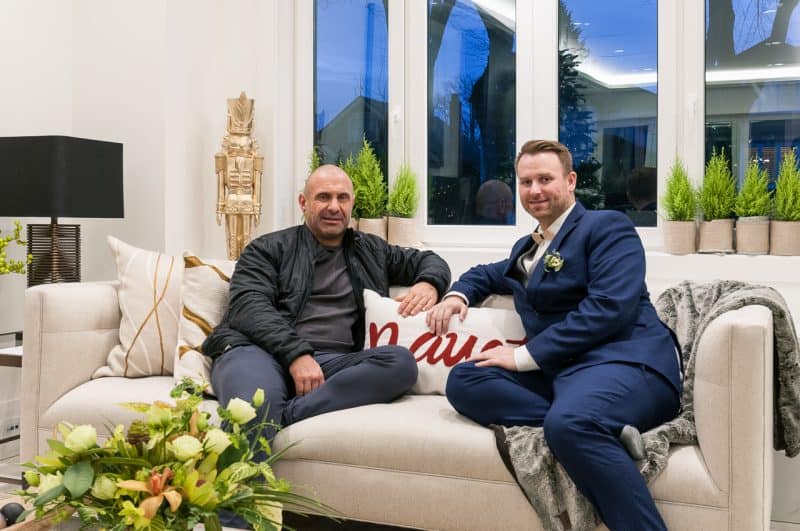 Bachelor pad Christmas decor for gentlemen. This Christmas phenomenon was inspired by the sophistication of a Gentleman's Tuxedo with polished leather shoes and the tedious bowtie.
This bachelor pad was decorated to resemble the layers of Christmas, from the casual Christmas Eve gathering by the fireplace to the wild New Year's Eve bash with your favorite people.
Jamie Banfield Design took their signature West Coast style and ornamented this into dressing up the home with holiday style. The colors of ornaments and greenery married into the existing style to make everything cohesive. Adding textural West Coast elements with sophisticated golds and blacks blends the space together effortlessly.
SANTA'S CHRISTMAS EVE
Bachelor pad Christmas decor for the top floor, where Santa makes his list and checks it twice, is curated to the scattered night of Christmas Eve. The elves sporting bow ties are quickly wrapping up gifts and Santa is getting ready to sleigh away with Rudolph and the crew.
CLASSY CHRISTMAS DAY
The main floor, where Christmas is waiting for you early in the morning with Baileys and coffee or champagne and orange juice. All the gifts are placed in style by Mr. Claus himself, however you'll notice a few crumbs out of place. It's ok though because that new iRobot is waiting under the tree, Santa just wants you to test it out. Winding down into the classy
dinner party, the table is gussied up and ready to go!
NEW YEAR'S CELEBRATION
The basement is where the Christmas decorations have stayed around and things are starting to look flustered. From Boxing Day sales to poker night with your mates on New Year's Eve, the last layers of the holidays are coming to an end. Behind every tuxedo stands a big kid with a playful heart ready to celebrate the accomplishments of the year. The nods of play and joy are all presented to rejoice…
3,2,1 Happy New Year!
For more great decor ideas click here.
For more unique items for your home, click shopCHT.com.
The following two tabs change content below.

Award-winning interior designer, Jamie Banfield has become a creative force in the industry, and recognized for his signature West Coast style. Specializing in design for all spaces, with a focus on kitchen and bath, Jamie has the ability to transform and create well-edited spaces that exude both function and beauty. With a passion for textures and sustainable home design, he often uses reclaimed materials, offering a unique perspective to his finished rooms.

Latest posts by Jamie Banfield (see all)