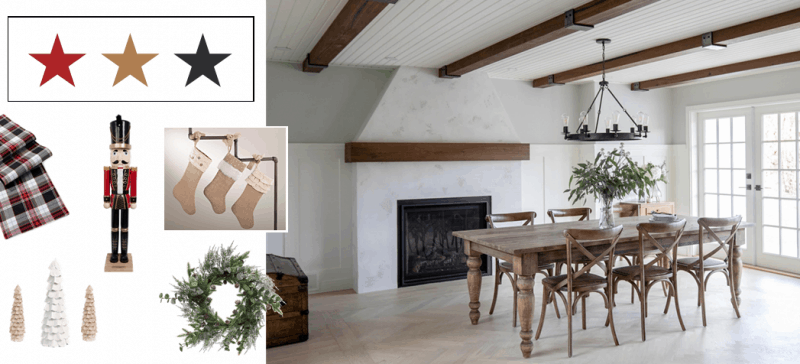 When creating modern farmhouse Christmas decor and renovating a home, we like to work with the original shell, pulling in aspects from the old and bringing them into the new. In this Langley residence, we intertwined old world charm and the farmhouse feel that had originally existed.
This same manner resonates when creating modern farmhouse Christmas decor for the holidays. We like to tie in colors and textures that mirror the design style to make everything cohesive. This allows you to avoid tacky Christmas decorations and helps you feature your home rather than take away from it. In that sense, an, even more, acknowledged tip is " Less is More" – to avoid over cluttering and distracting from your original decor. You want to highlight your existing home with a few festive items for the holidays, as all year long you spend time making your home personable and shouldn't have to change it too much.
Although we say avoid your glitzy traditional ornaments, we'd like you to still add in your own personal flare. However, your home should already be a good reflection of who you are and the two should collaborate perfectly.
We selected a eucalyptus and pine wreath that will stand out against the white distressed concrete and natural wood mantel. A playful 70" tall nutcracker would accent nicely positioned next to the fireplace. Stockings are a must to make your home feel festive and we've suggested neutral colored stockings with an eclectic homemade look to marry modern farmhouse Christmas look.
Since the dining table is a place of conversation, we don't want anything too bold obscuring your view from guests. We would display some simple tree
figurines with a variation of sizes to create visual interest. We picked a bold plaid table runner for the dining table to create a focal point for great family memories.
Beauti-Tone Color Scheme: Patriot Love NPC44-3, National Parks of Canada Collection; Honey I'm Home SC193-3, 2020 Color of the Year, Simon Chang Collection; Silent Sea C12-1-0515-3; Beauti-Tone, www.beauti-tone.ca
Space Designed by Jamie Banfield, www.jamiebanfield.ca; Wreath, Stockings, Wayfair, www.wayfair.ca; Table Runner, Trees, Nutcracker, The Bay, www.thebay.com
For more great ideas click here.
For more unique items for your home, click shopCHT.com.
The following two tabs change content below.

Award-winning interior designer, Jamie Banfield has become a creative force in the industry, and recognized for his signature West Coast style. Specializing in design for all spaces, with a focus on kitchen and bath, Jamie has the ability to transform and create well-edited spaces that exude both function and beauty. With a passion for textures and sustainable home design, he often uses reclaimed materials, offering a unique perspective to his finished rooms.

Latest posts by Jamie Banfield (see all)