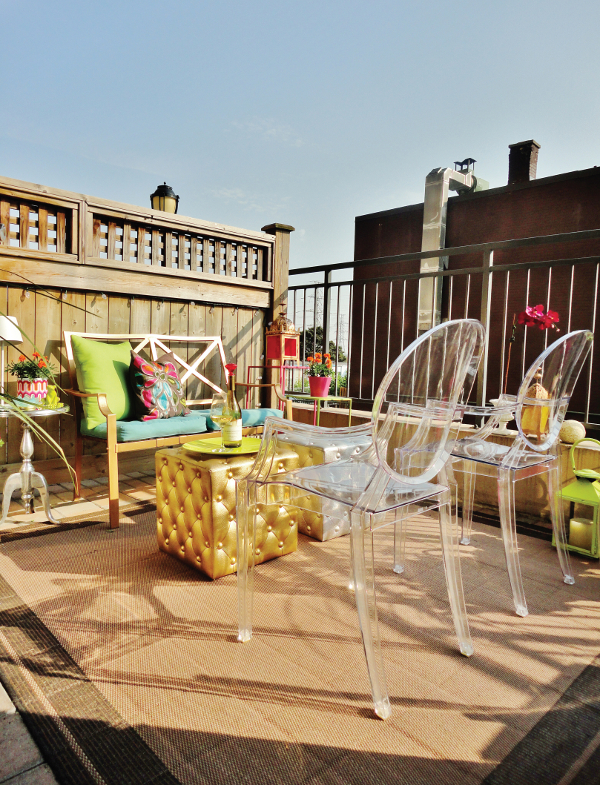 Living in an apartment or high rise condominium doesn't mean you can't enjoy the beauty and serenity of a garden. Creating a balcony garden requires some imagination. Regardless of size, any balcony – even a tiny urban pied-à-terre – can be transformed into a garden paradise worthy of Eden.
On my condominium terrace, I wanted to create something fun and colourful that embraces personality. A careful selection of fabrics and soft furnishings gave me the opportunity to experiment with styles quite different from the rest of the house.
However, keep in mind that the best outdoor spaces are a marriage of a house and garden. I wanted to achieve the feeling that our living room extended to the outdoors so I chose to incorporate pieces that came from the interior of the home – like the ghost chairs and weather resistant gold and silver vinyl tufted ottomans which add to the "Miami-chic vibe".
It comes as no surprise that I have an affinity for recycling so one day during a rainy spring jog, I came upon a discarded patio loveseat. I hurried home and sprayed it in a coat of metallic gold paint. My new robin's egg coloured cushions instantly transformed the loveseat into a stylish one-of-a-kind find proving that one person's garbage is definitely another person's treasure.
I loved the bold colour of the other cushion so I drew inspiration from its fl oral pattern. The cushion was embroidered in the season's hottest trend, neon, and became the root to my entire colour scheme.
When designing an outdoor space, select pieces that can be easily moved when having a dinner party, I can easily move the dining table to the centre of the patio and tuck in two more ghost chairs to comfortably seat a party of six. The glass & aluminum furnishing is ideal as it is light in visual weight to help keep the space light and airy.
To further blur the lines between the indoors and outdoors, I added some decorative accessories often associated with indoor spaces. A stainless steel accent table topped with an inexpensive fl at round mirror reflects the light of an LED solar powered table lamp. A perky petite green frog figurine and beautiful tea light holder completes the look.
At the end of the day whether dining alfresco under a starlit night, enjoying some drinks with friends or simply soaking up the sun, bring your indoors outside. Focus on the finishing touches, re-invent furnishings, and use your colourful imagination to make any outdoor space bloom bright and hot.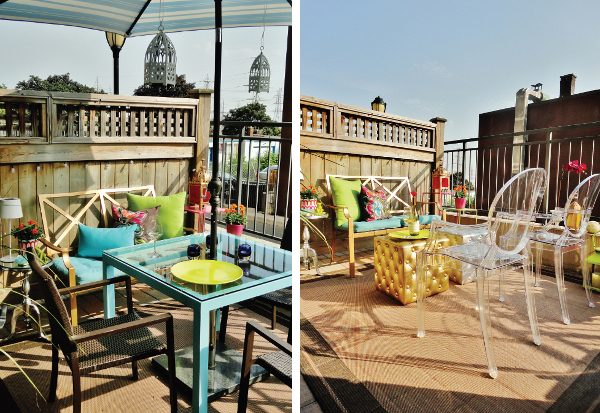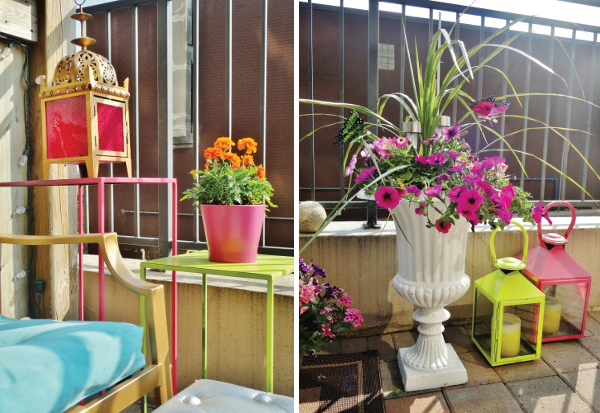 Get The Trend:
Outdoor Rug – Lowes
Solar Powered Lights – Lowes
Flowers, Plants & Herbs – Plant World
Custom Loveseat Cushions – Sun-Brite Draperies
Nesting Tables, Moroccan Lanterns, Floral Cushion – Homesense
Ghost Acrylic Chairs, Patio Set and Chairs – Kitchen Stuff Pluss
The following two tabs change content below.
Nicholas is the DIY Editor for Canadian Home Trends Magazine, an award-winning Designer Decorator, and appears as a guest expert on City TV's CityLine. As Principal Designer, Interior Decorator and Stylist for
Nicholas Rosaci Interiors
, Nicholas creates chic, confident and glamorous spaces that cross the divide between Modern and Traditional.
Latest posts by Nicholas Rosaci (see all)