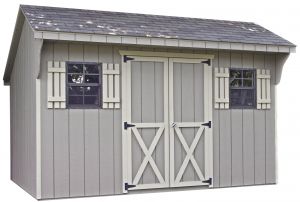 Adding a shed to your property is a great way to add extra storage for lawn and gardening equipment.  You can store your riding lawn mower in a garden shed or simply use it to store some holiday decorations.  But does it really add value to the worth of your home?  This article will explain some of the financial impacts of building or buying a shed for your property.
Although an appraisal of the value of your property may not entirely reflect the value of your shed, having a well-built shed will certainly increase the value of your property.  So the bigger and the better quality sheds will fetch a higher interest and therefore can garner a higher price from a buyer.
However, if you have a dilapidated shed on your property that just looks ugly it can actually take away from the value of your home.  And having multiple sheds that look out of place will also take away from your properties value.  So make sure your shed serves a purpose and is kept in great condition.  Replace any broken windows and keep it painted.  Simple maintenance will keep your shed looking good for years to come and will ensure that it will add value to your home.
When evaluating how much a home is worth, an appraisal will often overlook some of the niceties like a shed or out-building.  But your home is only worth as much as someone is willing to pay for it, and having a nice big shed can be the very thing that pushes a buyer over the edge to commit to make the purchase.  It certainly will not detract any value from the house, and as long as it is taken care of, it can also help to fit the needs of potential buyers, especially if a buyer is wanting to buy a house that comes with a shed.
But in order to know if the value a shed brings is enough to offset the costs of the building, you also need to decide if you want to build or buy a shed.   There are a variety of sheds you can build and you can find shed plans online that will help give you step by step instructions.  It's hard to determine how much the shed will cost to build until you have these plans, so make sure you spend some time getting just the right plans for your project. 
Should you decide to buy a shed that is already assembled you need to consider how much more money it will cost.  Even though it will probably not add enough value to your house to offset what you paid for the shed, it's still a useful building that you can utilize for your equipment and gardening tools until you decide to sell the property someday.
You should check with your local building codes to see if you need a building permit for your shed.  When in doubt it always pays to call to find out for sure.
Bill Thurman is a writer for www.Shed-plan.net which helps consumers find the best shed plans for those who want to build their own sheds on their properties.