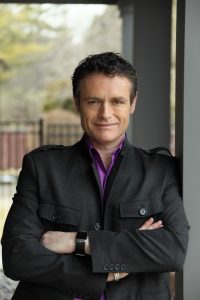 The biggest dilemma when you are working on your place is getting it to look like you spent a bomb when you can only afford a fire cracker. Making choices that will give you big bang for little buck is the trick to making it work. Here are some ways you can make that happen:
Colour is something that can add big punch to your space. Colour blocking in your space creates a dramatic effect. If you do the labour yourself (carefully) it doesn't really cost that much
Go to craigslist and find some furniture that you really like the shape of. Follow that up with a trip to places like designer fabric outlet and find some ends of the roll fabric (often about 9 dollars a yard) and have that great old Bergere Chair recovered in a cool fabric.
An oversized piece of art can have a dramatic effect in a space. Buy a canvas at the local art store and paint it yourself. Tape off sections of the canvas and paint them with normal wall paint. Get more creative if you feel up to it.
An area rug can make a room look centred and grounded. A remnant of carpet with an edge banding of 2.5 inches can do wonders to create a focus to a room. Find something with a pattern and for a couple of hundred dollars it can be yours. Add the edge banding and it will look like a much more expensive piece.
Paint up an old piece of furniture. On old head board or dresser can look fantastic if you paint it with high gloss black paint. You can either spray it, hand paint it or if you have a bit more cash – send it out to be painted.
Covering an entire wall in drapery especially sheers and then lighting those sheers from the back will give you a very dramatic effect. This works especially well in areas that don't have much natural lighting. You can use rope lighting at the top or bottom or floor lights as long as they are hidden from view. Make sure the light source doesn't touch the fabric but washes the wall behind. Instant sunny days!
Of course we all wish we were winning the lottery, but until your numbers come up, try some of these suggestions to keep your happiness up- and the numbers down! Have fun! Nothing is permanent!
The following two tabs change content below.

Canadian Home Trends' National Design Editor, Glen Peloso forged into the world of design 20 years ago after completing his Masters degree in Fine Art. As Principal of
Grafus Design Co.
, he has worked in residential, hospitality and commercial spaces for clients in several countries and has successfully designed over 300 projects in that time. TV Celebrity Designer and Canadian Home Trends National Design Contributor, Glen is also recognized as a design expert on The Marilyn Denis Show and from his past work as a host/designer of the internationally popular television shows Foodnetwork/HGTV`s Restaurant Makeover, and W networks 'Take this House and Sell it', and "Slice Network" show, Renovate my Wardrobe.

Latest posts by Glen Peloso (see all)