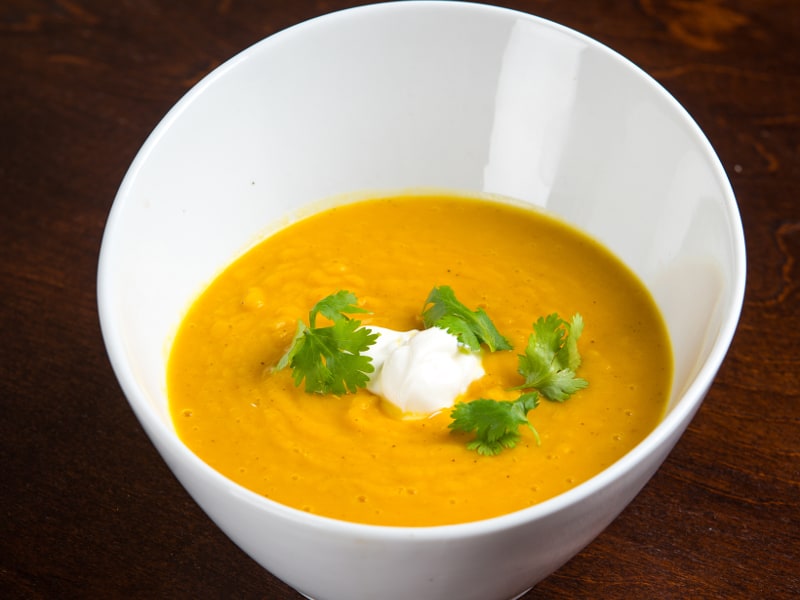 "This soup is rich in flavor and texture. This kiss of curry enchants the butternut squash to make a soup that warms the soul."
INGREDIENTS
3 Tbsp butter
1 yellow onion, chopped
4 garlic cloves, chopped 1Tbsp ginger, minced
3 lbs butternut squash, peeled, seeded, and cut into 1⁄2" pieces
4 cups chicken or vegetable stock
4 sprigs thyme
1 bay leaf
1 ¼ cup coconut milk
1 Tbsp curry powder
½ fresh lime, juiced
1⁄4 tsp freshly grated nutmeg salt freshly ground black pepper, to taste
DIRECTIONS
1. Melt butter in a 6 quart saucepan over medium-high heat.
2. Add onion, sauté for 3 minutes.
3. Add in garlic, ginger, bay leaf and cook for 1 minute.
4. Add diced butternut squash, broth, thyme, and bay leaf.
5. Bring to a simmer and cover.
6. Reduce heat to medium.
7. Cook until squash is very tender (about 30 minutes).
8. Discard thyme and bay leaf.
9. Place hot mixture in Vitamix.
10. Add coconut milk, curry powder, lime juice, nutmeg, and secure the lid.
11. Select variable 1, start your Vitamix and slowly increase to variable 10.
12. Blend for 35-45 seconds, season with salt, and pepper.
Text By Chef Rob Thomas
Photo By Tara Miller