Spring is just around the corner and so is renovation season. It's that time of year when planning begins on new kitchens and bathrooms. So many decisions to make, so many choices… Here's some expert info on how to clear up the confusion and choose the right counter material for your home.
1. Marble
The plus side of marble is it's gorgeous. The down side of marble is that it is more porous than granite and it develops a patina over time, like old bistro tables in Europe. If marble is used in a busy area it will not stay looking new forever. Marble is very fashionable for kitchens these days, but if you do a lot of cooking I don't recommend it. If you spill something like red wine, or anything acidic, marble will etch and stain.
On the other hand, I do love marble in a bathroom. It creates a stunning look and can withstand toothpaste and water a lot better than red wine and vinegar.
2. Granite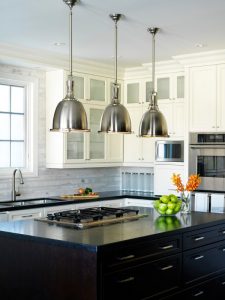 Granite had been one of the most popular choices for kitchen counters, but recently it has fallen out of favour and been replaced by quartz as the material of choice. Granite is extremely durable, less porous than marble, but it is not indestructible. It does have pores and it can stain if not sealed properly.
3. Quartz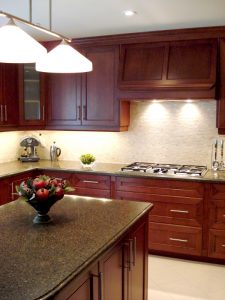 Quartz is sold under a number of different brands. Caesarstone, Silestone, Cambria, and Hanstone are all quartz products. In terms of quality and durability they are all similar, but they differ in aesthetic features and colour.
Quartz slabs are made with about 93% natural quartz, which is one of nature's hardest minerals. They are made by combining small pieces of quartz with binding resins and pigments under extreme pressure. Quartz products are completely non-porous, so there is no bacteria and no staining. They are maintenance free and do not require sealing. Quartz comes in a variety of colours, from solid white to apple green to many different styles resembling an array of natural stones.
4. PaperStone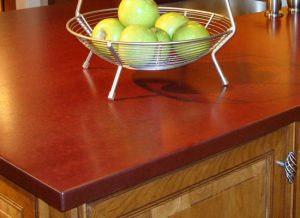 The term PaperStone might seem like and oxymoron, but this warm, leathery looking product is incredibly durable and great in the kitchen. Made from recycled paper and naturally derived resins, it is stronger than granite. Although it does require sealing, PaperStone is stain resistant, abrasion resistant, heat resistant, certified as safe for commercial food preparation, and is entirely environmentally friendly.
5. IceStone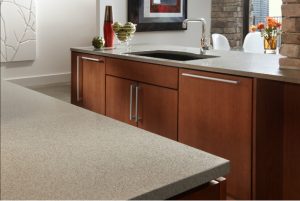 IceStone is technically a concrete surface, but it is made from 100% recycled glass and cement. It comes in a number of colours, is environmentally friendly and highly durable. It is installed and maintained in the same way as natural stone.
Photos:
Granite: Laura Stein Interiors, Photograhy by David Bagosy
IceStone: from www.icestoneusa.com
Paperstone: from www.paperstoneproducts.com
Quartz: Laura Stein Interiors
The following two tabs change content below.


Latest posts by Laura Stein (see all)