Renovating a kitchen or bathroom is one of the best ways to add value to your home, but it is also one of the most expensive home improvement projects. That means getting it right the first time is essential. With many details to consider and decisions to make, the best way to ensure your renovation's success is to start with a carefully conceived plan.
Before you even begin to think about aesthetics, start by considering the functionality of your space. Who is going to use it and when? How many people? What kinds of things do you need to store? Are there any special considerations or accommodations to make? It's a good idea to work with a design professional and contractor to help configure your room in a way that meets all your needs.
Once you've got the layout nailed down, start thinking about the look. Study pictures in magazines for inspiration and hone in on the details you love. Are you going for a sleek and contemporary or traditional look? Do you want a bright and airy space or a dramatic one? It's important to know your overall goal to keep your planning on track and prevent you from becoming overwhelmed.
To create a designer look, consider all the elements grouped together before settling on any one. Each finish you choose should contribute to the overall aesthetic. Add in details like furniture-style, cabinet legs, built-up counter edges, sculptural faucets and stunning light fixtures.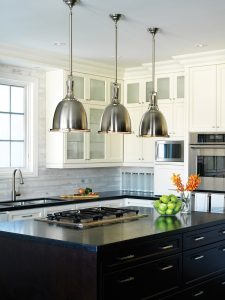 Counters
To add the most value to your home, install the best quality counter surface you can afford. If it works with your budget, stone is the way to go. Granite, marble and quartz are the most common options, but not all types of stone are created equal.
Marble wins the most points for beauty, but it is also the most porous of the three. If you install marble in your kitchen, be prepared for it to stain and patina over time. Marble is a great option for a bathroom because there is no messy cooking, which means no stains. Granite is a harder stone with tighter pores, but contrary to popular belief, granite is not indestructible. It still requires yearly sealing and can stain if not maintained properly. Quartz is a great product in terms of durability. It is virtually non-porous and requires no maintenance.
Tile
When it comes to tile, there are literally thousands of options and just as many price-points. Marble mosaics top the trend list for both bathrooms and back splashes, but can come with hefty price tags. For a sophisticated look on a shoestring budget, go for a simple white subway tile. It's classy and clean with an approximate price of $3.00/square foot.
Lighting
Kitchens and bathrooms require various levels of lighting. In the bathroom, opt for two sconces on either side of the mirror rather than one above. Not only does it look more elegant, it also provides more even lighting for applying make-up or shaving. In the kitchen, be sure to install under-cabinet task lighting and use pendants above an island or peninsula. Put all your overhead lighting on dimmers. Lighting can really make or break a room, so take your time to find fantastic fixtures.
The following two tabs change content below.


Latest posts by Laura Stein (see all)