Design and Event Editor Evelyn Eshun creates two contrasting looks using Benjamin Moore's 2020 Color of the Year, First Light! Photography by Larry Arnal.
BOLD & EDGY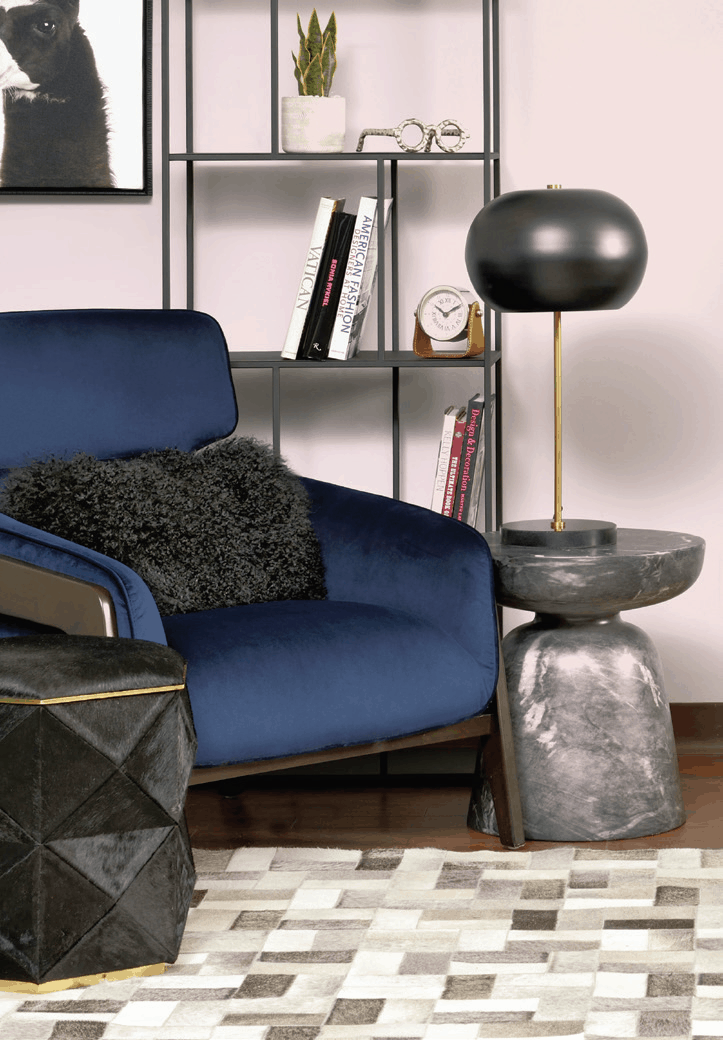 For this look, I chose Maximus, a chair with bold lines and color that contrasts against the softness of First Light. Though the chair has strong clean lines that pay homage to a Mid-century Bauhaus design, the curves give it the softness which makes it perfect for cozy sitting. I chose a bookshelf with a thin metal frame in a black finish that creates an edgy look against the soft pink First Light color of the wall and creates a strong, bold signature in the space. A Mid-century inspired table lamp with a touch of gold and the accessories on the shelf give this look a bold yet light hearted feel.
SOFT & GLAM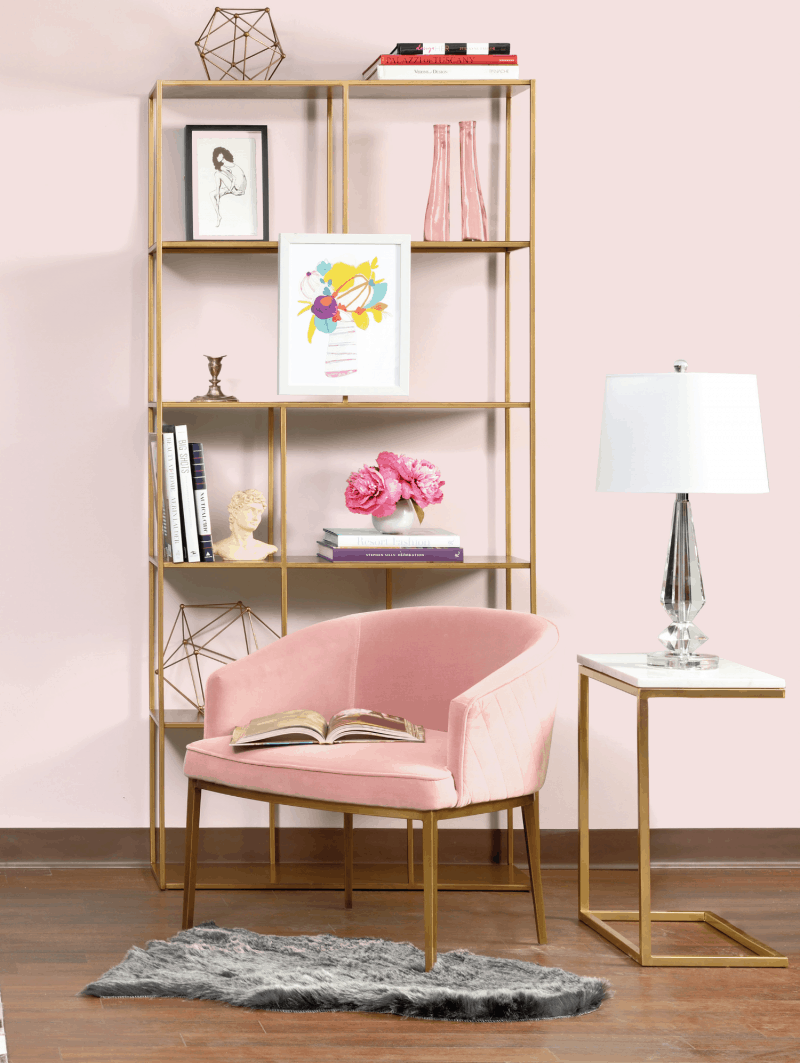 For this look, I focused on a monochromatic color scheme inspired by First Light with an accent of warm brass and gold. I wanted the look to feel inviting and cozy while still having a very fashion forward look. I selected the Cornella Lounge Chair in blush pink with quilting details on the back of the chair, soft velvet fabric and simple, slim legs. A chair like this can be added for a pop of color and personality to any space. The Eiffel bookshelf is sculptural and allows for creative expression in how accessories are arranged. A bold shot of color from the peonies adds to the softness of this space.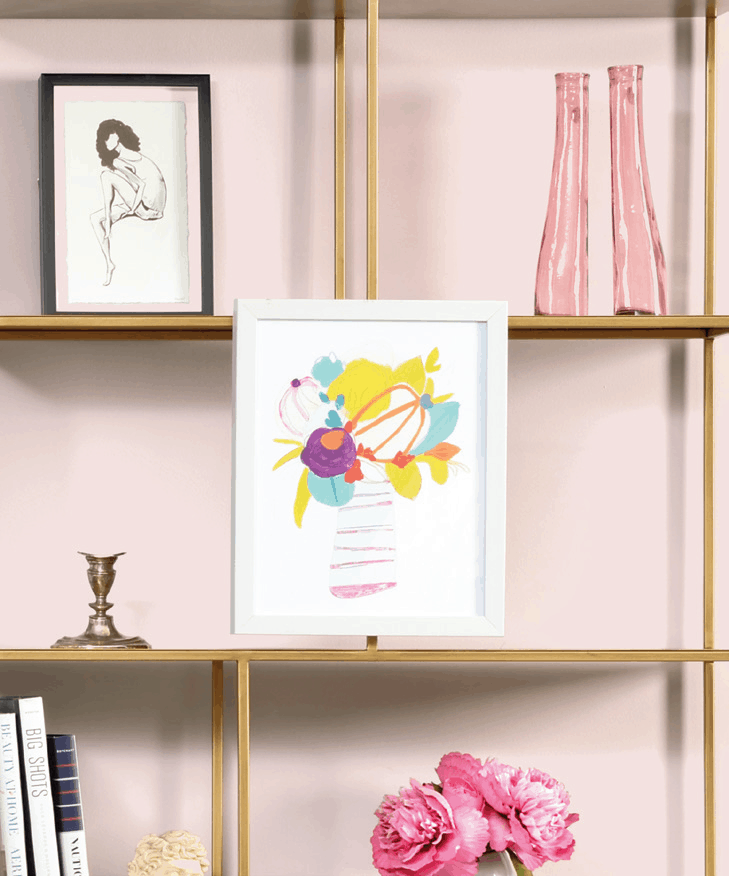 Get creative with artwork! You don't need to settle for frames that sit on the shelf. Play around with artwork that either leans on the wall behind or hangs on the front of the bookcase for added interest.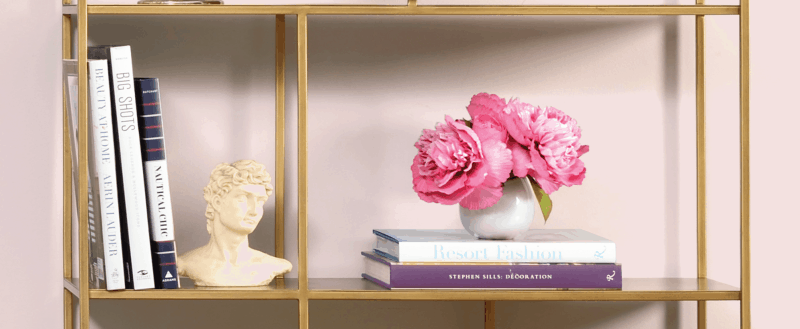 Books can be placed vertically or horizontally. Consider the color of the spine as an added décor detail.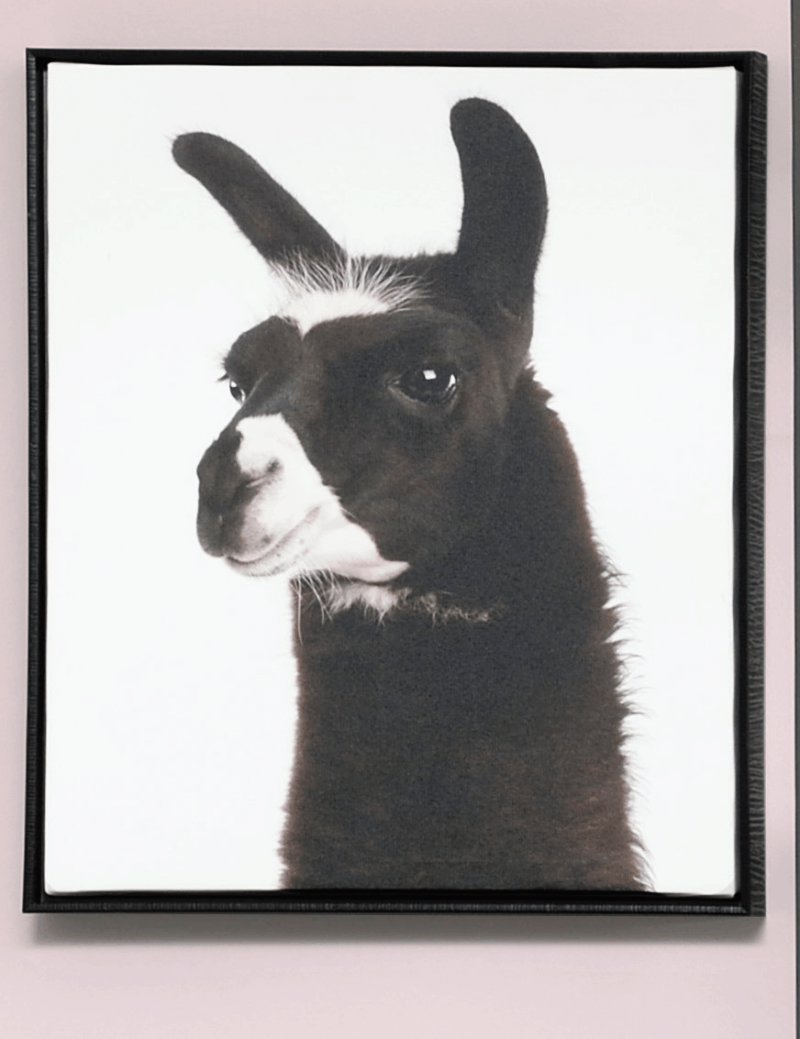 Art always adds personality! This llama will make anyone smile, even on the cloudiest day!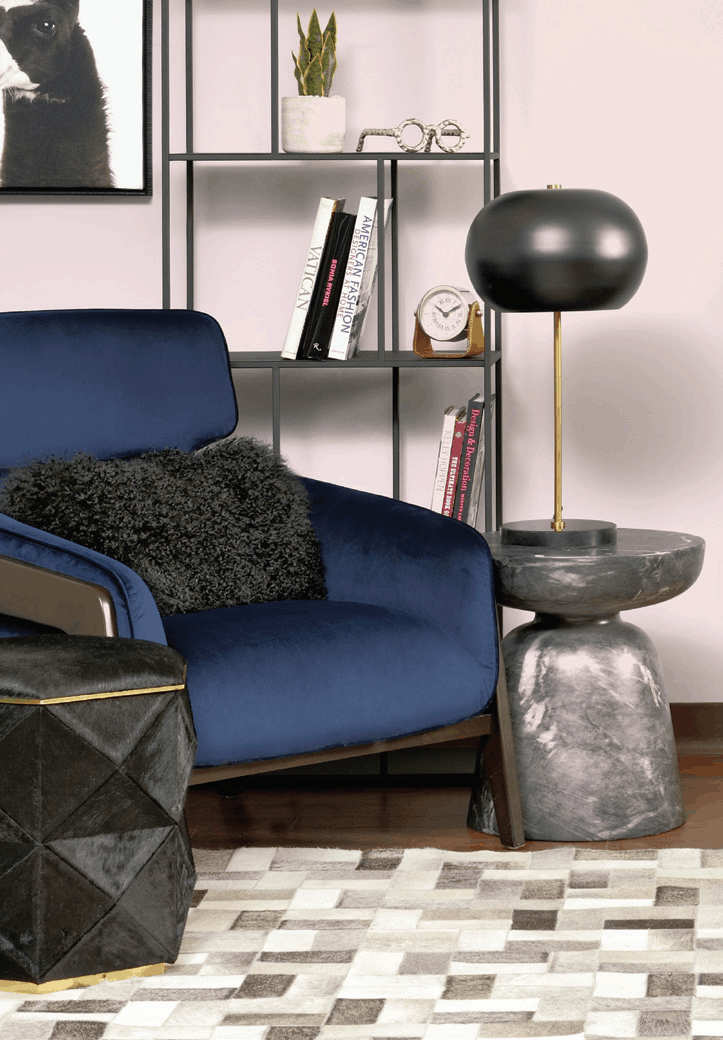 An end table which looks like a solid chunk of marble with the softness of gentle curves is perfect for any nook in your home.
Furniture, Sunpan, www.sunpan.com; Artwork and Accessories, HomeSense, www.homesense.com; Space designed by Evelyn Eshun, www.evelyneshun.com
First Light

First Light is a warm, rosy pink that is upbeat, happy and allows for a lot of personal expression. "Today's changing technology, environmental concerns, and cultural and economic influences are all shaping how we live. More than ever, we expect the home to provide security, comfort, community, self-expression, and optimism. So we said, what are some of the colors that would really help with that?" says Hannah Yeo, Color & Design Manager at Benjamin Moore & Co when asked why this color was selected for I find that this color lends itself well to a variety of design styles and works very well with the Mid-century modern vibe behind this issue's Double Take! – Design & Event Editor, Evelyn Eshun, www.evelyneshun.com
The following two tabs change content below.

Evelyn Eshun has been providing creative Interior Design solutions for her Residential Clients in the Toronto area for over a decade. Principal Designer at
Evelyn Eshun Interior Design
, Evelyn has participated in various Television programs over the years in addition to her Design business. With a passion for design and travel, Evelyn has translated her extensive and various experiences into a design philosophy which puts the Client's needs and functional needs first. Always striving for a unique and personalized solution for each Client, Evelyn prides herself on creating interiors which will stand the test of time. Whether transforming an old and tired property into a vibrant home or simply finishing a home with the decorating touches which make a house a home, the goal is always to collaborate with Homeowner, Trades and Suppliers to finish the project successfully.

Latest posts by Evelyn Eshun (see all)