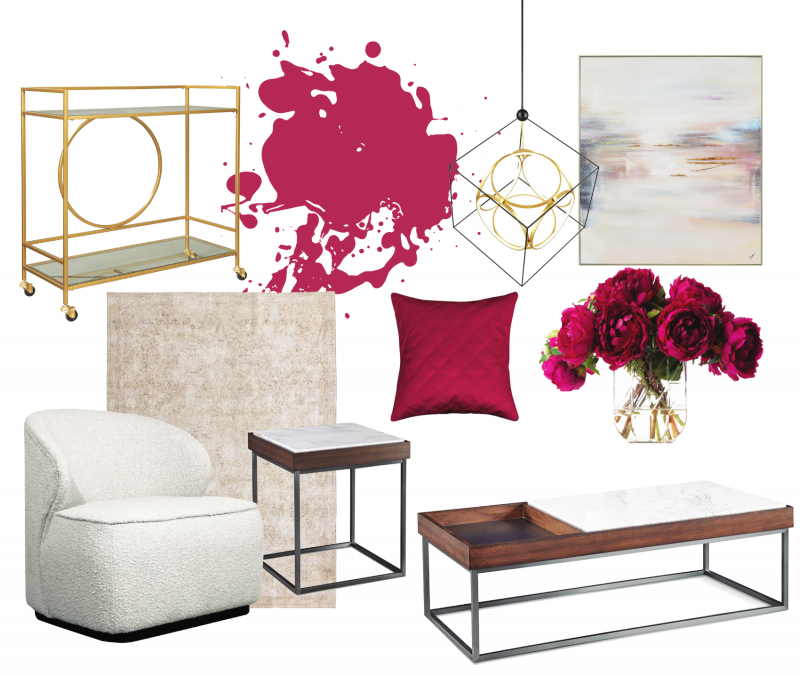 Design by: Marc Atiyolil, Editor-in-Chief
While we often encourage people to embrace trendy colors in a cautious way, sometimes going bold is just a lot more fun! If you'd like to embrace a trendy color in a bold way without making a permanent commitment, look to your walls. For this space, I envision a room painted in Viva Magenta, Pantone's 2023 Color of the Year! Furnishings and décor in luxurious finishes and neutral colors give the space a high-end look without competing with the bold wall color. A few simple, inexpensive pops of color in the space help keep the feeling cohesive without overwhelming the eye. In the future, when you tire of the color, simply repaint the walls and you have a whole new look without having to redecorate the room! 
Sources:
Lighting Living Lighting www.livinglighting.com
Artwork, Renwil, www.renwil.com
Bar Cart, Sofa Land, www.sofaland.ca
Rug Rugs.ca www.Rugs.ca
Flowers Etsy www.etsy.com
Pillow Wayfair www.wayfair.ca
Chair Hauser www.hauserstores.com
Tables Sofa Land www.sofaland.ca
The following two tabs change content below.

Marc Atiyolil is the editor-in-chief of the home décor publication, Home Trends Magazine. His charismatic, down to earth approach can be seen first hand as the co-host of the Marc & Mandy Show airing on networks across North America. His mantra, "Be bold, be different, be unique – Yet keep it simple" is reflected in all of his work. Marc is an avid promoter of breaking down the myths of design and offering simple alternatives to complicated design processes.

Latest posts by Marc Atiyolil (see all)