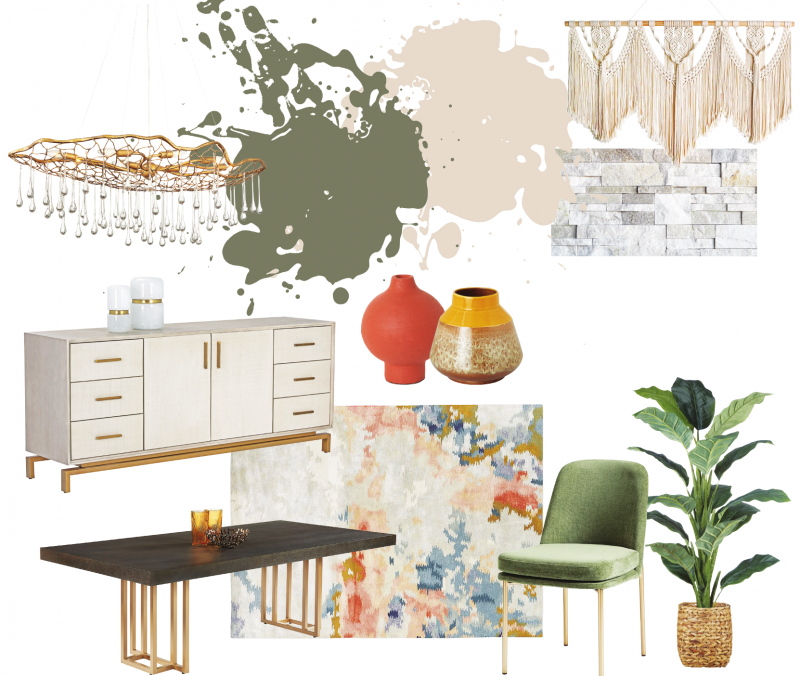 As we look more towards nature for our design cues, mixing luxurious finishes with natural details is becoming a common design challenge. In this dining room, I started with a stone veneer feature wall and a nature-inspired color palette of green, blue, cream, brown, yellow and terracotta. Choosing luxurious details like velvet, gold and crystal brings a glamorous feel to the space while natural textures, fibers and plants bring that earthy freshness to the room.
SOURCE INFORMATION:
Design By: Marc Atiyolil, Editor-in-Chief
The following two tabs change content below.

Marc Atiyolil is the editor-in-chief of the home décor publication, Home Trends Magazine. His charismatic, down to earth approach can be seen first hand as the co-host of the Marc & Mandy Show airing on networks across North America. His mantra, "Be bold, be different, be unique – Yet keep it simple" is reflected in all of his work. Marc is an avid promoter of breaking down the myths of design and offering simple alternatives to complicated design processes.

Latest posts by Marc Atiyolil (see all)