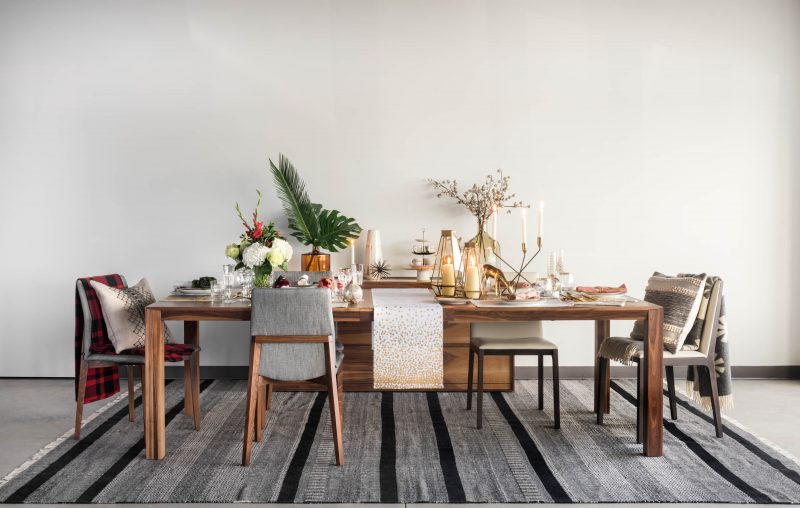 Design and Event Editor Evelyn Eshun visited the Modo North America showroom and put together two completely different holiday looks using a gorgeous Huppé table as her inspiration.
"My overall goal was to create two elegant and timeless looks with one being sassy and youthful in its expression while the other was more formal and reserved." – Evelyn Eshun, Designer
The Good Ol' Days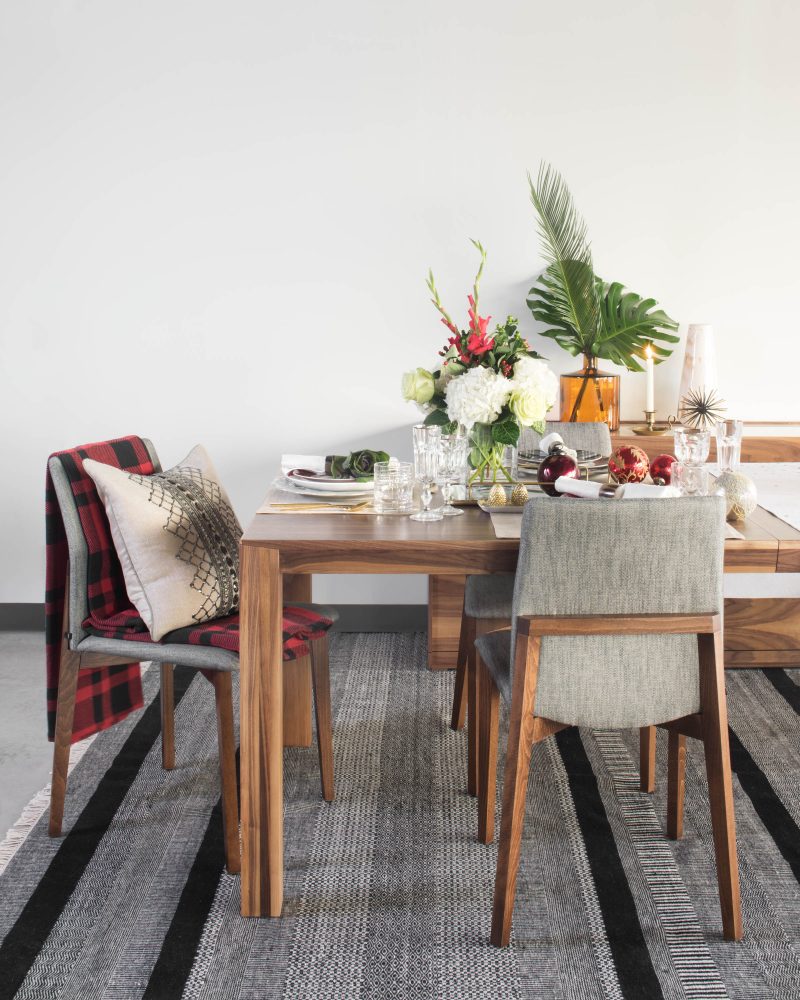 FRESH HYDRANGEAS, ROSES AND PUNCHY RED GLADIOLUS anchor the formal table setting.
CLASSIC PLAID adds a traditional pattern without overwhelming the eye.
THESE HUPPÉ CHAIRS are contemporary, but the menswear textured fabric makes them fitting for this traditional look.
HOLIDAY TREE ORNAMENTS look great on the table.
Modern Twist

THE SAME CONTEMPORARY CHAIRS are used but this time they are finished in a cream leather for a more streamlined look.
A MID-CENTURY MODERN STYLE CANDELABRA is airy and architectural while bringing candlelight to the table.
ACORNS sprayed with a champagne metallic finish sit in a glass vessel.
A TIERED SERVER used for after dinner espresso is both sculptural and functional.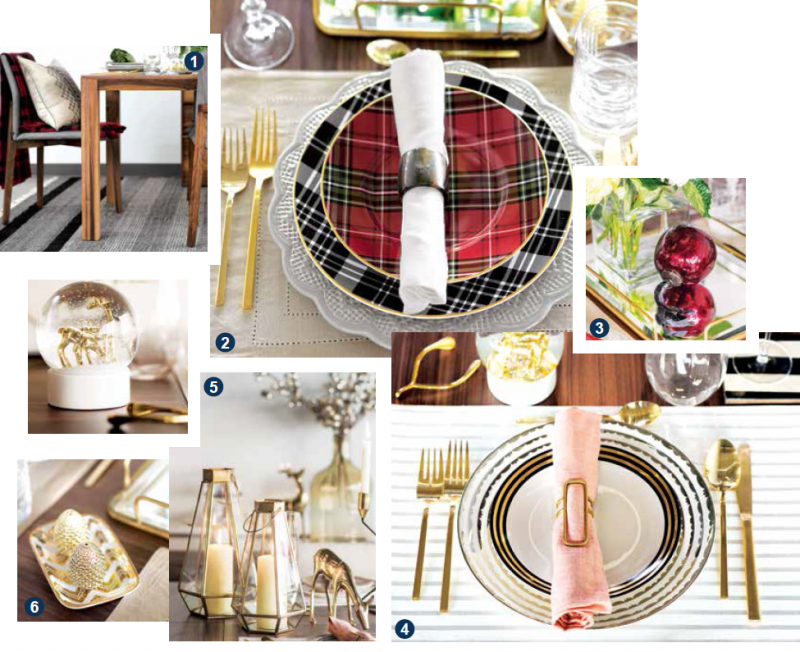 Evelyn's Holiday Decor Tips:
This classic parsons-style table by Huppé is contemporary and has a handsome, natural, walnut finish. The clean lines of the piece express the casual fashion in which we like to live. The exquisite details in its craftsmanship is remarkable.
The flatware used in both tablescapes shows the versatility of mixing a traditional, gold finish with contemporary lines. When used in a traditional table setting, the brushed gold helps reinforce the traditional style yet the simple lines make the flatware versatile enough to use in a contemporary setting. We layered the table setting with linen place mats and imitation bone napkin rings.
A beautiful mirrored tray is not only useful during a dinner party but helps reflect the colours and textures found on the table.
In the contemporary tablescape, you will find formal pieces such as classic metal rimmed plates and gold flatware mixed with fun polka dot glassware and whimsical patterns. Casually striped coasters and place mats are finished with metallic details for a holiday feel. A shot of pink in the salad plates and linen napkins is beautifully accentuated with brushed gold hammered napkin holders which can be used year-round on your table or to hold a set of scarves together in your closet.
Accessories such as gold reindeer and holiday themed snow globes take the place of a traditional floral arrangement in our contemporary setting.
Gold pinecone salt and pepper shakers could easily sit in either table setting. These fun details are great conversation starters at a dinner party!
Behind the Scenes
The location for our holiday Double Take photo shoot was at the Modo North America Inc. showroom in Vaughan, Ontario. "Working with Pino and Lenny was a pleasure! They have so much passion for the unique products which they will be supplying through Modo North America." says designer Evelyn Eshun.
WHAT YOU'LL FIND AT MODO NORTH AMERICA
CUSTOM CONTEMPORARY KITCHENS ALNO is a German contemporary brand that boasts eighty-eight years of German sophistication, simplicity and luxury that is inspired by quality and driven by distinction.
CUSTOM TRADITIONAL AND TRANSITIONAL KITCHENS Elmwood Kitchens offers a Canadian crafted product that has the word "custom" ingrained into its spirit and delivers an exquisitely beautiful kitchen every time.
FURNITURE FOR YOUR ENTIRE HOME To complete the "total package" experience, Modo offers furniture by renowned Canadian manufacturer HUPPÉ. Displaying artistic creativity of functionality and design, HUPPÉ is a leader in modern and contemporary furniture.
Modo brings style, class and industry leading design to every room in your home and it was a pleasure working with them on this issue's Double Take!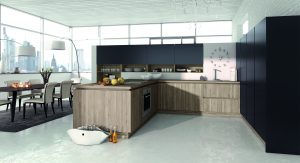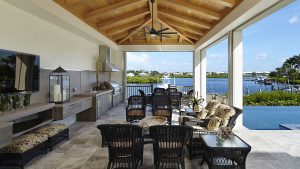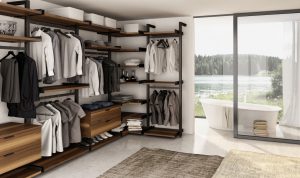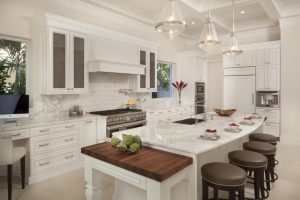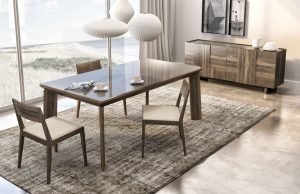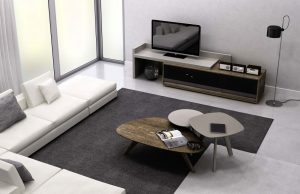 Source Guide:
Designed by Evelyn Eshun, www.evelyneshun.com;
Photography Stephani Buchman, www.stephanibuchmanphotography.com;
Table, Chairs, and Buffet, Modo North America, www.modonorthamerica.com;
Area Rug, Plaid Plates, Mirror Tray, Ornaments, Coasters, Place Mats, Pillows, Throws, Hurricane Candle Holders, Small Gold Plates, Glasses, HomeSense, www.homesense.ca;
Contemporary Plates, Reindeer, Wishbone, Napkin Holders, Tiered Plates, Flatware, Snow Globes, Napkins, Acorn Salt and Pepper Shakers, West Elm, www.westelm.com;
Candelabra, Designer's own from Renwil, www.renwil.com;
Floral Arrangement, Evelyn Eshun, www.evelyneshun.com
The following two tabs change content below.

Evelyn Eshun has been providing creative Interior Design solutions for her Residential Clients in the Toronto area for over a decade. Principal Designer at
Evelyn Eshun Interior Design
, Evelyn has participated in various Television programs over the years in addition to her Design business. With a passion for design and travel, Evelyn has translated her extensive and various experiences into a design philosophy which puts the Client's needs and functional needs first. Always striving for a unique and personalized solution for each Client, Evelyn prides herself on creating interiors which will stand the test of time. Whether transforming an old and tired property into a vibrant home or simply finishing a home with the decorating touches which make a house a home, the goal is always to collaborate with Homeowner, Trades and Suppliers to finish the project successfully.

Latest posts by Evelyn Eshun (see all)