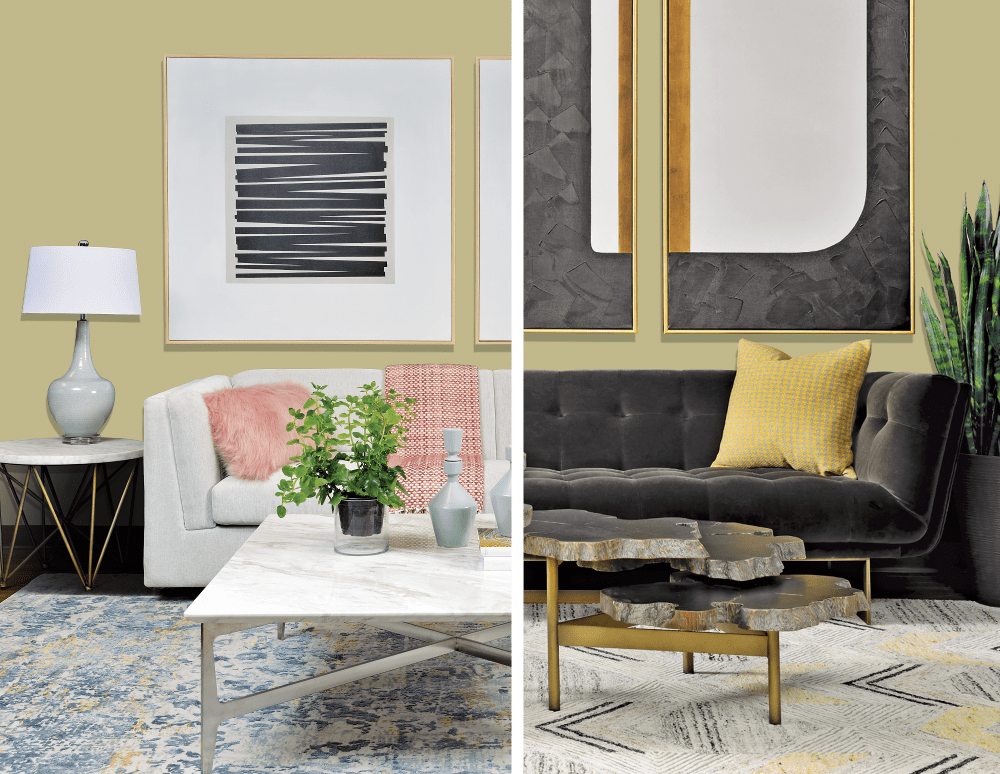 Design and Event Editor Evelyn Eshun visits SUNPAN to create two stunning looks using Beauti-Tone's color of the year, Green Peace. – Photography by Larry Arnal
The color of the year, like all meaningful color, evolves from what is happening in our lives and the world around us. Right now, many of us are craving simple calm. Green Peace is a soothing and balancing color with strong energy that creates a sense of ease and peace. It quiets the noise and intensity of life and creates a gentle, nurturing space in which to replenish, restore and renew. – Bev Bell, Beauti-Tone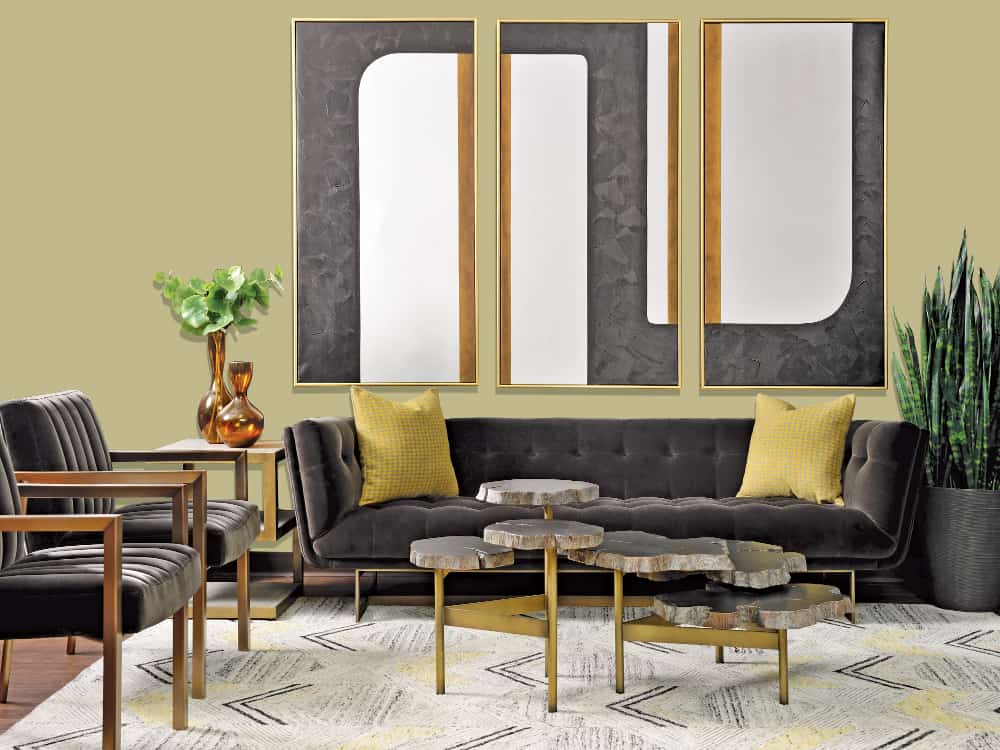 Moody & Bold Glamour
This look uses the calming effects of Green Peace to add balance to a bold, eclectic space with a touch of mid-century influence.
Evelyn's Design Tips:
PLACING A SIDE TABLE AND COFFEE TABLE TOGETHER creates a bold yet flexible display.
A TRIPTYCH OF CONTEMPORARY LARGE ART brings a modern and dramatic element to this look.
THE WARM UNDERTONE OF GREEN PEACE IS ECHOED in the mustard accents which create harmony between the metal and fabrics.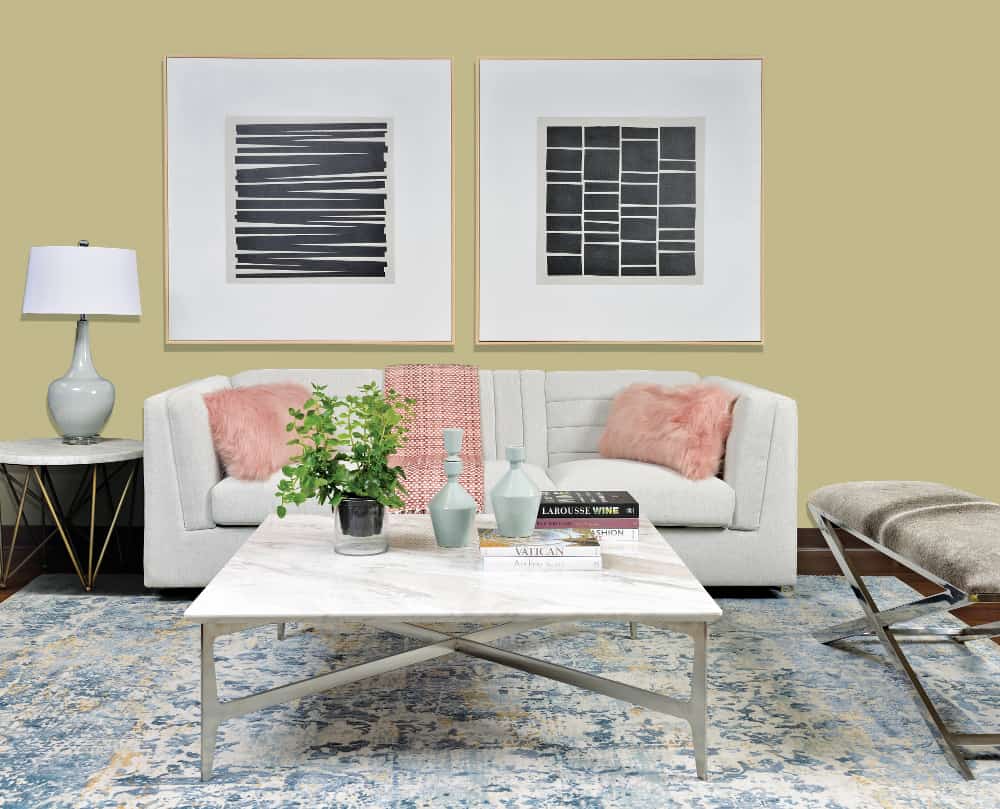 Bright & Feminine
This look plays off the natural, earthy tones of Green Peace to create a soft yet glamorous space with a touch of femininity.
Evelyn's Design Tips
THE LAMP SHAPE IS NATURAL AND ORGANIC which complements the paint color.
WOOD FRAMES LOOK SOFT AGAINST THE GREEN PEACE WALL while the black and white graphics create drama.
THIS COWHIDE BENCH IS LARGE ENOUGH FOR TWO and can double as a table in a pinch, perfect for a small space.
GET THE LOOK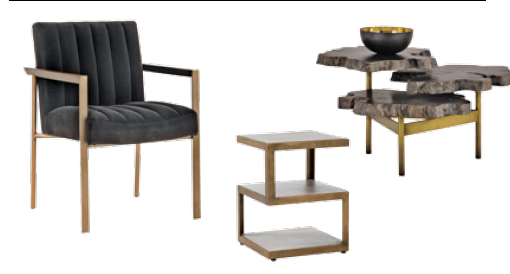 Pair Green Peace with dramatic colors, luxurious textures and gold finishes for a mid-century modern look that is both luxurious and inviting. – Nuri Coffee Table, Whilhelmina Armchair, Rubix End Table, SUNPAN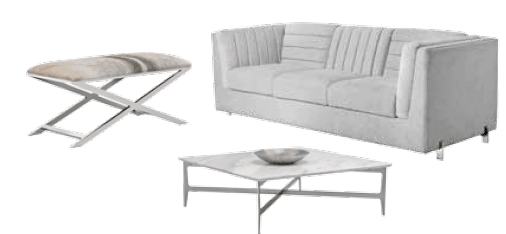 Pair Green Peace with a mix of natural textures and modern, clean lines for an eclectic, urban look that feels breezy and carefree. – Park Ave Sofa, Clearwater Square Coffee Table, Sahara Bench, SUNPAN
MORE COMBOS WE LOVE
We love these ideas for color palettes featuring Green Peace by Beauti-Tone.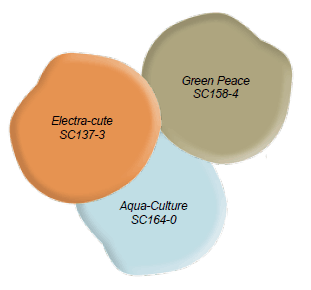 Adding a dash of orange and teal creates a lively and fun space.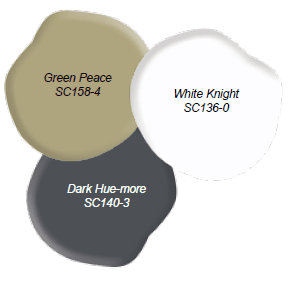 A dramatic, deep blue with crisp white accents creates a neutral palette with plenty of contrast.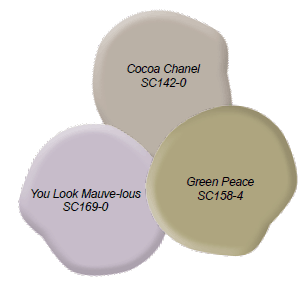 A palette of earthy tones and pastels creates the feeling of a lovely spring garden.
The following two tabs change content below.

Evelyn Eshun has been providing creative Interior Design solutions for her Residential Clients in the Toronto area for over a decade. Principal Designer at
Evelyn Eshun Interior Design
, Evelyn has participated in various Television programs over the years in addition to her Design business. With a passion for design and travel, Evelyn has translated her extensive and various experiences into a design philosophy which puts the Client's needs and functional needs first. Always striving for a unique and personalized solution for each Client, Evelyn prides herself on creating interiors which will stand the test of time. Whether transforming an old and tired property into a vibrant home or simply finishing a home with the decorating touches which make a house a home, the goal is always to collaborate with Homeowner, Trades and Suppliers to finish the project successfully.

Latest posts by Evelyn Eshun (see all)