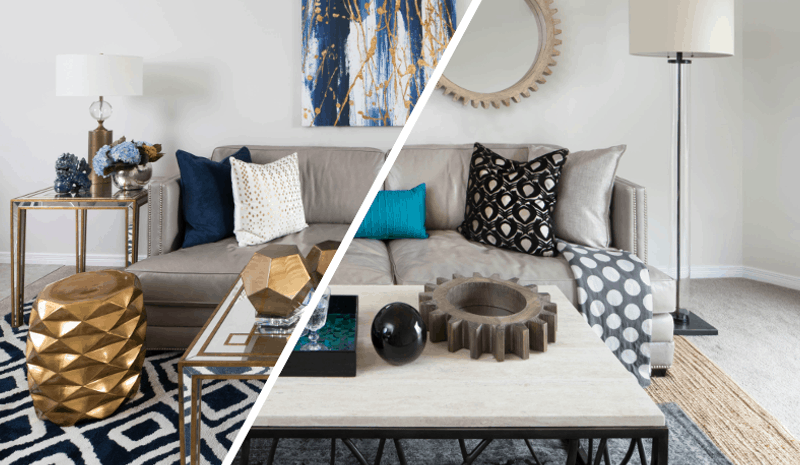 Canadian Home Trends Magazine Design and Event Editor Evelyn Eshun shares her secrets on how you can create various looks using the same sofa. (Photographed by Stephani Buchman)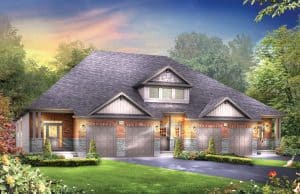 The Location: The Emerald at Huron Landing in Kitchener provided the perfect backdrop for our photo shoot. This 1,457 sq. ft. garden bungalow condo built by Eastforest Homes offers a carefree condominium lifestyle in peaceful surroundings featuring acres of protected forests interconnected by an abundance of trails and pathways. Starting at just $299,990, The Emerald offers 2-3 bedrooms with 2 bathrooms and can be customized to suit.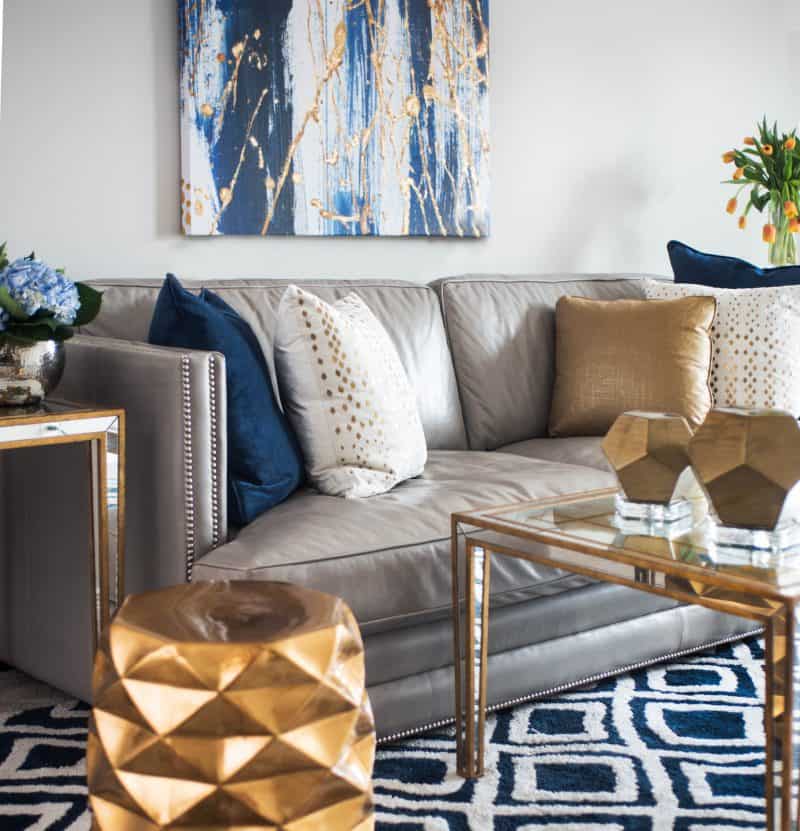 The Anchor Piece: We choose a grey leather sofa with nickel studs from Zilli Home as our anchor piece. This classic style sofa is a wise investment, allowing you to style it as you wish for years to come. The slim arms on the sofa also provide for maximum seating area.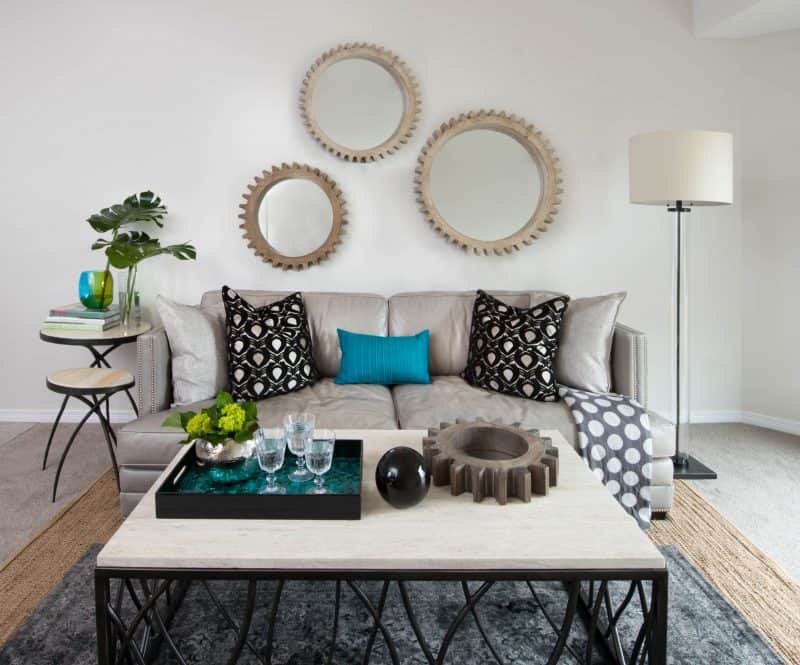 The Sophisticated Rustic Look: The goal with this look was to create a casual yet sophisticated space that mixes textures and shapes to create a comfortable family space. Travertine, onyx, seagrass, wood, leather and velvet are combined beautifully to create a space which is functional and full of personality.
We layered a traditional antique washed Persian rug over a casual textured seagrass rug and topped it with a table that featured a wrought iron base shaped like an outdoor railing for added interest. Tropical leaves on the side tables create a simply, architectural element in place of a traditional floral arrangement and best of all, they last at least four weeks! We brought in a touch of whimsy with a collection of washed wood mirrors on the wall in the shape of gears. We finished off the look with a few pops of colour to break up the overall neutral look and elegant black burnt out velvet and feather pillows for a luxurious touch.
DESIGNER'S TIP: Don't be afraid to break the rules! When we needed something on the coffe table, we used one of the mirrors from the collection on the wall. Just because it is meant for the wall, doesn't mean you can't use it as a table ornament!
The Casual Luxury Chic Look: The goal with this look was to create a fresh yet glamourous look that will combine the classic elements of a formal space with contemporary pieces which make the space approachable and full of personality. Navy blue and gold combine within the space to create an elegant, luxurious look.
A graphic carpet makes a strong style statement with movement and contrast while antique mirror tables with gold detailing bring classic elegance to the space. A barcart is a useful piece of furniture in any space. It doubles as a table, a serving tray or a display area. It is one of the most functional pieces you can have in a room. To balance the seriousness of the tables and give the space a more whimsical feel, we hung a fresh, playful, contemporary canvas art piece above the sofa. To finish the look, we placed a few fresh floral arrangements around the room.
DESIGNER'S TIP: Flowers are the universal symbol of spring and flowers are a wonderful way to bring a touch of spring indoors.
A PEEK BEHIND THE SCENES:
Sources:
The following two tabs change content below.

Evelyn Eshun has been providing creative Interior Design solutions for her Residential Clients in the Toronto area for over a decade. Principal Designer at
Evelyn Eshun Interior Design
, Evelyn has participated in various Television programs over the years in addition to her Design business. With a passion for design and travel, Evelyn has translated her extensive and various experiences into a design philosophy which puts the Client's needs and functional needs first. Always striving for a unique and personalized solution for each Client, Evelyn prides herself on creating interiors which will stand the test of time. Whether transforming an old and tired property into a vibrant home or simply finishing a home with the decorating touches which make a house a home, the goal is always to collaborate with Homeowner, Trades and Suppliers to finish the project successfully.

Latest posts by Evelyn Eshun (see all)