Did you notice the zest and emotion with which we all received the final arrival of SPRING!!! We whole heartedly embrace this season because of the misery we endure for most of the year…is that too dramatic? Not at all…we deserve to have fabulous backyards and gardens.
Garden Architecture should not be an after-thought. There are so many ways to not only express yourself in your landscape design, but to add functionality.
I love the look of a Pergola; it is a structure which can add shade as well as a room within your outdoor space.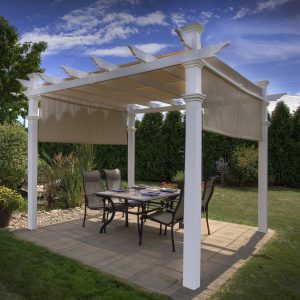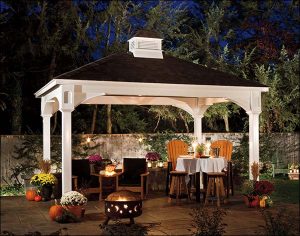 A garden on legs is perfect for a balcony or porch area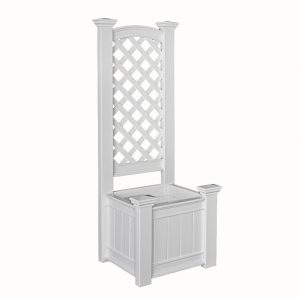 Adding Birdbaths to attract the sweet songs of local birds will bring nature to your space.
Fountains are a classic addition to your landscape plan, whether Versailles inspired…
or contemporary.
Don't be fooled, the cool weather will sneak up on us now and then…adding heat lamps will prevent Mother Nature from chasing you indoors.
Firepits are becoming all the rage…I am a huge fan..it can be gas powered or ethanol for a more cost effective solution.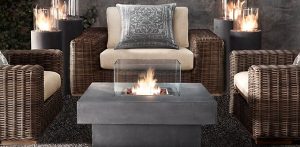 Planters can really set the tone for your style
Finally, statuary, the French use it everywhere, and as we all know, the French are the Masters of Design and Decoration. I love the greyhounds and random architectural elements which can be placed within the space for added artistic value.
Don't forget lighting…without it, you will not be able to enjoy the evenings which can be the best time in your backyard or balcony area.
When designing your backyard..the rules are not much different than what you would do indoors, traffic flow,, focal points, conversation areas , and work areas…extend your living space to the outdoors, make the best of it, like anything good, it does not last long.
Photos Courtesy of  Restoration Hardware and New England Arbors
The following two tabs change content below.

Evelyn Eshun has been providing creative Interior Design solutions for her Residential Clients in the Toronto area for over a decade. Principal Designer at
Evelyn Eshun Interior Design
, Evelyn has participated in various Television programs over the years in addition to her Design business. With a passion for design and travel, Evelyn has translated her extensive and various experiences into a design philosophy which puts the Client's needs and functional needs first. Always striving for a unique and personalized solution for each Client, Evelyn prides herself on creating interiors which will stand the test of time. Whether transforming an old and tired property into a vibrant home or simply finishing a home with the decorating touches which make a house a home, the goal is always to collaborate with Homeowner, Trades and Suppliers to finish the project successfully.

Latest posts by Evelyn Eshun (see all)