Glamorous office design is like a signature and makes this office design truly unique. From its intriguing and glamorous color palette of dark inky purple to the modern glossy bright white work surfaces, I set out to create a glamorous home "think tank" for a fashion-conscious homeowner that stands out with functionality, elegance, and above all personality.
Glamorous Office Design by Nicholas Rosaci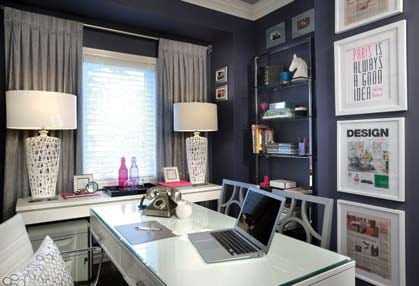 Image 3 of 5
Two luxe white cutout lamps provided symmetry and proportion that draws the eye up, while the white shade and base complement the custom neutral grey drapery behind.

A large mirror catches and reflects the light, opens the space, and discreetly sits behind a reading chair. The chair was custom upholstered in a Robert Allen fabric and embellished with crystal details. It evokes a timeless sophistication and is the perfect place for quiet contemplation or to make a chic call.

Bookshelves offer limitless styling possibilities and the stunning chrome and glass wall mounted bookcase provided a contained framework for highlighting a few treasures and more personal mementos.
For more great tips, click here.
To shop for home decor ideas, click here.
The following two tabs change content below.
Nicholas is the DIY Editor for Canadian Home Trends Magazine, an award-winning Designer Decorator, and appears as a guest expert on City TV's CityLine. As Principal Designer, Interior Decorator and Stylist for
Nicholas Rosaci Interiors
, Nicholas creates chic, confident and glamorous spaces that cross the divide between Modern and Traditional.
Latest posts by Nicholas Rosaci (see all)