Glamorous office design is like a signature and makes this office design truly unique. From its intriguing and glamorous color palette of dark inky purple to the modern glossy bright white work surfaces, I set out to create a glamorous home "think tank" for a fashion-conscious homeowner that stands out with functionality, elegance, and above all personality.
Glamorous Office Design by Nicholas Rosaci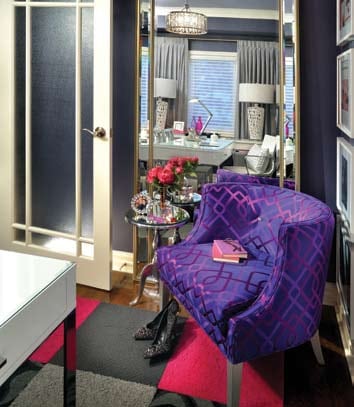 Image 5 of 5
This office dares to be different by letting personality rule in addition to being practical. The homeowner was thrilled with a space that is absolutely more than "just an office"- it is a beautiful personal space with thoughtful planning and glam touches that re-energizes and reminds us to go beyond the utilitarian and set the stage to make a chic and welcoming luxe impression.
For more great tips, click here.
To shop for home decor ideas, click here.
The following two tabs change content below.
Nicholas is the DIY Editor for Canadian Home Trends Magazine, an award-winning Designer Decorator, and appears as a guest expert on City TV's CityLine. As Principal Designer, Interior Decorator and Stylist for
Nicholas Rosaci Interiors
, Nicholas creates chic, confident and glamorous spaces that cross the divide between Modern and Traditional.
Latest posts by Nicholas Rosaci (see all)