Kym, RESA Member and owner of Prep This House, is an interior designer with a passion for home staging and cottage/shabby-chic decor. Today I interviewed Kym and she shared a little about her design background, why she choose Home Staging as a career and what her favorite home decor trends are right now. Read on to see what Kym had to say. – Crystal Williams
Kym at Home
Have you always had an interest in home decor?
Yes, as long as I can remember, I have always LOVED creating beautiful spaces. It drove my family crazy on Saturday mornings, with the music blaring and furniture being moved around all over the floor!
How would you describe your personal decor style?
I am totally eclectic.. I LOVE a little bit of everything! I am wanting to create a more 'cottage meets shabby-chic' style in my home. That however is still a work in progress!
What one room in your home would you say is your favorite and why?
Master Bedroom- I love my bedding! The Palm Collection from Quilts Etc..
If you could pick one room in your home that needs to be redone, which room would it be and why?
My living room.. it needs a major overhaul… I absolutely LOVE my wall colour, but we are in a home that has a long narrow living room/ dining area and furniture that is too dark for the space. We are in a small home so this is our one and only TV room, entertaining area and grandkids playroom. I am trying to create a cottage/shabby-chic space but it is just not coming together.
Which designer would you pick and why?
Sarah Richardson…. I have always loved her style and determination to work with a space until she gets the look a client wants!
If you could pick one piece in your home that would be your favorite, what would it be?
My armoire.. it hides the TV.. I have pretty strong feelings about a TV occupying the majority of a space. (unless of course the space was specifically designed for that)… we have a small living room so I love that my armoire hides it!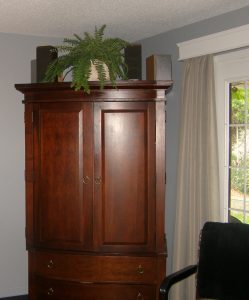 Kym on Trends & Inspiration
Where do you find inspiration?
Originally from London England, I love the colours and trends from Europe, so I am always looking through my British magazines or online for creative ideas or concepts.
What current home decor trends do you love?
I love the colour gray. It can give you cool gray-blues that look elegant but unpretentious or warmer purple-blues that give a calm, relaxing and natural feel to a space.
What current home decor trends do you think should go?
Granite countertops. There is so much of it out there and there are other amazing choices like beautiful soapstone or poured concrete.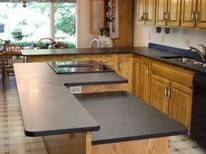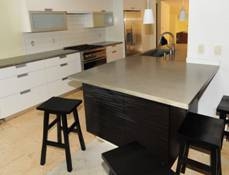 Photo Source:  Soapstone Creations, Mode Concrete
What are your five favorite websites/blogs for design inspiration right now
Kym at Work

How did you get involved in the Home Staging industry?
A number of years ago I fell seriously ill. My doctor told me to find what I was passionate about and go out and do it! So I took my education in Interior Decorating one step further, took more courses to become a Home Stager and have not looked back since. I even now teach Home Staging to other inspired home décor enthusiasts! I love the fact that you get a lot of variety in staging projects – there is never a dull moment!
Can you share before and after photos of one or two of your favorite staging projects and tell us a little about them?
One of my favourites is a vacant show home we did in a development called Iron Ridge Estates. With a vacant property you get a clean slate and create a space families will love.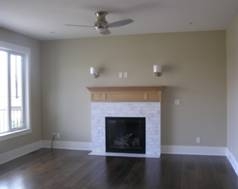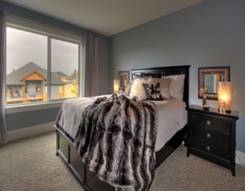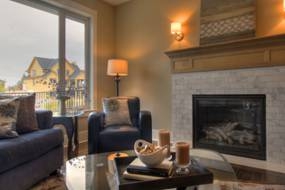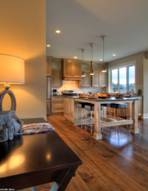 With an occupied property you really get to challenge your creativity, as for the most part we try to use what the client has. This is another one of our favorites although here we did bring in furnishing. The owners' red couch was our inspiration for the space…the transformation was amazing!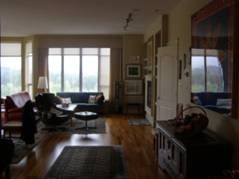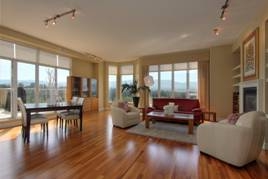 What is the biggest thing you have learned about design as a home stager?
That the style of interior design changes over the years, just like fashion does, so you need to stay on top of such changes! You may not use all of the new trends out there when staging a property but it certainly won't hurt to be selective and to keep your palettes simple, fresh and up to date.
What is your favourite part of the staging process?
Well…  shopping is pure fun !! Putting together a palette that you know will work in the space, then seeing it all come together gives you a real high! I just love what I do!
The following two tabs change content below.

Crystal Williams
As Online Editor for Canadian Home Trends Magazine, Crystal has a passion for design and decor. She enjoys browsing the web to find new, exciting decor ideas, DIY projects and unique products to share with her readers. With formal training in graphic design and a background in the event planning/design business, Crystal looks at design from all angles to give readers a fresh perspective.

Latest posts by Crystal Williams (see all)