RESA Member Monica Stanciu of Staged 2 Sell may not be able to decide if her style is minimalistic Zen or eclectic – but her sense of style is unquestionably fabulous. I had a chance to chat with Monica about her personal style, why she loves grey, her favourite art, how she got into the home staging business and what some of her favourite projects have been. Read on to see what Monica had to say. – Crystal Williams
Monica at Home
Have you always had an interest in home decor?
Yes, I had an interest in colour from an early age. Channeled my passion into painting and decorating. My room was always a work in progress, re-arranging furniture pieces and being always in the look for an unusual decor piece.
How would you describe your personal decor style?
Although I like minimalistic Zen design, in my home I like to be surrounded by pieces that tell a story, either they come from a trip I made, antiques stores, grandmother's… and use them with contemporary pieces. Is this eclectic? I am afraid so, but I try to stay away from this word that sometimes makes excuses for poor design.
What one room in your home would you say is your favorite and why?
My home was neglected for a long time. We moved in a new house 6 years ago, right when I started my staging business, it kind of fell off the priority list.
If you could pick one room in your home that needs to be redone, which room would it be and why?
Definitely the bedroom. It still has the old pieces that we bought 15 yrs ago. I have a vision, I know how I want it to look, but never got the time to do it.
If you could pick one piece in your home that would be your favorite, what would it be?
There are 3 pieces of original art from a Romanian artist. I love not only the composition and style ( he was named one of the top 100 influential contemporary artists in the world), but whenever I miss back home, I look at them and find my peace. This is why I have two in my great room (the most used room in my house) and one in my bedroom.
Monica on Trends & Inspiration
Where do you find inspiration?
Everywhere: nature, decor magazines, books…
What current home decor trends do you love?
Too many to list:  Oversized florals, bold colours, watercolour inspired prints…
What current home decor trends do you think should go?
I don't like the brass comeback. I hope it won't stay long.
If you could pick the next big trend or hot colour, what would it be?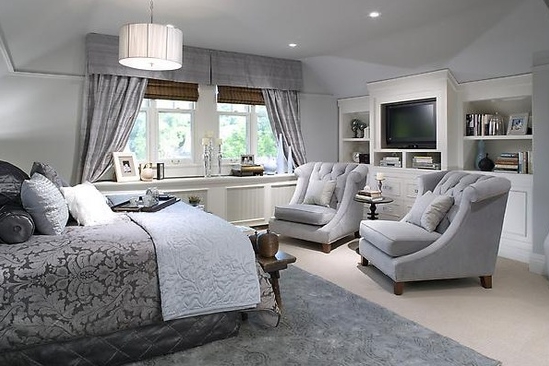 Photo Source: Barbara Gilbert Interiors
Love that Grey is now the 'In" colour replacing the boring beige. I use it everywhere, it is such a great colour to coordinate with everything else, it is rich, elegant and versatile.
What are your favorite websites/blogs for design inspiration right now?
Houzz.com, meridithbaer.com, candiceolson.com,
Monica at Work
How did you get involved in the Home Staging industry?
After successfully staged 2 of my old homes without even knowing that this is called staging, my friends asked for my help with their homes. One afternoon I discovered an ad for a staging class offered by CSP. I booked it right away and it's been an amazing journey since then.
Can you share before and after photos of one or two of your favorite staging projects and tell us a little about them?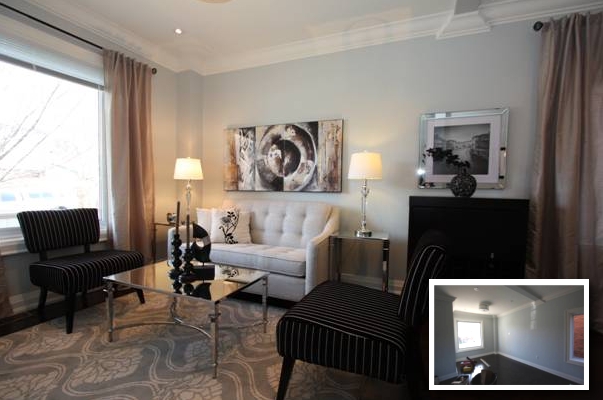 The pictures above are from an investment property we staged this spring.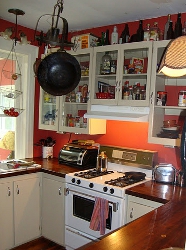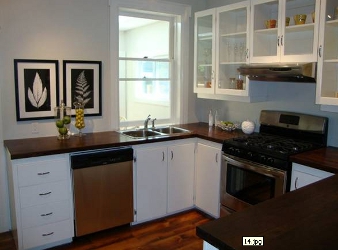 These pictures are from a property in Leslieville, Toronto. To get most of the money for this property, we did some work in this century home: a coat of paint on cabinets, new hardware and appliances, packed and stored most of the content from each cabinet. This property sold 67K over asking in a matter of days.
What is the biggest thing you have learned about design as a home stager?
To respect the architecture of the house.
What is your favourite part of the staging process?
I love it when we stage an occupied home and use most of the homeowners' pieces. Just by re-arranging what they already have and borrowing things from other rooms we are able to put our creativity to work and deliver great transformations. I had homeowners crying when they saw the final result. This is something that motivates us to go further and do better all the time.
The following two tabs change content below.

Crystal Williams
As Online Editor for Canadian Home Trends Magazine, Crystal has a passion for design and decor. She enjoys browsing the web to find new, exciting decor ideas, DIY projects and unique products to share with her readers. With formal training in graphic design and a background in the event planning/design business, Crystal looks at design from all angles to give readers a fresh perspective.

Latest posts by Crystal Williams (see all)